More medical data needed to fight Covid-19
Data from epidemiological studies using antibody tests to measure the proportion of the population who have acquired protective immunity will help to make more accurate assessments about the epidemic situation.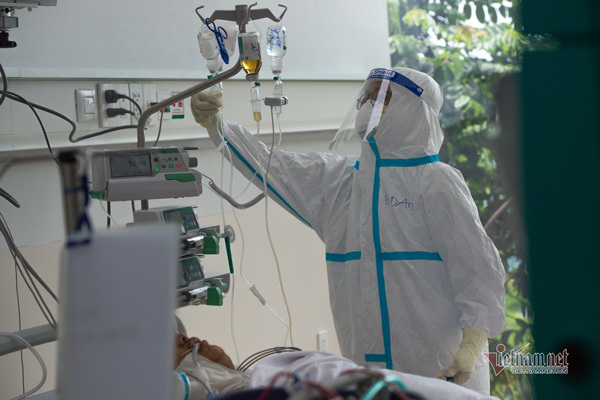 More scientific data is needed to fight Covid-19. Photo: Thanh Tung
According to data from HCM City's Covid-19 portal, on August 17 the city tested 15,124 samples, recorded 3,540 new cases, including 2,568 cases in community (accounting for 72%), an increase of 19% compared to the previous day.
Anti-epidemic needs strategic view
In recent days, the rate of F0s (infection cases) in the community increased in Ho Chi Minh City, accounting for 53% of the total number of new cases, while it was only 41% in locked down areas, much lower than the previous figure of 80%.
This data and more represent the efforts of agencies in the city, but it is still not enough to suggest appropriate solutions.
From a national perspective, the data published by the Ministry of Health is not sufficient for research and analysis to serve the direction and administration of pandemic prevention and control.
A petition about an Epidemic Prevention Strategy sent to the authorities by a group of organizations (1) notes that scientific research activities are still weak and have not been able to fulfill the role of sufficiently providing basic and essential scientific information in the country as a basis for assessing the evolution of past outbreaks and also the current outbreak in Ho Chi Minh City, Hanoi and many other provinces.
The group says that there is a lack of epidemiological data using antibody tests to measure the proportion of the population that has acquired protective immunity - a basic requirement that must be obtained at this time when considering epidemiological characteristics. This makes the assessment of the epidemic situation in the past, present, and the future become uncertain, and risks having the disease prevention and control work fall into a state of passive response and limited effectiveness.
They note that the daily data of provinces and the whole country on the total number of F0 cases, hospitalized F0 cases, cured people, and fatalities can help identify the evolution of the epidemic, but cannot be seen as scientific, objective and accurate information to support the proposal of an effective epidemic control policy.
They also say that even some reports on disease prevention strategies for Ho Chi Minh City are still limited in strategic scope, and do not properly assess the progress of the disease spreading in the community because of the lack of research data investigating the prevalence of infection in the community by antibody testing, which causes the comments and recommendations to lack a solid scientific basis.
As an epidemiologist, Dr. Nguyen Thu Anh, Country Director of the Woolcock Medical Research Institute in Vietnam, also faces difficulties due to insufficient data. She says that a lot of people have texted and asked her why her organization has not analyzed or recommended anything.
She replied: "Honestly, I really want to. I don't mind difficult questions. I don't mind staying up many nights, but let's see, without data, what's the recommendation? You should ask the people who have data. You should ask them why they don't share data so that people, scientists, businesses, offices... czn make preparations".
Scientific zoning
A fence prevents strangers from entering alley 197, District 10, HCM City.
Recently, the concept of green, red, and yellow zoning is being applied by some localities to establish a "new normal".
For example, in Ho Chi Minh City, epidemic free areas (green, near green, yellow) are areas where there are no positive cases after 2 tests, and the vaccination rate must reach 50% for people over 18 years old and are able to ensure social distancing.
In the high-risk and very high-risk areas (red and orange zones), and locked down zones, the city will organize household-based tests to reduce the scope of the locked down zones into only points.
In case the test results are all negative, the locked down area can be released if eligible, and continue to monitor and re-test if cases with suspected symptoms are detected.
Dr. Thu Anh said the criteria of the "green zone" is as follows: Administer 2 doses of vaccine every 6-8 months for at least 90% of people over 50 years old, people with cardiovascular disease, diabetes, cancer, chronic kidney disease, chronic respiratory disease, obesity, immunocompromised, and pregnant women.
While there is not enough vaccine coverage, it is necessary to adhere to locked down areas when F0 cases are not controlled in the community and adhere to the 5K solution when there is no F0 cases. In addition, there are Covid-19 teams that provide medical and welfare support to all members of the green community.
Dr. Thu Anh offers short-term solutions:
Quickly gathering the scarce vaccine resources for all people over 50 years old, people with cardiovascular disease, diabetes, cancer, chronic kidney disease, chronic respiratory disease, obesity, immunocompromised people, and pregnant women. Priority is given to vaccines with a short time between two doses to quickly create immunity.
That measure will help reduce fatalities and stress on the health system. It will take some time to see the number of deaths decrease, so people need to be patient and accept it for a while.
She says that it is necessary to impose locked down areas and social distancing until 2 weeks after the 2nd dose for the group of people above, then gradually open, while continuing the application of 5K solution and vaccinations based on the volume of vaccines available. Locked down areas without vaccination for the priority group above would waste time, public costs, and economic sacrifices.
In addition, in epidemic-hit areas, it is necessary to quickly transform the model of care and treatment so as not to collapse the general health system. That is the management, care, treatment of F0 cases in the community. F0 and suspected F0 cases in the community will be transferred to hospitals when they show signs of hypoxia or other emergency signs.
She also suggested setting up temporary emergency stations in the community to treat F0 cases when hospitals are overloaded; mobilize young volunteers who are fully vaccinated with two vaccine doses to support health workers at healthcare facilities at all levels; and import, instruct and allow people to use rapid test kits.
Dr. Thu Anh says that the recommendations are not perfect, but are the optimal way in the context that there are not many "weapons", while the system and capacity need time to change.
Meanwhile, the group says that it is necessary to remove awareness among some officials in charge of epidemic prevention and control in provinces and cities that imposing social distancing and blockades as an attempt to implement the principle of "nobody in, nobody out" is the way to stop the spread of the virus.
This perception is no longer appropriate when the disease has been in the form of an "endogenous epidemic", which has spread in the community through the respiratory tract for the past few months.
Instead, it is better to implement the monitoring function of the authorities, businesses and people to ensure mask wearing and regular and correct social distancing in public places, and reduce the risk of mass gathering in public places, including wet markets and supermarkets.
The group also suggests avoiding blockades to disrupt essential services for the daily life of people and production activities of enterprises, while the State system should try its best to deploy vaccination to cover the entire population and ensure the health system meets the people's medical needs.
Tu Hoang
(1)
• Evidence-Based Health Policy Development Advocacy Group (EBHPD)
• Vietnam Non-communicable Diseases Prevention and Control Alliance (NCDs-VN)
• Vietnam Public Health Association (VPHA)
• Community Medicine Organization
• Vietnam Sustainable Energy Alliance (VSEA)
• One Health Approach to Climate Change and the COVID-19 Pandemic (CSO-OHCCP)

Covid-19 is a serious trauma that affects the human psyche, making people susceptible to mental disorders such as depression, anxiety, and post-traumatic stress disorder, experts say.  

The Delta variant of the SARS-CoV-2 virus, with its rapid and strong spread in a very short time, has put huge pressure on the health system.