More than 10 million Vietnamese still left out of health insurance

More than 10 million people were yet to be covered by health insurance as of May 2019, it was reported at an online discussion on sustainable development of health insurance held by the Government portal on June 25.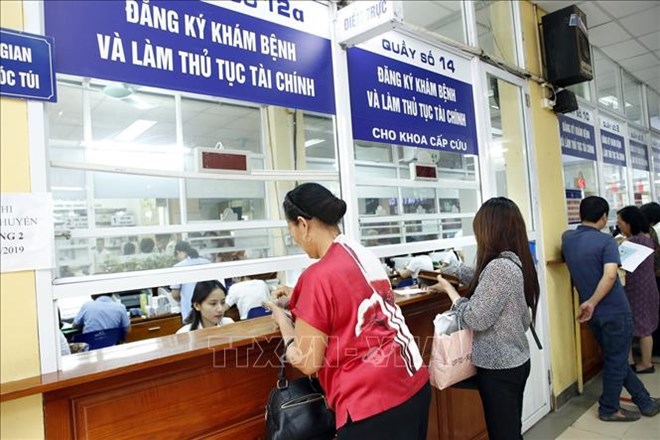 Patients register for medical services at the Hanoi-based Saint Paul Hospital 

Bui Sy Loi, Vice Chairman of theNational Assembly's Committee for Social Affairs, said at present 100 percentof pensioners and social welfare beneficiaries, or 3.1 million people, havebeen covered by health insurance. The rate among working population is morethan 90 percent.

He noted that public awarenessabout health insurance has remarkably improved, with more people joining voluntaryinsurance.

To achieve the goal of more than90 percent of the national population covered by health insurance set in thePrime Minister's Decision 1167/QD-TTg dated June 28, 2016, the NA official saidmore attention should be paid to students and school children in expandinghealth insurance coverage.

Statistics of Vietnam SocialSecurity (VSS) showed more than 17 million school children and students joinedhealth insurance in April, 2019, accounting for 94 percent of the total,leaving 6 percent, or 1 million, uncovered.  

Participants at the discussionsuggested more educational campaigns targeting students on the necessity ofhealth insurance, along with financial support for those in disadvantagedcircumstances.

VSS Deputy Director General PhamLuong Son also urged local authorities, schools and other related agencies tostrengthen their coordination in the effort.

The health sector should investmore in medical services and insurance agencies should intensify the reform of proceduresto facilitate the payment of benefits for the insured, said theparticipants.-VNA



The public health insurance fund paid more than half a million US dollars for treatment of just a single patient over three years.

Vietnam's health insurance fund started covering HIV patients for anti-retroviral (ARV) drugs in March this year after international donors ended their sponsorship.