More than $150,000 allocated for COVID-19 tests in Hanoi

Hanoi People's Committee has allocated VNĐ3.5 billion (US$150,600) from the city's budget for COVID-19 tests.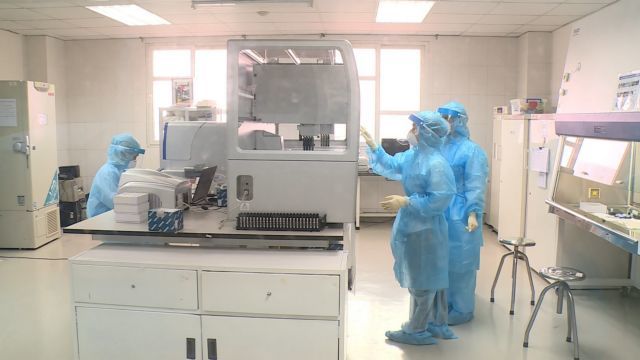 Hanoi CDC's medical workers test blood samples of suspected cases.
The funding will be used to buy medical supplies, chemicals and products to implement tests for people kept in centralised quarantine areas before transferring them to their localities.
These tests will be performed by Hà Nội Centre for Disease Control and Prevention (CDC).
As of Wednesday afternoon, the capital had confirmed four cases of COVID-19 infections undergoing treatment at the National Hospital for Tropical Diseases Campus no.2 in Đông Anh District.
Hà Nội offered 2,277 tests for people returning from infected areas. All were negative for SARS-CoV-2.
Responding to the outbreak, Hà Nội Department of Health urged state and non-state medical facilities to classify patients and quarantine suspected cases of COVID-19.
According to the department, at present, there are some 650 patient beds serving COVID-19 treatment at 41 public hospitals and three private hospitals.
When the disease reaches level 3, meaning wide community spread of infections, the number of beds for quarantine will be 1,290.
At the highest level, the healthcare sector can mobilise up to 4,040 beds for COVID-19 response.
No Italian immigration stamp found in 17th COVID-19 patient's passports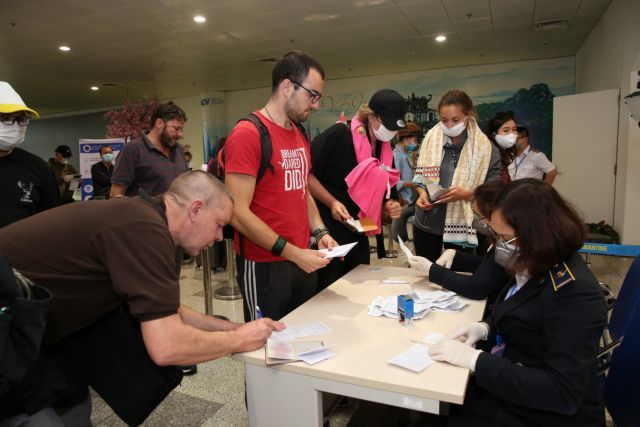 Foreign tourists fill out medical declaration forms at Nội Bài international airport in Hanoi.
Immigration officials at Nội Bài International Airport found no Italian immigration stamp in the passports of Việt Nam's 17th COVID-19 patient, who allegedly did not report her travel to virus-hit Italy so she could avoid concentrated quarantine.
Colonel Nguyễn Thị Bình Phương, head of Nội Bài International Airport's police, made the statement on Wednesday afternoon, adding that she held two passports – British and Vietnamese.
She returned Việt Nam from a trip across three European countries – the UK, France and Italy – on March 2 on Flight VN54.
Phương said that the woman, however, used a Vietnamese passport when entering the country.
"Immigration officials thoroughly checked all pages of the passport and did not see an Italian immigration stamp," she said.
"It's possible that when travelling to the UK, she used her UK passport to travel to other European countries, including France and Italy, where she does not need to apply for a visa or immigration stamps," Phương said.
With the two passports, the patient did not provide an accurate travel history, which made it difficult for immigration officers to know she had travelled through areas hit by the new strain of coronavirus.
At the quarantine check point, her body temperature was normal and at that time, health declarations were not compulsory, so authorities let her enter the country, Phương said.
Now, 11 officers who worked with passengers from flight VN54 were under 14-day quarantine and initially tested negative for SARS-CoV-2. There were 217 people on flight VN54, including 21 in Business Class, 180 in Economy Class and a crew of 17.
Besides the 17th patient, another 12 people from the flight tested positive for the virus including a Vietnamese man and 11 foreigners.
About 200 people in close contact with the 17th patient are under quarantine. Her aunt and the family driver have tested positive for the virus.
PM urges strengthening fight against COVID-19 as new cases emerge in Việt Nam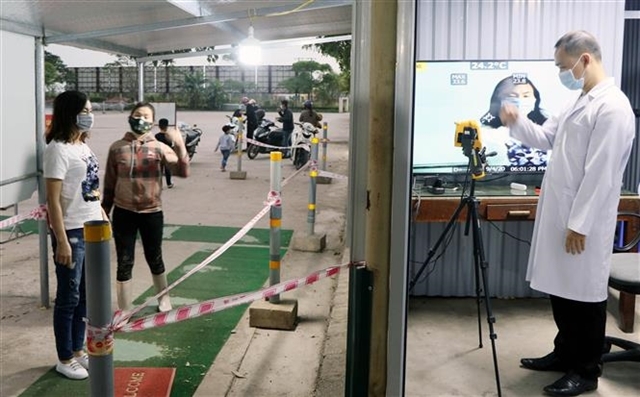 People have their body temperature measured when travelling in Mong Cai Border area in the northern province of Quang Ninh.
Prime Minister Nguyen Xuan Phuc issued a directive on Wednesday, requesting stronger actions to prevent and control COVID-19 amid new developments of the outbreak.
The acute respiratory disease has been recorded in 105 countries with 114,000 infected people. Over the last 10 days, the numbers of infection cases and deaths have risen sharply with new hotspots emerging outside of China, where the new strain of coronavirus originated.
In Viet Nam, after 22 days without any new cases, 23 more infection cases have been recorded since March 6, including many from countries with large trading and traveller volumes with Viet Nam.
Facing the new developments, the PM ordered ministries, sectors and localities to continue strictly and drastically implementing directions by the Party Central Committee's Secretariat and the Government leader to minimise the spread of COVID-19, stay ready to deal with the outbreak, and protect people's health and lives.
He asked them to gear up for all circumstances and keep in mind the spirit of "fighting the epidemic is like fighting an enemy" and "protecting people's health and lives even at the expense of economic benefits."
In particular, PM Phúc requested ministries, ministry-level agencies and the People's Committees of provincial-level localities to push ahead with quickly detecting and strictly controlling sources of infection, both in the country and from other nations; quarantining or monitoring those who have contact with confirmed cases in line with the Health Ministry's guidance; and checking people entering the country within the last 14 days but not having to stay at concentrated quarantine areas.
He also demanded tightened control of those entering Viet Nam via points of entry by air, land and sea; and suspension of the unilateral visa exemption for citizens of, as well as for Vietnamese people and their spouses and children in Denmark, Norway, Finland, Sweden, the UK, France, Germany and Spain.
Health declaration is compulsory for all people entering Viet Nam. Those coming from or travelling through areas affected by the outbreak must be quarantined and and flights between the country and those areas, including those by foreign airlines, must be minimised, according to the directive.
The PM also asked agencies and localities to strictly manage and ensure safety for tourism activities, postpone overseas trips, and advise people against going aboard, especially the areas affected by COVID-19.
In his directive, the Government leader also ordered relevant parties to ready plans for large-scale quarantine; step up the research on COVID-19 prevention, treatment and vaccines; and strictly deal with persons publicising fake news, intentionally inflating prices or violating regulations on health declaration and quarantine.— VNS

A tour guide residing in Hanoi's Cau Giay district has become the latest SARS-CoV-2 patient in Vietnam confirmed by the Ministry of Health on March 12.  

Once bustling streets in Hanoi are now secluded as most people choose staying inside for fears of COVID-19.