More than 24,300 rooftop solar projects installed

More than 24,300 rooftop solar projects have been installed this month, with a total capacity of 465.8 megawatt peak (MWp).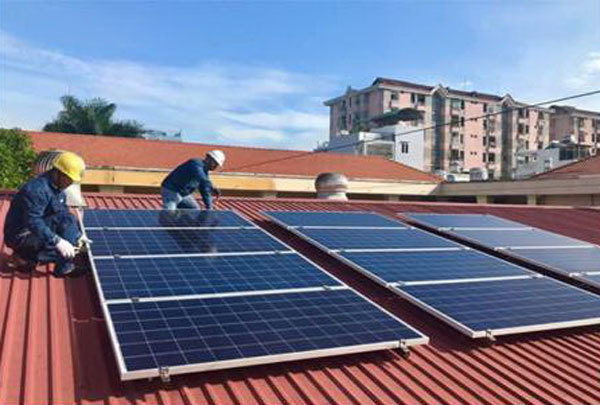 Workers install rooftop solar systems. — Photo courtesy of EVN
However, Vietnam Electricity (EVN) said this was still modest compared to the development potential of rooftop solar panels in the country.
Experts also said that with Vietnam's potential, the number of rooftop solar power projects could reach five times as much as the current level.
One of the reasons for the slow development of rooftop solar panels is that people are still waiting for a new solar price to be issued since the end of feed-in tariff (FIT) price incentives for solar power on June 30 last year.
Data from the National Load Dispatch Centre showed that total electricity consumption of the whole system in the first two months of this year was 36.2 billion kilowatt hour (kWh).
Although many production, business and service sectors have been affected by the coronavirus epidemic since the beginning of last month, the country's electricity consumption still increased by 7.5 per cent compared to the same period last year.
The average daily electricity consumption in the first two months was 615 million kWh per day.
Water levels in hydropower reservoirs are still "very low" compared to previous years.
The output from hydroelectricity in the first two months only reached 3.37 billion kWh, 2.19 billion kWh lower than target.
This has led to a large shortage of output from hydropower, so coal and gas power have played an important role in ensuring electricity for the dry season as well as the whole year.
EVN has asked agencies, offices, enterprises and people to raise the awareness of safe power and economic use of power to minimise overloads, while saving electricity costs for customers. — VNS

Many households and enterprises in Vietnam have proposed continuing the solar power purchasing price at 9.35 cent per kwh, as applied before June 30.

A draft document on solar power development will be filed to the Prime Minister for approval on December 15, local media reported.
Power cut is a worry of many people during hot season.