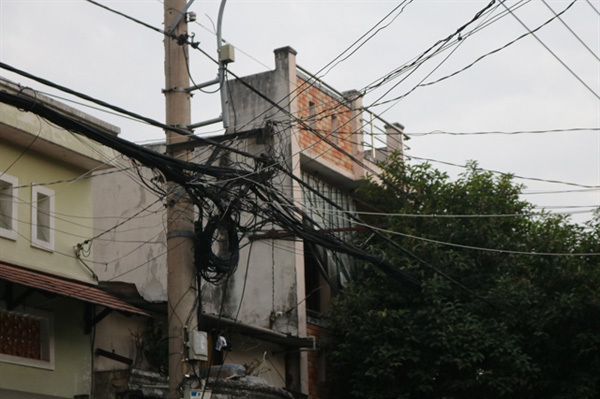 Entangled electrical cables in HCM City's Binh Tan District. By 2025 the city hopes to have 50-60 per cent of all electrical cables underground. – VNS Photo Diep Phan
By 2025 50-60 per cent of medium-voltage cables in the city will be buried.
In urban districts, the corporation targets having 80-90 per cent of power and telecom cables below ground, 100 per cent in districts 1, 3 and 5, and 60-80 per cent elsewhere.
According to Vo Van Hoan, vice chairman of the city People's Committee, the five-year plan should prioritize the new Thu Duc City and alleys.
He encouraged housing and urban developers to install cables underground at their urban residential projects.
Since 2011 the corporation placed cables on 195 streets underground.
It has more or less finished the task on most main streets in the city centre, Banh Duc Hoai, its deputy general director, said.
The removal of tangled overhead electrical and telecom cables has improved the city's appearance and infrastructure, which creates favourable conditions to attract investment, he said.
Underground power lines are safer, more stable, easier to maintain, and less vulnerable to lightning strikes or collapse.
After the work is completed, all existing pylons and wires will be removed and the equipment on the electric poles has to be installed down on the pavements, a difficult task since some roads are narrow or have no pavements.
Electricity and telecom agencies have been urged to further enhance the appearance of the city by using more modern and compact equipment and place capacitors underground.
The city Department of Planning and Architecture will help with underground space planning to facilitate the burial of the cables.
The corporation's plan to have no cables above ground by 2020 was approved in 2011 at an estimated cost of VND14 trillion (US$607 million). 
In the last five years 675km of medium-voltage cables and 1,160km of low-voltage cables have been buried.  VNS

The HCM City Power Corporation (EVNHCMC) said that it has placed 675km of medium-voltage grids, 1,160km of low-voltage grids and 34.5km of power grids underground over the past five years.

Thousands of kilometers of electrical and telecommunications cables have been buried underground in HCM City as part of a project that began nearly 10 years ago.