More walking streets planned for Hoi An

The ancient city of Hoi An plans to name Phan Chu Trinh Street as a new pedestrian area to ease traffic congestion and overloading of infrastructure.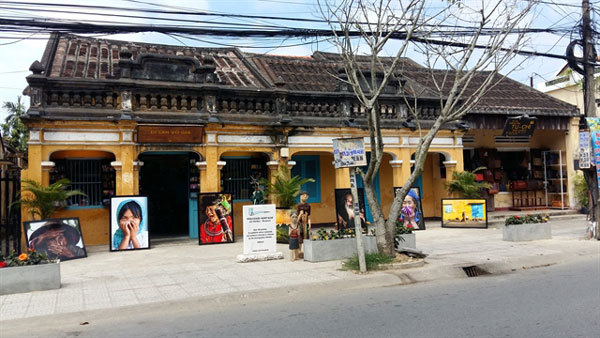 Phan Boi Chau Street in Hoi An is planned to be a walking street and arts zone. — VNS Photos Cong Thanh
Vice Chairman of the city's People's Committee Nguyen Van Son confirmed the decision to Việt Nam News, saying a pilot project will start in March before expanding the walking area to other surrounding streets of Cao Hong Lanh, Bach Dang, Nguyen Hue, Hoang Dieu and Phan Boi Chau.
Vehicles will be banned from these streets from 6pm to 9.30pm every day – the most crowded time for visitors.
Son said the project, which began in the city in 2002, has helped preserve the tranquil atmosphere and clean air in the city, while tourists feel safer when exploring the area.
Between 2017 and 2019, the city expanded pedestrian areas to the streets of Tran Phu, Hoi An Market, Cong Nu Ngoc Hoa and the Hoai River Square.
Visitors pass Hoi An Market. The ancient city of Hoi An plans to add more walking streets to create a clean and fresh space for tourists.

Son said the pedestrian area in the old quarter was overloaded with 10,000 tourists visiting at peak hours between 5pm to 10pm.
The UNESCO-recognised world heritage site was the first city in Vietnam to host a Car Free Day, promoted bicycle use among public agencies, as well as among local residents, with a goal of 100,000 local bicycles in use.
Foreign tourists and students prefer riding bicycles while touring the city, beaches and villages.
French photographer Rehahn and a group of artists and entrepreneurs proposed a plan to design Phan Boi Chau Street in Hoi An's old French Quarter into Rue des Arts – a hub for original, high-value creative works.
Phan Boi Chau, a close walk from the Old Street of Hoi An, was known as Courbet Street after the French admiral led a victory over China. The street was once the main street of the French Quarter, a dock for ships transporting spices, silks, pepper, honey, porcelain and cotton.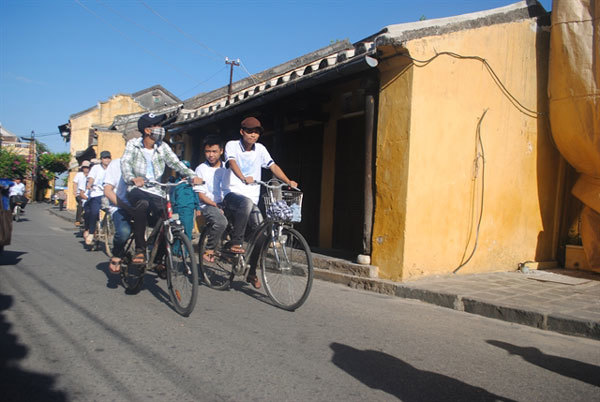 Bicycles are popular among students and tourists in Hoi An. The city aims to have 100,000 bicycle users in the near future.

In April, the ancient city launched six new electric bus routes and a pilot bicycle sharing system as part of the tourism hub's efforts to go green.
An electric bus route will help connect stops at 14 streets including two top destinations – Cua Dai Beach and Thanh Ha Pottery Village.
The town hosts at least 10,000 vehicles each day, of which motorbikes account for 77 per cent, and congestion often occurs in the afternoon when coaches carrying tourists arrive.
VNS