MOT seeks contractor for VND35 trillion package for Long Thanh Airport project
A contractor to execute bid package No 5.10 worth VND35 trillion for the Long Thanh International Airport project is expected to be found in March.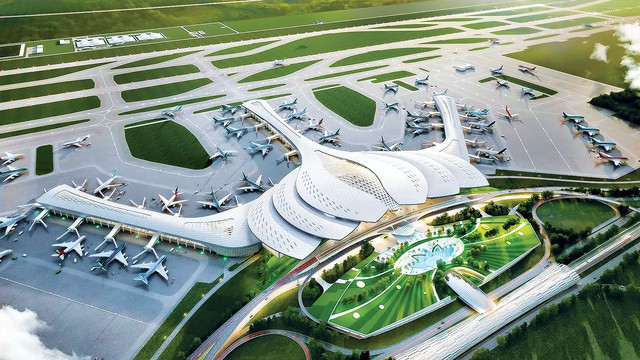 Regarding the re-bidding of the bid package No 5.10 for executing the construction and installation of equipment for the passenger terminal at Long Thanh International Airport, Lai Xuan Thanh, chair of the board of directors of the Airports Corporation of Vietnam, said the Ministry of Transport (MOT) has joined forces with the Ministry of Planning and Investment (MPI), Department of Public Procurement, and the State Capital Management Commission (SCMC) to consider re-bidding methods proposed by the Airports Corporation of Vietnam (ACV).
To date, bidding documents have been completed in compliance with the laws on bidding and MPI's Circular 08/2022 on attracting a high number of international and domestic contractors with high capability and experience.
ACV delivered re-bidding documents on January 19, 2023. The pre-bidding conference is scheduled to be held on February 10.
Concerned contractors would have 65 days to consider documents and propose solutions, suitable for the bid package with high complexity.
In the new bidding documents, ACV still maintains the requirement on the execution time of 33 months, which means that the work must be completed by the end of 2025 as stipulated in the NA's resolution.
It is expected that capable and experienced contractors will be chosen by the end of March and construction will start in late April 2023.
If contractors suggest an execution time of more than 33 months, ACV will have to report and get approval from many agencies, the Prime Minister and possibly the National Assembly.
Prior to that, ACV had invited a tender for the VND35 trillion package on September 20, 2022 on the national bidding network. Two contractors from South Korea, two from China and many domestic contractors bought bidding documents.
On November 8, 2022, ACV closed the bid, but there was only one contractor – a domestic joint name – that submitted bids. Though ACV extended the deadline for submission for 15 days (until November 23, 2022), it did not get any more contractors. The corporation once again extended the deadline for seven days, but contractors did not turn up.
On December 13, 2022, after considering the results of the assessment of the bids of the group of experts, and reports by the bid appraisal team, ACV announced the cancellation of the bids because all of the bids did not meet requirements.
According to a representative of ACV, international bidding may face problems because of the difference between Vietnamese regulations and international practice.
The requirement on implementing the bid package within 33 months is a great challenge. In general, the average time for executing terminal projects of the same scale in the rest of the world is 45-55 months.
Vu Diep