Mountainous village awaits tourists
Ta Van Village in Sapa Town, Lao Cai Province, is typical of the northern mountainous region characterized by terraced rice fields. Just take a stroll around the village and enjoy local specialties to feel this northern wonder.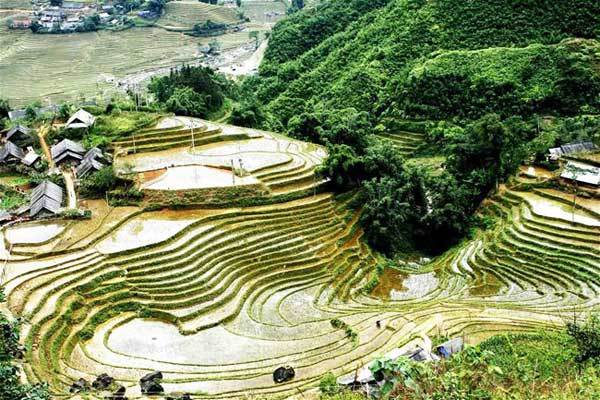 Terraced rice fields in Ta Van. – SGT Photos: Khue Viet Truong
Ta Van Village offers a poetic beauty, especially in September and October when vast terraced rice fields are ready for harvest, or in March and early April when ethnic people begin transplanting rice seedlings. Moreover, the local lifestyle is another plus on a leisure trip to Ta Van. 
Ta Van means a large arch, according to locals. The village, now a tourism spot attractive to both local and foreign tourists, is home to 4,000 residents who are Mong, Giay and Dao Do ethnic people.
The village in Muong Hoa Valley has cool weather all year round. Occasionally, there is an unexpected downpour, which prompts villagers to always take an umbrella with them. The local scenes with colorful umbrellas under a light rain is a picturesque view to remember.
I had a chance to return to Ta Van earlier this year. During the trip, I took a walk up to 15 kilometers to observe the local lifestyle. On the way, I met some ethnic hawkers who tried their best to sell little souvenirs like bracelets, brocade bags and scarfs. Among them were mothers with their kids on their back attentively finishing brocade bags or embroidery paintings. It seemed the local life was unfolding before my eyes. That's why tourists to the village are often advised to take such a walk although Ta Van is 10 kilometers from downtown Sapa City. The long distance may cause some visitors to feel hurt in the feet. But don't worry, local authentic masseurs are ready to serve you.
The long walk also allowed me to have a panoramic view of Muong Hoa Valley. It reminded me of my trip to Ta Van in 2019. At that time, I caught sight of foreign backpackers walking slowly on the path leading to Ta Van to enjoy the gorgeous beauty of the valley.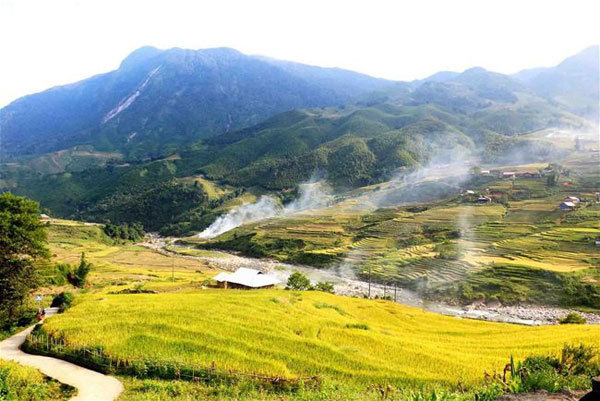 Majestic mountain ranges.
Travelers to Ta Van should not miss local specialties, such as grilled stream fish, five-color sticky rice, thang co (horse meat soup) and dishes from meat from Cap Nach pig, a hybrid of wild pig and Muong pig.
An ancient rocky pool in Sapa should be included in the itinerary, too. I rode a motorbike on a path leading to Muong Hoa stream where the ancient rock pool is located. In 1923, this eight-square-kilometer rock pool with hundreds of big and small rocks was found by Victor Goloubev, a French-Russian researcher in Indochina. A large rock among these surrounded by an iron fence is the focus of the site because of its unique ancient patterns. 
Some said Ta Van gave them a special feeling of being in a different world. But for me, Ta Van or Sapa is a place where I can find peace of mind, and enjoy a view of the legendary Fansipan Mountain, deep valleys and high mountain ranges under the sun and spectacular terraced rice fields.
Source: SGT

Mu Cang Chai district (Yen Bai province) is entering the most beautiful golden rice season of the year in Vietnam, attracting lots of people to come to enjoy the full autumn in the fragrant rice.

Autumn has arrived and brought the best season in the northwestern region. The forests, mountains and terraced rice fields are covered with a new brilliant bright yellow coat.