Move to Hanoi FC a dream come true for Magno
After a blistering V.League 1 season, Geovane Magno is looking to add titles and continental experience to his resume at his new club, Hanoi FC.
Hanoi FC has signed their two-year contract with striker Geovane Magno. — Photo sports442.com
The 26-year-old Brazilian forward had two impressive seasons at Sai Gon FC and drew the eye of the country's top team.
"I'm happy to be here and to be part of Hanoi team. It is my desire from the day I come to Vietnam. Not only me but certainly the other players in the V.League 1 have dreams of wearing the jersey of Hanoi. Hanoi are the No 1 team. I am very happy with this memorable milestone in my life," said Magno after signing a two-year contract.
Magno had an impressive season for Sai Gon, scoring eight goals in 20 games and helping his side finish third. He was widely considered the best foreign player in the 2020 season.
"My goal in coming to Hanoi is to conquer titles. I've been told about the team's aspirations. All members of the team don't want Hanoi's achievements to stop at domestic tournaments. They want to reach bigger events. With the current potential and positive spirit, step by step, we will achieve great things towards the most important goals," said Magno.
Magno faced Hanoi twice this season and made an impression, scoring a stunning long-range goal in a surprise 1-0 win for his side at Hang Day Stadium.
In the other match in the second leg, Magno also got on the scoresheet, though Hanoi triumphed 4-2.
"Hanoi have always been a very strong team. Every time I have to play against them, it's a very difficult game for me. Before any opponent, Hanoi were appreciated. However, things are different now. When I am officially to be a player of Hanoi, that thought is disappeared and now it is the time for me to think about the championship with the new team," the Brazilian player said.
Magno is Hanoi's first signing before the 2021 season and the club have reportedly splashed out big time to secure his signature, with Magno said to be earning US$20,000 per month, double his salary for Sai Gon.
To sign Magno, Hanoi let go to Pape Omar Faye and Ibou Kebe, two foreign players who were previously big parts of the capital side's success before their stars faded.
Coach Nguyen Thanh Cong of Quang Nam FC, who previously coached Sai Gon, said his former charge Magno would be very suitable for the runners-up of the V.League 1 and that the signing showed the side's ambition.
"Magno is a technical, intelligent player. His strength lies in his personal ability. I think Magno is a suitable player for the capital team," said Cong.
"Hanoi are a team playing to control the ball, based on players who are capable, intelligent, skilful and can play in a narrow range well. Playing like that, I think Magno is the right choice. He always completes the duties and requirements of the coaching staff. In addition, he can move widely and can support his teammates well.
"I think that if Hanoi only set their target in the national top-flight league, it is a failure. Over the years, this team have always had expectations beyond the league's framework. With Magno, they show their ambition to compete well in the international events next season. In addition, based on quality foreign players, domestic players will also play better," said Cong.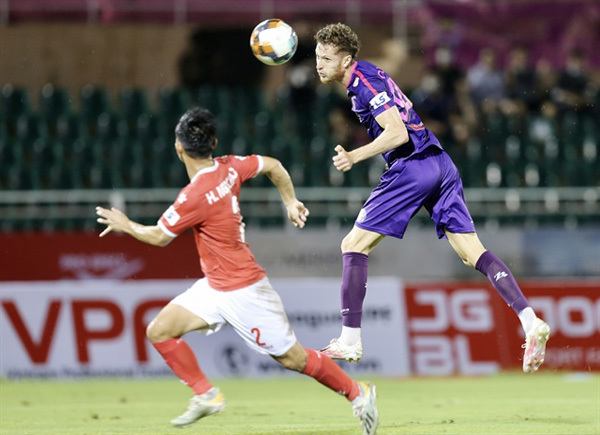 Geovane Magno (right) seen a recent match of V.League 1 2020. — Photo zing.vn
Sai Gon's key striker
In the past, the V.League 1 was dominated by skilled strikers like Kiatisuk Senamuang or Huynh Kesley Alves, but teams now want players with skill and impressive physical abilities to serve the long ball game or counterattack.
In the league this year, the best foreign strikers such as Romario Gordon of Hanoi, Chevaughn Walsh of Hoang Anh Gia Lai, Bruno Henrique of Hong Linh Ha Tinh and Pedro Paulo of Sai Gon all had strength and size advantages over Vietnamese defensive players.
While Magno is tall and can mix it up physically, his technique is his strong suit.
Magno once said that he liked the play of Hanoi FC captain Nguyen Van Quyet and the pair have similarities in their style of play. They are both good in narrow spaces, possess excellent technique and have the skill to unlock a defence.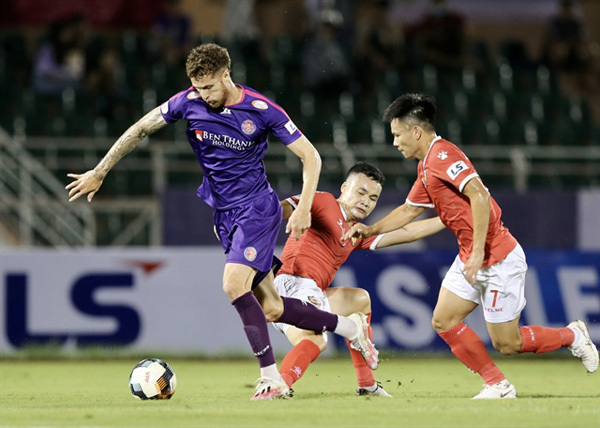 Geovane Magno often overcomes defenders with his impressive technique. — Photo zing.vn
Magno was an important player for Sai Gon this past season, but he was almost let go at the beginning of the campaign due to injuries.
"They (the coaching staff) said Magno was injured so they didn't want to keep him. I thought that the injury was due to training. Later, when I became the coach of the team, Magno co-ordinated with Paulo to make the Brazilian duo effective in the team's way of playing. Magno also has no injuries anymore," said Vu Tien Thanh, chairman and coach of Sai Gon FC.
The V.League 1 is a physical league and this can be a big obstacle for strikers like Magno, but the Brazilian has overcome injuries and risen to the very top of local football. VNS
Xuan Lam 

Despite losing to Becamex Binh Duong and losing their position at the top of the V.League 1 table, Sai Gon FC still have a good chance of winning the league, said the team's coach and president Vu Tien Thanh after the 3-1 defeat on Wednesday.

Hanoi FC came from a goal behind to win the National Cup against city rivals Viettel in a dramatic last 15 minutes of the final on September 20.