VietNamNet Bridge – An independent movie by Luong Dinh Dung will be shot next month featuring a moving story about a father and son.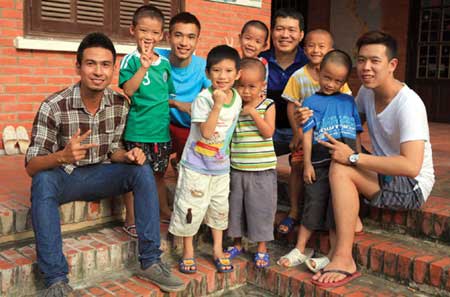 Stars of the future: Director Luong Dinh Dung (fourth from right) and the boys who are auditioning for the role of Ca.
The script was adapted from Dung's short story titled Cha Cong Con (Father and Son).
The main character in the movie is a little boy named Ca. He lives with his blind father who has spent the whole of his life by the river.
Ca's world revolves around the river and everything associated with it, including the animals, flowers and the wooden fish his father carved for him.
The blind father dreams of living in a world of sunlight, and is an inspiration to Ca, who himself suffers from an incurable disease and can't wait for the day his father has enough money to take him to the doctor.
Dung drew inspiration for the story from his own experiences to write Father and Son in 1995.
"When I was young, I saw a man beating his father until he fell down. It has always haunted me," Dung said.
When he was asked why he still lived with his violent son, the father said that his son was not always like that, it was because he was drunk, according to Dung.
"The father tried to make excuses for his son, a selfless act of a loving father," said Dung.
"There are many cases of children abusing their parents in our society, and I felt sad that these were the only stories being told about what should be a special relationship."
This sadness motivated Dung to tell a story that showed the love between a father and son, but it took him nearly 10 years before he completed it.
In 2011, Dung attended a creative writing course run by American author Pilar Alessandra. The tutor was impressed by his script and agreed to edit it for free.
"As a mother, she was very moved by my story of paternal love. She read the script carefully and noted details which she discussed with me. It took a few months of her time, but the script was edited perfectly," said Dung.
He also appreciated Alessandra's work because she retained the typical Asian characteristics included in his story.
"The plot was not changed much but it was refined more professionally and attractively."
Alessandra is the director of the popular writing programme "On The Page". A sought-after teacher and lecturer, she's travelled the world teaching screenwriting, pitching and story analysis.
Her students and clients have sold their work to Disney, DreamWorks, Warner Brothers and Sony, and have won prestigious competitions.
Dung will shoot the film next month against the background of the northern mountainous provinces of Ha Giang and Tuyen Quang, and in Ha Noi and HCM City.
"With my own style, I will let my characters tell their story naturally and plainly. The movie will not have many scene changes," Dung said.
The director has invited Australian camerawoman Cordelia Beresford to shoot the movie. Beresford shot the beautiful scenes in the international award-winning film Chuyen Cua Pao (Pao's Story) directed by Ngo Quang Hai.
Amateur actor Ngo The Quan will play the role of the father, but Ca's part has yet to be filled.
The total budget for the movie is about VND10 billion (US$470,000), funded by Tu Van Media and Nguyen Huu Duong, chairman of the Hoa Binh Group.
The movie will be released in April 2014, and a contract has been signed between the producers and an American film organisation to promote the movie in the US and Canada.
Above all, Dung wants all Vietnamese children to have a chance to see his movie.
"I really want children to know how much their parents love them," said the director.
Source: VNS