VietNamNet Bridge – His modest appearance, humble clothes and particularly the inseparable traditional bamboo pipe popularly used by farmers and ordinary people make Le Thanh Than much far from a successful businessman. The only one clearly visible sign of his wealth is possibly his Rolls-Royce Phantom car.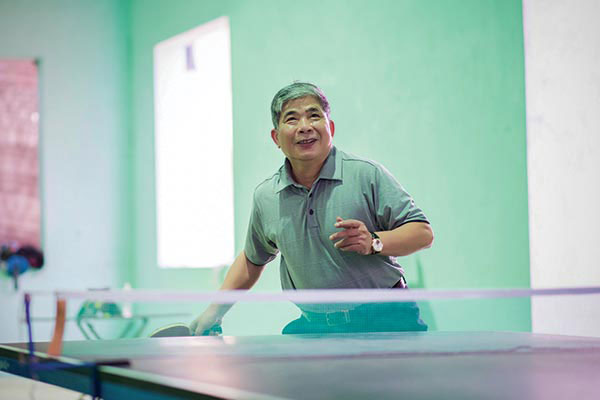 Humble businessman Le Thanh Than is happy building personal relationship and supporting the community
Like his appearance, the 65-year-old Than keeps his life and business philosophy simple indeed. He dislikes public eyes, doesn't spend on luxury accessories and wines, and maintains a basic gastronomic taste. The only reason for using the Phantom was its "large interior making it convenient", he explained.
Than is always willing to spend plenty of time dealing personally with his customers' issues and talking with other people about Vietnamese corporate cultures and the market. Successful property development, from his talks, seems to be easy.
Next month will see two more jewels added to the headlined Muong Thanh hotel brand, Vietnam's largest private hotel chain. Than's Lai Chau Number 1 Construction Company, the developer of Muong Thanh and several fast-selling housing projects in big cities, is working on procedures to start two new hotels in the central province of Quang Ngai.
Accordingly, it will develop a VND250 billion ($12 million) four-star hotel on Ly Son Island, 30 kilometres off the coast of the central province. The seven-storey hotel will have 150 rooms to accommodate tourists.
The company will also build a five-star hotel in Quang Ngai City worth VND450 billion ($21 million). The hotel will cover 2,000 square metres and boast 15-20 floors.
Construction of the two hotels is scheduled to start early next month and last for nine months.
Lai Chau would build 10 more Muong Thanh hotels this year, mostly in Ho Chi Minh City, Than revealed.
This ambitious plan will provide a leap-frog for the emerging brand which just started since 1997 in the northwester province of Dien Bien and has expanded to 30 provinces and cities nationwide. Today Than owns 40 three-to-five star hotels, with six opened in 2014 alone. In 2013, Than also caught the headline by acquiring the 108-room Mercure Hue Gerbera managed by Accor in Hue City to turn into a Muong Thanh hotel.
"I am ready to take over other developers' projects at reasonable prices and good locations," he said.
Muong Thanh is also expanding its wings to Laos. The 35-storey Muong Thanh Vientiane hotel is under construction in Laos' capital city and scheduled to complete soon.
Making high-end hotels cheaper
"Our hotel business doesn't bring great profits," Than claimed. Still, more Muong Thanh hotels will continue to be built across the country due to his burning ambition to provide Vietnamese people with affordable stay in high-end hotels.
This flame was possibly ignited during 1999-2001 when he had to spend $200 per night in Hanoi Daewoo Hotel and reservation must be made in advance.
"I didn't think the service was that great either. I told myself that if I ever went into hospitality, I would do it better," Than recalled.
By that time Than already had some hotels in Dien Bien and Nghe An and was eyeing expansion into Hanoi as part of his dream to develop a high-end Vietnamese hotel brand name.
"My partners and I have desired to see a Vietnamese high-end hotel brand name be built by Vietnamese, operated by Vietnamese, and afford as many Vietnamese as possible to stay," he claimed.
He has turned his desire into reality.
Muong Thanh room rates are popularly set from $40 per night for a 4-star hotel. Such a pricing policy has helped occupancy rates reach 95-100 per cent without much advertising.
Despite his blossoming business in the hospitality industry, Than however said seeking profits was not his primary aim.
"My greatest happiness is to help other people. If you look for quick profit, you shouldn't invest in building hotels," he explained.
"I love to build hotels because it provides jobs for many people, good services to the locality, and helps support local authorities in attracting investment," he added.
As part of his enthusiasm to support the community, every year when Spring comes around, Than spends hundreds of thousands of dollar helping poor people in remote areas.
Fast money velocity
While emerging as a high-end hotel developer, Than still consolidates his great successes in the low-cost housing sector, which he also considered his core business.
Regardless of the domestic property market volatility in the past few years and a lot of severe difficulties hitting investors, Lai Chau Number 1 Construction Company has been well known as a best seller.
In 2014 alone, when the market faced a 'freezing' situation, the company sold more than 12,000 apartments in Hanoi. In the central costal city of Nha Trang, 1,300 apartments were sold within only two days in late last year.
Queues of buyers were often seen when Than's housing projects were opened for sales, particularly Dai Thanh, Linh Dam and Xa La residential areas in Hanoi.
Again, his strategy is very simple: "Take less profit, but make money flows faster".
"The most important thing is not to let the money flow freeze. Quicker transfers of property will bring quicker returns," he stressed.
And this also explains why he has done a great job in surviving market storms and growing his low-cost property reign, amidst his competitors' allegation of being a 'market dumper'.
Some unofficial statistics showed that in 2012, around 700 property developers had to shut down or halt operations. In 2013, the figure was estimated at around 10,000.
In the meantime, Than's low-cost apartments and houses still heated the market as they were priced at less than VND15 million ($750) per square metre, about 30-50 per cent lower than many other projects of about the same quality.
In Nha Trang, each apartment was priced at VND17-18 million ($810-857) per square metre, only half that of other coastal projects.
"Increasing prices would mean big inventories and that really is the death to any developer," he said.
Even land prices are expected to balloon this year due to new regulations will be enforced following the implementation of the new Land Law, he remains committed to not passing on the price increases to customers.
Instead, Than is determined to concentrate on fast construction and fast selling at reasonable prices to make up the increased costs.
He said strict quality control procedures, simplified management and independence from banks' loans had helped his company cut operational costs sharply and thereby reduce selling prices.
Additionally, he also pays special attention to developing social infrastructure in projects he develops. They including schooling, recreation and service facilities.
"Investing in education and retail does not require much capital but greatly improves the attractiveness of a housing project. Developers should do it themselves rather than wait for investment from other sources," he said.
Than said his projects are more rapidly completed due to his ample experience and his determination to ensure standards and work the system.
In the last two years Lai Chau has successfully sold tens of thousands of apartments to the market. Than said he will focus much more on the Hanoi market, especially in the Linh Dam new residential area where at least six or seven more apartment buildings will be built this year.
Lai Chau is recruiting more than 10,000 employers.
VIR