VietNamNet Bridge – Well-known pop musicians Phuong Thao and Ngoc Le have returned to Viet Nam after 10 years living overseas to perform their hits in the monthly TV show Dau An (Hallmark).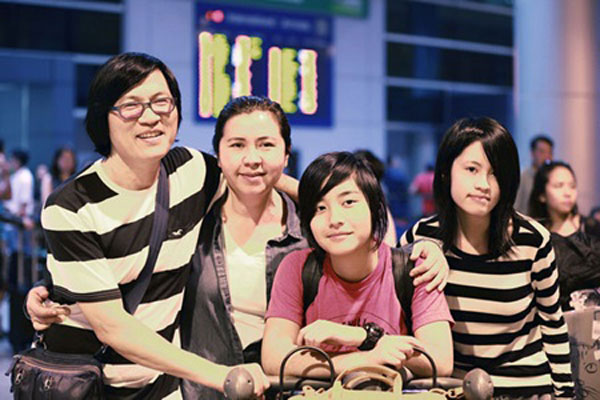 We're back: The family of pop music duo Phuong Thao and Ngoc Le has returned to Viet Nam to perform live on the monthly TV show Dau An (Hallmark) at the Giai Phong Film Studio on Saturday in HCM City. — Photo courtesy of Kmedia
The married couple were a favourite duo in the 1990s and the early 2000s.
From the late 1980s to early 1990s, Phuong Thao was one of Viet Nam's top musical stars.
"Her beautiful voice and pretty appearance made her one of the leading singers in HCM City," said journalist Nguyen Minh Duc at a press briefing held yesterday (July 1) in HCM City.
At that time, Ngoc Le was a composer and instrumentalist.
Thao's first hit, Ai Cho Em Tinh Yeu (Who Gives Me Love), was composed by Ngoc Le in 1990, marking the beginning of their partnership.
"When they became a couple, they brought a 'beautiful period' to Vietnamese music with the album Ca Phe Mot Minh (Alone at the Coffee Shop)," Duc said.
The album's love songs composed by Ngoc Le and sung by Phuong Thao became big hits.
The songs Xe Dap Oi (Dear Bicycle), Ca Phe Mot Minh, Xa Roi Tuoi Tho (Far-off Childhood), Con Gai (Girl), and Dau Yeu Tinh Dau (Lovely First Love) have been sung and listened to by many people.
At the peak of their success, the couple chose to "take their music in another direction". With the birth of their two daughters, Ngoc Le began to compose songs about families, and Phuong Thao passionately sang songs about children and the happiness of being a wife and a mother.
Their second album, Ru Cho Em Va Con (Lulling You and Children to Sleep), includes 'family songs', such as Ba Ngon Nen Lung Linh (Three Glistening Candles). The couple became known as "the most successful and special duo in Vietnamese music circles".
In 2005, however, they bid farewell to Vietnamese audiences to move to a new life in the US after Phuong Thao found her American father.
Now back in Viet Nam, the couple will appear on the monthly TV show Dau An (Hallmark), which features singers and artists who have made great contributions to the country's music.
The couple's daughters, whose nicknames are Na and Nam, will perform songs they composed in Vietnamese.
"My song, Yeu Hay Khong Yeu (Love or Not), is electropop," Na said. "I'm very lucky to have a chance to perform live in Viet Nam. This will be a nice experience in my life."
The show marks the second anniversary of the Dau An (Milestone) programme, which broadcasts live performances and concerts that take place once a month on television.
The couple's performance will take place at 8pm this Saturday at Giai Phong Film Studio in HCM City. It will be broadcast live on VTV9 and several local TV channels.
VNS