The company is working on design of specialized gardens for Ngoc Linh ginseng in the provinces of Quang Nam and Kon Tum, the home to Ngoc Linh ginseng.
After more than 5 years of establishment, My Hanh Group has affirmed its position in the market of Ngoc Linh ginseng products. With ongoing Ngoc Linh ginseng development projects, the company hopes for a future where it can be autonomous in terms of safe and quality materials to bring safe and reputable Ngoc Linh ginseng products to customers.
Support conservation of Ngoc Linh ginseng
Ngoc Linh ginseng is a rare herb found only on Ngoc Linh mountain in central Vietnam. With saponin content many times higher than Korean and Japanese ginseng, Ngoc Linh ginseng is known as the most expensive ginseng in the world. However, the natural source of ginseng is insufficient to meet market demands because ginseng must be at least 6 years old to be valuable.
For its value, many people have exploited Ngoc Linh ginseng in a way that makes the source of ginseng exhausted. In addition, some traders cheat customers by selling them Tam That Vu Phap tubers - an herb with a similar shape to Ngoc Linh ginseng, which has affected the reputation of Ngoc Linh ginseng.
In recent years, preservation and development of Ngoc Linh ginseng has been discussed and implemented by relevant agencies and businesses, including My Hanh Group.
Over the years, My Hanh Group has constantly researched, extracted and created products derived from Ngoc Linh ginseng. In order to be self-sufficient in raw materials and to be able to provide customers with quality Ngoc Linh ginseng products of clear origins, My Hanh Group has robustly invested in its own ginseng gardens in addition to purchasing materials from local people.
Development goes hand in hand with conservation
Conservation in parallel with development is considered the core value of My Hanh Group's business philosophy. The company has been developing three Ngoc Linh ginseng gardens in Quang Nam and Kon Tum.
Since June 2021, the company has planted 30,000 ginseng trees in Village 3 in Tra Nam commune, Nam Tra My district, Quang Nam province. The Ngoc Linh Tra Nam ginseng garden is developing well, being monitored and cared for carefully, in accordance with the researched and approved ginseng growing process.
Since November 2021, My Hanh Group has launched a greenhouse project (MHG Farm project) in Kon Tum, implemented by the Tuyet Son - Kon Plong Agricultural Cooperative, which has been acquired and owned by My Hanh Group.
The company's first Ngoc Linh ginseng garden in Kon Tum is located at km18, provincial road 676, Kon Tu Ma village, Mang Canh commune, Kon Plong district. It is expected that 30,000 Ngoc Linh ginseng trees will be planted here in March 2022.
The company has also signed a land lease contract to build a Ngoc Linh ginseng garden with about 200,000 trees in Tra Linh commune, Bac Tra My district, Quang Nam province in the near future. Its business model is aimed at developing a variety of distribution channels, thereby reducing product costs.
Always interested in preserving high quality ginseng resources, My Hanh Group ensures compliance with strict requirements on soil and temperature - two prerequisites for the growth of Ngoc Linh ginseng. The three Ngoc Linh ginseng gardens are all located at an altitude of over 1,500m with an annual average temperature of only 16 degrees to 22 degrees Celsius, with good forest structure and cover, moist soil and humus, so the quality of Ngoc Linh ginseng is as good as the natural ones.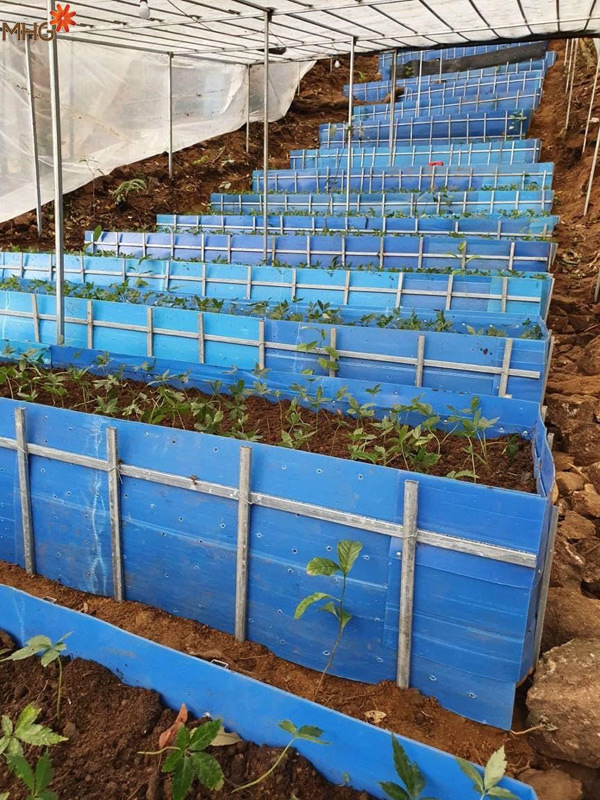 Besides the natural factors, My Hanh Group always attaches importance to the human factor because this is the decisive factor for the success of its ginseng growing projects. A team of senior ginseng experts from Vietnam, South Korea, and Japan is gathered at the company's three ginseng gardens to carefully review and monitor every step of planting and caring ginseng trees. As a result, Ngoc Linh ginseng seedlings are cared for meticulously, scientifically to ensure healthy seedlings, good growth and development for maximum yield and superior quality.
All My Hanh Group's Ngoc Linh ginseng gardens use high-tech agricultural technology to help the herb have the best conditions to grow. With a closed management process meeting international standards and a modern online surveillance camera system, the three Ngoc Linh ginseng gardens are ensured to operate with maximum productivity, bringing the most outstanding economic efficiency.
Sharing values ​​with the local community
Ngoc Linh ginseng, after being harvested, are purchased by My Hanh Group at the committed price that was negotiated with local farmers at first.
My Hanh Group has been cooperating with many experts and scientists with high expertise in agriculture in general and Ngoc Linh ginseng products in particular. In addition, the company also possesses the most modern technology and techniques of planting trees that will bring the maximum output to ginseng gardens.
Ngoc Linh ginseng growing projects of My Hanh Group has been highly appreciated by both customers and investors. These projects are believed to greatly contribute to improve the value of this herb in the international market.
Advantages when growing Ngoc Linh ginseng with My Hanh Group
The process of inspecting and monitoring Ngoc Linh ginseng gardens is transparent, clear, and reputable as the gardens are monitored by a camera system 24/7. The surveillance camera system will help investors and ginseng growers conveniently monitor the growth and development process of Ngoc Linh ginseng anytime, anywhere.
Clean medicinal herbs, clear origin, prestige: All three ginseng gardens of My Hanh Group in Quang Nam and Kon Tum are equipped with advanced technology of international standards in all stages from selecting varieties, nursing plants to planting and taking care of the trees.
PV