VietNamNet Bridge – Pop star My Tam has the highest number of votes in the competition to seek the Vietnamese representative at the MTV EMA 2013.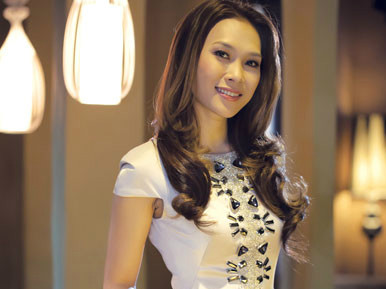 Singer My Tam.
By July 27, the organizers received 68,257 votes from the fans for 10 singers. The order is as follows: My Tam with 33,795 votes, Dong Nhi 20,511 votes, 365 band 5,752 votes, Thu Minh 3,308 votes, Noo Phuoc Thinh 1,733 votes, Uyen Linh 1,003 votes, Khac Viet 751 votes, Tuan Hung 657 votes, Phuong Thanh 432 votes and Lam Truong 315 votes.
With up to 50 percent of the total votes, My Tam is the winner.
My Tam and Vietnamese music fans are about to enter an international race, which will start by the regional round of selection, with singers from Singapore, Malaysia, the Philippines, Indonesia and Thailand.
Details of the poll will be updated soon on the facebook of MTV Vietnam.
According to the organizers, they have not received official information from the MTV EMA 2013. If the format is not changed from last year, the audience can vote for their singers by four ways: Vote on the website of the program, on the mobile web, on the mobile app or the facebook app of the award.
MTV EMA is an annual award of MTV, which is held a different European country each year. Derived from a prize awarded to outstanding artists in Europe, MTV EMA has been considered a major music award in the world, which is presented to the artists who make dedication to the world music scene. This year, the award will take place in the Netherlands.
From 2011, the category "Best Worldwide Act" has been opened for Asian artists. In the first year, this award was presented to Big Bang, a Korean boy band with a huge number of fans in the world. In the second year, Han Geng, a former member of Super Juniors, also a Korean boy band, won this award.
In the previous year, only singers of five Southeast Asian countries joined this race, including Singapore, Malaysia, the Philippines, Indonesia and Thailand.
My Tam is the first Vietnamese singer who won an international award, the Best Asian Artist title at the Mnet Asian Music Awards (MAMA) 2012.
P. Lan