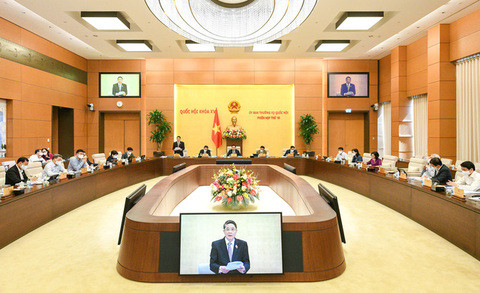 At a meeting on Thursday to consider a Government report on the implementation of NA's Resolution 42/2017/QH14 on piloting bad debt settlement of credit institutions, the committee agreed to extend the application of the resolution to December 31, 2023.
The NA approved Resolution 42 in 2017 which was set to expire on August 15 this year. Therefore, the Government had proposed the NA to extend the pilot resolution until August 15, 2024 before a new law on the issue is completed and ratified.
At the meeting, NA Chairman Vuong Dinh Hue agreed with the extension, but said the extension should be only until December 31, 2023, when NA's Resolution 43/2022/QH15 on economic stimulus package ends.
Hue noted when extending the application of Resolution 42, the Government must pay attention to goals and solutions as well as streamlining guidance to ensure the adequate and consistent implementation of the resolution.
In addition, he said, it was necessary to strengthen coordination between competent agencies and ensure them to take responsibilities in the implementation of the resolution.
NA Deputy Chairman Nguyen Khac Dinh suggested that the Government make specific proposals and orientations for streamlining a legal system on bad debt and collateral settlement.
However, Dinh noted, the Government must consider carefully whether a special policy, such as a law or a resolution on bad debt settlement, is indispensable or just an urgent and temporary solution when the economy faced difficulties with excessive bad debts.
"Does it really need a separate law on bad debt and collateral settlement or should the Government study to amend the Law on Credit Institutions and include it in the law," he asked.
At the meeting, as being authorised by the Prime Minister, Governor of the State Bank of Viet Nam Nguyen Thi Hong reported that after five years of implementing the resolution, the bad debt settlement of credit institutions has achieved positive results.
Accordingly, the bad debt ratio of credit institutions was controlled at below 2 per cent. Compared with August 15, 2017 when the resolution started, total bad debts declined by 17.21 per cent at the end of last year. From August 15, 2017 to November 30, 2021, VND373.3 trillion of bad debt was recovered according to Resolution 42. On average, some VND5.67 trillion of bad debts were handled monthly during the application of Resolution 42, against about VND2.14 trillion previously.
The Government, therefore, proposed to legislate the policies specified in Resolution 42 into a new law to continually enable the banking industry to settle bad debts of credit institutions. The issuance of a new law on bad debt handling will help credit institutions maintain and accelerate the handling of bad debts to avoid potential risks for the economy, Hong said.
Source: VNS