NA deputies highlight macro-economic stabilisation policy
A majority of National Assembly Standing Committee deputies hailed the policy of stabilising the macro-economy and curbing inflation as appropriate at their 22nd session in Hanoi on October 11.
Deputies highlight macro-economic stabilisation policy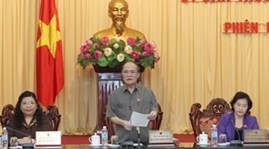 A majority of National Assembly Standing Committee deputies hailed the policy of stabilising the macro-economy and curbing inflation as appropriate at their 22nd session in Hanoi on October 11.
Under the chair of NA Vice Chairwoman Nguyen Thi Kim Ngan, deputies reviewed the 2013 socio-economic performance and State budget, and the plans for socio-economic development in 2014.
They shared the view that this year's goal of strengthening macro-economic stability has been fulfilled with lower inflation and higher growth than last year's rate while social welfare is ensured.
According to the Government, the economy is on track to recovery with encouraging growth in almost all sectors, forging impetus for economic growth later this year and 2014.
From January to September, Vietnam enjoyed an estimated economic growth of 5.14 percent. The annual rate is expected to hit 5.4%, higher than 5.25% recorded last year.
Exports are projected to grow by 15.7% and the trade deficit is forecast to reach US$500 million, or 0.4% of total exports. Thanks to the improved trade balance and increased disbursement of foreign direct investment, foreign exchange rates have become stable.
Despite difficulties in balancing the State budget, the Government has hiked minimum salaries and offered tax exemptions and breaks that amount to nearly VND6.6 trillion (US$314 million) to assist individuals and businesses.
However, the unemployment rate in rural areas is on the rise. Over 60,000 firms had to shut down or went bankrupt. The securities market has seen a slow recovery while enterprises still find it hard to access bank loans.
At the same time, the economy still has low competitiveness and the issue of bad debts is yet to be resolved. Construction of new-style rural areas remains slow and the quality of education-training has yet to improve significantly.
Some deputies suggested setting next year's economic growth at 5.5% and the consumer price index at about 6% while the government proposed the targets at 5.8% and 7%, respectively.
Quang Ninh, Guangxi bolster cooperation
Quang Ninh and China's Guangxi Zhuang autonomous region discussed ways to boost mutually beneficial cooperation at a working session in Ha Long on October 11.
Peng Qinghua, Secretary of the Guangxi Zhuang Autonomous Region's Party Committee, told his hosts he hopes Quang Ninh will consolidate its place in the vanguard of Vietnam's Doi Moi (Renewal) process and boldly strive for future success.
Quang Ninh Provincal Party Committee Secretary Pham Minh Chinh said Peng's visit demonstrates the intent behind Quang Ninh-Guangxi cooperative agreements, strengthening relations between the two nations and localities.
The leaders signed memoranda of understanding on establishing China-Vietnam economic cooperation zones, constructing Bac Luan No2 Bridge, and linking the Dong Xing-Mong Cai-Ha Long highway with the Haiphong-Hanoi road network.
They will build a railway line linking China's Fangcheng and Dongxing and Vietnam's Mong Cai-Ha Long-Haiphong route, and upgrade border gate pairs between the two sides.
They also agreed to diversify trade, service, and tourism ties in an effort to improve their general quality and promote each locality's advantages.
Guangxi provincial leaders have committed to granting more scholarships to Quang Ninh students and help the Vietnamese province train tourism experts.
Deputy PM briefs on VN development
Deputy Prime Minister Hoang Trung Hai answered many questions about Viet Nam's policy of macroeconomic stabilisation, global integration and its business environment at the fourth Global Entrepreneurship Summit (GES) in Kuala Lumpur, Malaysia on Friday.
Hai attended the plenary opening session as an honorary guest of Malaysian Prime Minister Najib Razak. He was a speaker leading a discussion titled "Building a vibrant entrepreneurial ecosystem" along with the Cambodian Deputy Prime Minister, the US Secretary of Commerce, the Malaysian Minister of International Trade and Industry and Singaporean Minister of Trade and Industry.
In his speech, Hai called for the United Nations, the G20 group of major and emerging economies, the International Monetary Fund, the World Bank and the World Trade Organisation to take on more involved roles in global governance, trade liberalisation, investment facilitation and the control of financial flows.
The discussion drew about 300 delegates to share experiences and policies to enhance capacity and connect businesses.
Initiated by US President Barack Obama, the GES has been held annually since 2010 to forge a dialogue channel between the business community and world leaders. This year's event attracted over 4,000 delegates from over 100 countries worldwide.
Chairing the Viet Nam economic forum in Malaysia the same day, Hai briefed attendees of Viet Nam's economic strength and achievements, and its potential co-operation with Malaysia at a time when the Association of Southeast Asian Nations is building the regional community.
Viet Nam welcomed and pledged to offer all possible support to Malaysian firms in the country, he said.
He also answered queries about Viet Nam's policies on foreign-invested firms, especially administrative procedures, investment licensing, land policy and human resources training.
The same day, Hai met with Malaysian Deputy PM Mohamad Haji Yassin, during which the two sides voiced pleasure at the developments in friendly relations and bilateral co-operation, particularly in politics, economics, defence, labour, education and training. They highly valued the close co-ordination of the two countries' relevant agencies in successfully organising a host of meaningful activities during Viet Nam-Malaysia Year 2013.
The two Deputy PMs agreed to step up all-level delegation exchanges, strictly implement the signed agreements and draft new ones. Both countries' enterprises are also encouraged to invest in the other country in their fields of strength such as oil and gas, electricity and new urban residential buildings.
Yassin spoke highly of Viet Nam's great improvement, particularly in agricultural development, and welcomed Vietnamese enterprises to invest in tra fish breeding and processing in Malaysia.
The Malaysian Deputy PM is scheduled to visit Viet Nam this month and sign several co-operation documents in education and training, agriculture and aquaculture.
Vietnam joins global entrepreneurship summit
Deputy Prime Minister Hoang Trung Hai attended the fourth Global Entrepreneurship Summit (GES 2013) in Malaysia on October 11–12.
Established by US President Barack Obama in 2009, the annual forum aims to facilitate meetings between world leaders and entrepreneurs.
This year's summit attracted about 4,000 delegates representing more than 100 countries and territories and led by luminaries including Malaysian Prime Minister Haji Abdul Razak, Cambodian Deputy PM Keat Chhon, Lao Deputy PM Somsavath Lengsavath, Myanmar Vice President Nyan Tun, and US Secretary of State John Kerry.
Discussions revolved around capacity building, practical realities, incentive policies, and business links.
In his speech at the opening ceremony on October 11, Vietnamese Deputy PM Hai stressed the importance of flexibility and dynamism in international business environments, especially in regards to small and medium-sized enterprises (SMEs).
Hai noted the global financial crisis' lasting impact on business climates worldwide, and called for institutions such as United Nations organisations, the G20, International Monetary Fund, World Bank, and World Trade Organisation, to expand their trade liberalisation campaigns and financial oversight systems.
He answered other delegates' inquiries about the Vietnamese Government's policies on macroeconomic stability, international economic integration, business regulations, and enterprise assistance.
President Sang meets with HCM City voters
President Truong Tan Sang underscored the Party and State's consistent policy of global economic integration, saying that only an open-door strategy can stimulate development.
Speaking at a meeting with voters in Ho Chi Minh City's districts 1 and 3 on October 11, President Sang emphasized that a range of solutions have proved effective over the past time with inflation being curbed.
However, business shut-downs have ground production to a halt on a large scale and left inventories piling up, he said, adding that these need to be tackled during the final years of the five-year plan.
Voters shared the view that the socio-economic situation has become stable but many fields have yet to see significant improvements. Overall, the economy remains saddled with bad debts and inventories.
They hoped that the legislative body would adopt the draft amendments to the 1992 Constitution soon to perfect the legal values of law documents.
A majority of them suggested the NA pay heed to the pilot urban administration model, which according to them, should be rolled out across the city quickly.
They also took the occasion to call for transparent information on petrol, gas and electricity so that it will be easier for them to supervise the Government's operations.
Vietnam attends ADMM-Plus military medicine working group meeting
Senior military medical officials from Vietnam, together with nine other ASEAN member countries and eight partners – namely Australia, China, India, Japan, the Republic of Korea, New Zealand, Russia and the United States, are gathering in Singapore for their third meeting of the ASEAN Defence Ministers' Meeting (ADMM)-Plus Experts' Working Group on Military Medicine (EWG-MM).
The meeting is taking place on October 9-11 and co-chaired by Singapore Armed Forces (SAF) Chief of Medical Corps Rear-Admiral Kang Wee Lee and Japan's Ministry of Defense Bureau of Personnel and Education's Director of Health and Medical Division Toyonori Omori.
It was reported at the meeting that over the past three years, the EWG-MM has identified common challenges in military medical support operations; developed a set of Standard Operating Procedures (SOPs) to establish a common understanding and operating language of Humanitarian Assistance and Disaster Relief (HADR) medical support; and developed a Register of national Points of Contact and a Register of National Emergency Management Agencies of all ADMM-Plus countries. The EWG-MM has also worked with Brunei and the EWG on in the planning and conduct of the inaugural ADMM-Plus HADR/MM Exercise that was held in Brunei in June 2013.
At the meeting, Singapore and Japan handed-over the co-chairmanship of the EWG-MM to Thailand and Russia. As part of the overall commitment to the ADMM-Plus process, Singapore will co-chair the EWG on Counter-Terrorism with Australia in the next cycle of the EWGs from 2014 to 2017.-
Deputy PM welcomes Malaysian businesses to Vietnam
Deputy PM Hoang Trung Hai chaired a Vietnam-Malaysia business forum in Kuala Lumpur on October 11 to promote bilateral trade ties in the post-crisis era.
Representatives from each side shed light on their country's respective investment opportunities and introduced the advantages interested businesses can harness.
Hai and officials from the Ministry of Industry and Trade and the Ministry of Planning and Investment highlighted the huge potential for Vietnam-Malaysia trade cooperation in anticipation of a united ASEAN Community in the near future.
He said Vietnam welcomes Malaysian investors with open arms, noting it remains one of the region's most liberal economies.
Hai took questions on direct foreign investment (FDI) business operations in Vietnam, administrative procedures, business licensing, human resource training, and land use policies.
*** Deputy PM Hai met with his Malaysian counterpart Mohamad Haji Yassin earlier on October 10.
Deputy PM Yassin acknowledged the value his country places on its traditional friendship with Vietnam and bilateral cooperation in politics, economics, education, employment, and national defence.
The two leaders agreed to promote visit exchanges, and pursue joint projects on oil and gas, energy, and urban area construction.
Deputy PM Yassin praised Vietnam's agricultural and aquacultural achievements and called on more Vietnamese businesses to explore Malaysian Tra fish breeding and processing projects.
The Malaysian Deputy PM plans to visit Vietnam later this month. He is expected to sign cooperative agreements on education and the agricultural and fisheries sectors.
*** While staying in Malaysia, Deputy PM Hai also met with former Malaysian Prime Minister Badawi Tun Abdullah.
Deputy PM Hai attended the fourth Global Entrepreneurship Summit (GES 2013) in Malaysia on October 11–12.
VNA/VOV