Na Hang: a natural beauty and feast for tourists' eyes

A boat floats slowly across a mirror-like lake. Sky and water meet to create a feast for tourists' eyes. Forests stretch out into the distance. Mountains rise majestically into the distance.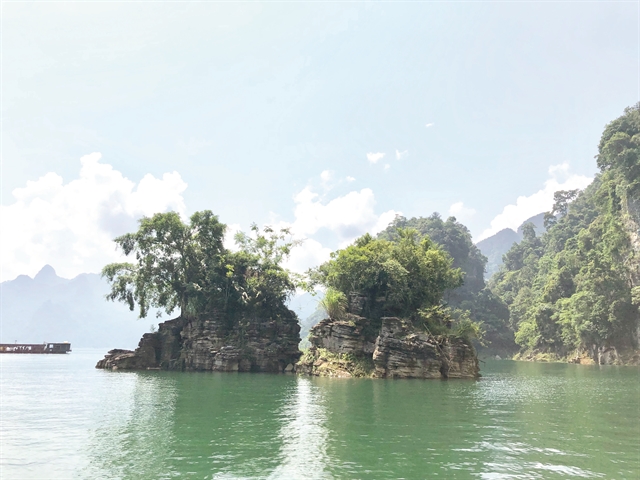 The serene beauty of sky, water and mountains. 
A boat floats slowly across a mirror-like lake. Sky and water meet to create a feast for tourists' eyes. Forests stretch out into the distance. Mountains rise majestically into the distance.
In front of our boat, Cọc Vài Phạ (bamboo pole for tying up buffaloes from heaven in the Tày language) rises proudly from the middle of the lake.
In the far distance stands Mount Pắc Tạ, with several waterfalls cascading down its slopes. Deep inside the mountains around the lake are many caves and grottos, where traces of prehistoric humans can be found.
Photographer Nguyễn Chính, who was born and has resided in Tuyên Quang Province for nearly all his life, has visited Na Hang many times over the past 50 years. He knows almost every corner of the area, as well as generations of many local families.
The photos he has taken have been selected as symbolic images of Na Hang's landscape and people.
The 100km road from Tuyên Quang to Na Hang used to take nearly a day to traverse, but since it was upgraded a few years ago, local life has significantly improved and more tourists are flocking to the area.
Since the Tuyên Quang Hydro Power Plant started to operating in 2007, the 8,000ha lake has created a new ecological zone.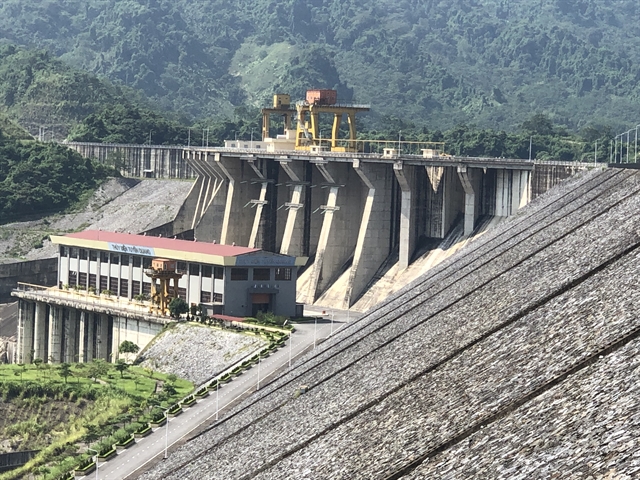 Tuyên Quang Hydro Electricity Plant. 
Ten places around the lake have been recognised as national cultural historical relics, and over the past few years, boat tours on the lake have become more and more popular.
By land or by water, tourists can visit various beautiful sites, including the Tuyên Quang and Chiêm Hóa hydropower plants; the Mơ, Khuẩy Nhi, Súng, Khuẩy Me and Tin Tát waterfalls; and the Tát Kẻ-Bản Bung Nature Reserve Area which is home to thousands of rare animals and plants. Tourists can also visit Phia Vài Cave, where archaeologists have unearthed two tombs and traces of a bonfire dating back to the Stone Age, as well as Thẩm Choóng Cave in Không Mây Village which was home to prehistoric people.
At Thượng Lâm Mountain market, tourists can taste local corn wine while they listen to the legends of the land.
Upstream the Gâm and Năng rivers, tourists can try various wild fish like cá lăng (crystal eyed catfish), cá rầm xanh (bangana lemassoni, a type of carp) and cá anh vũ (cyprinid). Shan Tuyết tea is another delicacy of the region.
Na Hang is home to 12 ethnic minority groups, and visitors can feel the diversity of ethnic cultures here through the singing of the Tày, Nùng and Sán Dìu people, and fire dancing by the Pà Thẻn group.
"Eco-tours round the lake have been running for ten years now," said Nguyễn Việt Hùng, deputy chairman of Na Hang District's People's Committee. "It takes six hours and covers a length of 70km."
Authorities have also opened an eco-tourism area covering 15,000ha, which includes forests, lakes, a camp site, golf course, hotel, horse racing track and recreational area.
The site is located across the districts of Na Hang and Lâm Bình.
"Despite various challenges, Lâm Bình District has spared no efforts to make tourism a main economic sector to help other sectors to develop and improve locals' lives," said Nguyễn Văn Dưng, chairman of Lâm Bình District's People's Committee.
Bình said authorities had revived the Lồng Tồng (Planting in Fields) Festival of the Tày group in the communes of Thượng Lâm and Lăng Can, and the fire dance of the Pà Thẻn group in Hồng Quang Commune.
A focus has also been put on developing community tourism, building more homestays, introducing sports like kayaking and adventure sports, along with exploring primitive forests and caves.
Culture-tourism village models had been set up in Thượng Lâm, Khuôn Hà and Lăng Can communes, and they hope to welcome 36,000 visitors this year, he said.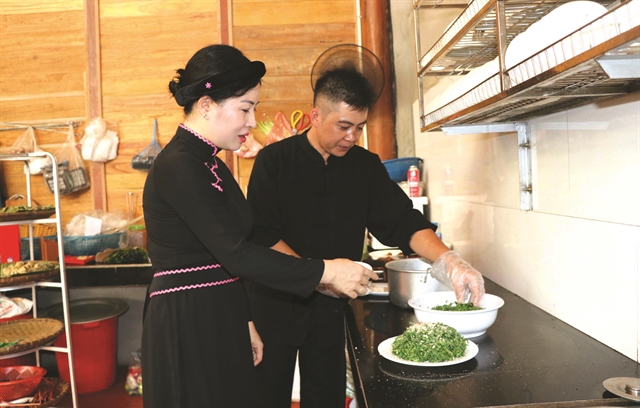 Food prepared for guests at A Phủ Home Stay. 
"Our homestay has been open for six months," said Đặng Vân Anh, owner of A Phủ Homestay. "We offer accommodation, traditional herbal baths of the Dao ethnic group, and motorboats to take visitors around the lake."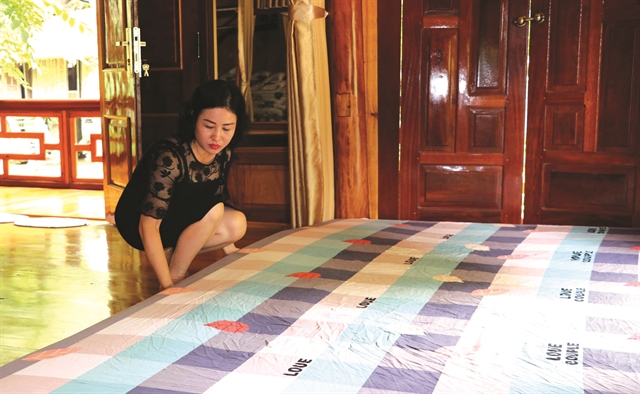 A Phủ Homestay is among the first of its kind in Lâm Bình District.
"There are six other homestays like A Phủ Homestay and more are being built," Dưng said.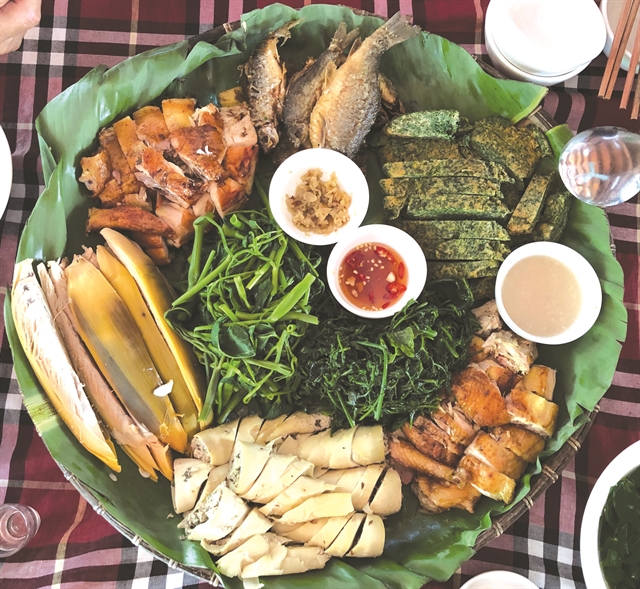 A meal with ofdelicacies.
According to Âu Thị Mai, director of Tuyên Quang Province's Culture, Sports and Tourism Department, authorities planned to focus on infrastructure and building more local tourism products.
"We will complete a dossier to submit to UNESCO for recognition of Then singing of the Tày, Nùng and Thái ethnic groups as an intangible heritage, and compile dossiers for Na Hang (Tuyên Quang Province) and Ba Bể (Bắc Kạn Province) to submit to UNESCO for world heritage titles," she said.
Hùng said in order to create connections in tourism development, Na Hang District has co-ordinated with neighbouring areas like Lâm Bình (Tuyên Quang Province), Ba Bể and Pắc Năm districts (Bắc Cạn Province) and Bắc Mê (Hà Giang Province) to create tailored tours to the region. — VNS
Tran Minh Huong