Nation looks for sources of vaccines amid increasing cases of COVID-19
With the severe fourth wave of infections underway since late April, the number of new cases keeping escalating and the disease has spread further in the country over the past week.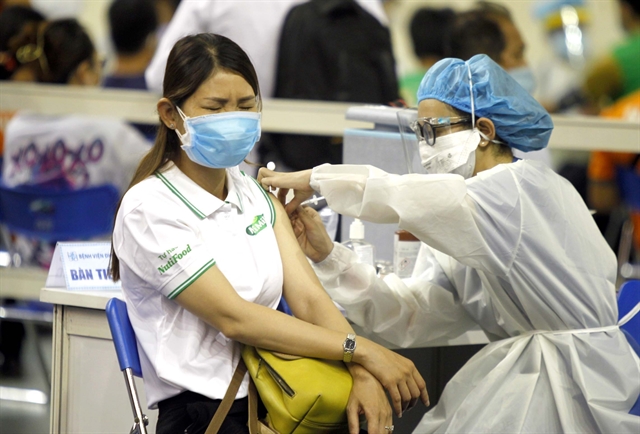 A resident in HCM City was vaccinated against COVID-19 on Thursday. 

With the severe fourth wave of infections underway since late April, the number of new cases keeping escalating and the disease has spread further in the country over the past week. 
Việt Nam is now turning its attention to vaccines, looking at all possible sources to secure 170 million doses to inoculate 70 per cent of its near 97 million population by the end of the year.
The Ministry of Health has reported that Việt Nam may receive up to 8 millions of doses of various COVID-19 vaccines in July.
From next month, Việt Nam will receive one million doses of AstraZeneca COVID-19 vaccines each week which is the fulfilment of the order of 30 million doses supplied within 2021, the Việt Nam Vaccine JSC – the license importer for the vaccine in the country announced on Tuesday.
Prime Minister Phạm Minh Chính on Thursday proposed the World Health Organisation (WHO) support and give priority for Việt Nam to soon receive the next batches of COVID-19 vaccines as committed under the COVAX programme during phone talks with WHO Director General Tedros Adhanom Ghebreyesus.
The Japanese government has pledged to donate Việt Nam an additional one million doses of Astrazenca COVID-19 vaccines, Japanese Foreign Minister Motegi Toshimitsu announced on Friday morning. Last week, Japan presented a batch of almost one million AstraZeneca vaccine doses to Việt Nam which was shipped to Nội Bài International Airport in Hà Nội on June 16.
Besides looking for different sources, Việt Nam is also striving for autonomy in vaccine production. PM Chính on Thursday requested that Việt Nam must be able to produce COVID-19 vaccines no later than June 2022, saying that: "We have important premises to be able to achieve the goal soon".
He pointed to the fact that Việt Nam has a tradition in research and production of vaccines and the country's facilities had been researching and testing a number of COVID-19 vaccines, as well as making a variety of products and medical supplies for pandemic prevention.
To reach the goal, the PM tasked the Ministry of Health and other agencies to focus on technology transfer, research and vaccine production.
Some businesses had invested in factories and were seeking domestic and international vaccine production technology to run at least one large-scale vaccine factory at the beginning of next year, according to Minister of Health Nguyễn Thanh Long.
At the same time, health authorities are working around the clock on the master plan to vaccinate the population. The Ministry of Health has been working out a protocol and gathering feedback from the health industry to anticipate potential problems during mass vaccination. The ministry said it hopes the country will be able to fully vaccinate its frontline workers and vulnerable groups by the end of the third quarter.
Deputy Minister of Health Nguyễn Xuân Tuyên told, chinhphu.vn, Government's online publication, about 300,000-500,000 people would be vaccinated per day in the last months of this year if they have enough vaccines.
Vaccination caution
Meanwhile, the Ministry of Health has called for caution in vaccine licensing, requiring that the licensing of a COVID-19 vaccine, even for emergency use, must be based on sufficient scientific data. Before a vaccine can be widely administered to the people, the ministry needs data on safety, immunogenicity and protective efficacy, according to Deputy Director of the ministry's Department of Science, Technology and Training Nguyễn Ngô Quang.
Deputy minister Tuyên told the online newspaper that all forces who take part in the vaccination campaign have been trained. The agency also directed the Department of Medical Examination and Treatment to train all health workers to handle anaphylaxis cases at vaccination sites.
All the vaccines must be tested for quality and licensed by the Ministry of Health before they can be imported into Việt Nam, circulated and injected for people. The ministry has also directed relevant units to strictly inspect the quality of vaccines before being put into use.
New signs of hope
The past week saw some new encouraging results in COVID-9 prevention and control.  Hà Nội authorities allowed the reopening of indoor dining and drinking venues along with barbershops from June 22 midnight with the COVID-19 has been put under control in the capital city. In the latest wave of infections since late April, Hà Nội has recorded more than 260 local cases (excluding the large clusters found in two major hospitals, both of which have exited lockdowns), but no new cases in recent days.
Bắc Giang City in northern Bắc Giang Province which used to be the hardest hit by the ongoing fourth wave of COVID-19, has ended social distancing from 6am of Thursday after more than a month of applying the measures.
The province had applied social distancing since May 19 when it became the hot spot of the pandemic with hundreds of new cases reported every day. However, the number of new cases has decreased in the past several days. On Wednesday, the province reported 11 cases and three more cases on Thursday morning. On Friday noon, the province recorded 18 new cases.
As of Friday, 14 localities went through 14 days without no new community cases, including Yên Bái, Quảng Ngãi, Quảng Trị, Thừa Thiên-Huế, Tuyên Quang, Sơn La, Ninh Bình, Thanh Hóa, Thái Nguyên, Bạc Liêu, Điện Biên, Đắk Lắk, Đồng Tháp and Vĩnh Phúc.
However, the past week saw the escalation of new cases in some localities, particularly HCM City which has become the hardest hit locality. The total number of COVID-19 patients in the country exceeded the mark of 14,000 on Thursday.
The country reported eight more COVID-19 related death over the past week, bringing the total number of deaths relating to COVID-19 in Việt Nam to 74.
Source: VNS

Some people have criticized the Government for being slow in vaccinating its people. To date, only nearly 1 percent of population has been vaccinated, a figure which is even lower than Laos and Cambodia.