VietNamNet Bridge – Do Ba Ty and Phung Quoc Hien have been elected Vice Chairmen of the 13th National Assembly (NA), according to the voting results announced on April 5 morning.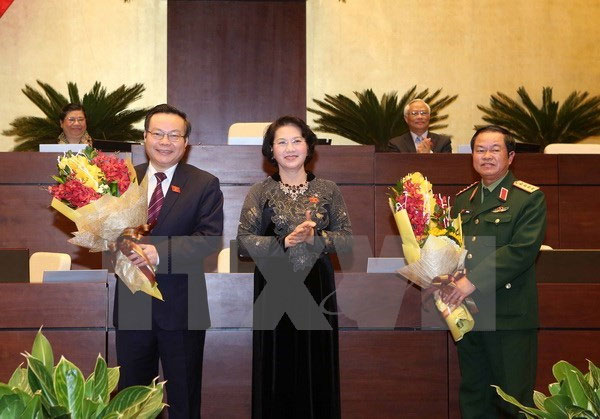 NA Chairwoman Nguyen Thi Kim Ngan (centre) congratulates Do Ba Ty (L) and Phung Quoc Hien (R) on their election (Photo: VNA)
General Do Ba Ty, who is a member of the Party Central Committee, the Chief of the General Staff of the Vietnam People's Army and Deputy Minister of National Defence, was voted into the post by 459 or 92.91 percent of the total NA deputies.
With the support of 433 or 87.65 percent of the NA deputies, the position was also assigned to Phung Quoc Hien, who is a member of the Party Central Committee, a member of the NA Standing Committee and the former Chairman of the NA's Committee for Financial and Budgetary Affairs.
The parliament also passed a resolution on the election of the Vice Chairmen with 90.49 percent approving. The new Vice Chairmen took up the post immediately after the adoption of the resolution.
Ty and Hien replace Nguyen Thi Kim Ngan, who is now the top legislator, and Huynh Ngoc Son, relieved from the Vice Chairman duty on April 2.
The results of the election of new members of the 13th NA's Standing Committee were also announced on April 5 morning, with seven persons voted into the committee. A resolution on the election was adopted after the announcement of the election outcomes, and it took effect immediately.
The dismissal and election of some senior officials are part of the agenda of the 11th and also the last session of the 13th NA.
Source: VNA