VietNamNet Bridge – The country's legislative body must focus more on the people it represents rather than getting embroiled in Party politics, according to past and present National Assembly deputies.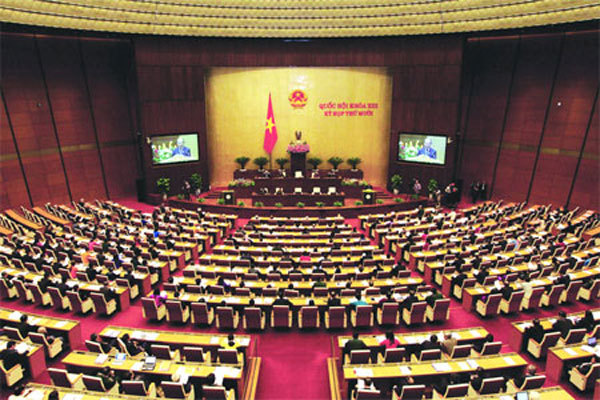 Long history: The opening ceremony of the 13th National Assembly was held on October 20, 2015. Since its first session in 1946, the legislative body has come a long way. — VNA/VNS Photo Nguyen Dan
When National Assembly Deputy Dao Thi Bieu from the southern province of Cuu Long stood up at a meeting of the seventh NA's 10th session in 1985 to talk about the impacts of the price-wage-currency reform on people's lives, many knew it would be a moment of change for the country's legislative body.
Before then, it was rare for NA deputies to talk about issues that had not been approved by the NA's secretariat, and had been the case since the first National Assembly in 1946 after the establishment of the Democratic Republic of Viet Nam was declared by President Ho Chi Minh in 1945.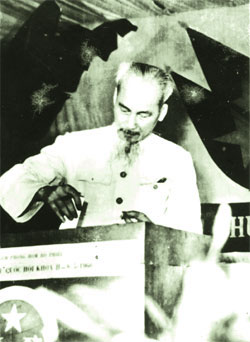 Historic vote: On May 8, 1960, voters elected NA deputies of the second National Assembly. President Ho Chi Minh came to vote at the Truc Bach poll station in Ha Noi. — VNA File Photo
Bieu criticised the price-wage-currency reform's impacts on people's lives. The reform, which took place the same year, started with exchanges of banknotes, and was followed by a big adjustment to prices and wages. It caused many difficulties for people, with prices abruptly skyrocketing while wages remained dramatically low.
On behalf of her delegations and her voters, Bieu asked those in charge to take responsibility.
Bieu later told local media that on that night, delegations from many provinces came to thank her for speaking her mind.
Her speech was one of many that signaled a new period in the NA's history, when deputies didn't just come to listen and then vote "yes".
More changes took place a year later at the eighth National Assembly after the Communist Party of Viet Nam launched the renewal policy (doi moi) to adopt a market economy, said Vu Mao, former Chairman of the NA's Office and former Chairman of the NA's Committee for International Relations.
He recalled another significant event in 1988 when the National Assembly was to elect a new Prime Minister. As stated in the 1980 Constitution, the Central Committee of the Communist Party of Viet Nam would recommend a candidate for the post, and often, NA deputies would all vote for the nominee.
It didn't happen exactly that way back then. Do Muoi, the then-Deputy Prime Minister, was the CPV's Central Committee's nominee, and while NA deputies agreed with the recommendation, they also nominated Vo Van Kiet who was serving as acting Prime Minister at the time.
"It was an unprecedented situation. For the first time we had two candidates for Prime Minister. It indicated a change in the mindset of NA deputies and signalled a democratic shift in the NA," Mao said.
These remarkable events were followed by many similar efforts by NA deputies on the journey to change the legislative body for the better. Voters have been welcoming straightforward and courageous opinions by deputies at NA sessions since then.
The saying Nhat Thuoc, nhi Lan, tam Tran, tu Quoc quickly spread among the public to praise four NA deputies who were outspoken in their rewards: First is Deputy Nguyen Quoc Thuoc, second Deputy Nguyen Lan Dung, third Deputy Nguyen Ngoc Tran, and forth Deputy Duong Trung Quoc.
Opening to the public
It was also at the eighth NA that contact between media and the NA was developed.
Before then, there was a big distance between the NA and the press, Vu Mao said. Information about NA meetings was provided mainly via announcements by the NA's secretariat, and meetings between the media and NA deputies were rare, he added.
In 1988, 30 reporters were allowed to attend certain sessions of the eighth National Assembly.
In 1992, that number increased threefold.
"It became clear to high-ranking NA officials that the press played an important role in informing people about its activities, while letting people voice their own concerns," Mao said.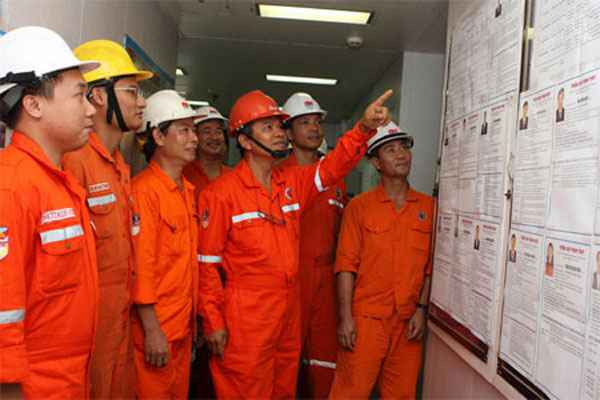 Voices heard: Bach Ho Oilfield workers study candidates for NA deputy of the 13th National Assembly in May 2011. — VNA/VNS Photo Ha Thai
However, the media didn't actually make a huge impact on political life in Viet Nam until all Q&A sessions started to be broadcast live.
"It was a long journey," said Mao, who was the driving force behind this change.
The proposal to broadcast Q&A sessions live was submitted to the NA's Standing Committee for the first time in 1991, and was discussed two more times by the Politbureau before it was approved in 1994.
"There were many arguments against the idea. Some said it might be difficult for ministers and other members of the cabinet to answer issues relating to the country's national security, and other said if they were unable to answer questions, their reputations might be damaged," Mao said.
"At that time, the decision was a daring one, but I believed that if we wanted to foster democracy in the NA, we had to let people know what was happening inside the building," he added.
Nguyen Quoc Thuoc, NA deputy from 1987 to 2002
NA deputies should be able to independently speak for their voters. They should not have any binding official or unofficial relations with the Government that limit their representation of the people. I am a member of the Communist Party, but when I was speaking at the NA, I was representing my people. I had to speak their voices and opinions.
Nguyen Lan Dung, NA deputy from 1997 - 2011
A NA deputy should be in constant contact with voters. I always tried to find time to meet with voters, or ask them to leave messages in case I was too busy. If a denunciation was rational and based on clear evidence and arguments, I would pass it on to relevant agencies. I think you only fulfill your task as a NA deputy if you remain committed to solving your voters' problems.
Nguyen Ngoc Tran, NA deputy from 1992 - 2007
It's very important for NA deputies to have integrity, morality and devotion. I think addressing voters' problems, finding the causes of their problems and then solving them are a key task. Your commitment to the role is reflected by whether you speak out or don't speak out, ask questions or don't ask questions, the decisions you make during NA votes, and whether you're doing those things for yourself or for your voters.
Duong Trung Quoc, NA deputy from 2002 to date
It's vital to reflect on your performance when you are representing voters, and earning their respect is also important. Speaking at NA meetings, questioning Government members and talking to the media are channels through which voters can supervise and evaluate their representatives.
Fourteen years ago, when I was given 10 minutes to talk on my province's TV channel about my promises, I just said I would try to keep my integrity, honesty and straightforward personality, and always try to listen. I have been trying to do that for the past 14 years, and I think I have always stayed true to my word.
Since 1994, Q&A sessions have always been broadcast live.
Nguyen Si Dung, vice chairman of the NA's Office, said live broadcast and the press have had huge impacts on NA deputies.
"In order to do a NA deputy's job well, one needs to be able to give opinions, question decisions and voice people's concerns. Through the live broadcasts, NA deputies can earn their voters' respect when they speak out," Dung said.
This open approach to the public and press had helped the NA work in a more transparent manner, and encouraged deputies to be more responsible, he added.
True representatives
While the public appreciate these progressive changes in the NA, many experts and deputies believe much more is needed before NA deputies can become a true voice of the people.
"At the end of the day, one of the most important roles of a NA deputy is to represent their voters and help resolve their problems," said Nguyen Ngoc Tran, former NA deputy of An Giang Province.
Duong Trung Quoc, NA deputy of Dong Nai Province who has been working as a deputy for 14 years, said he had been put under a lot of pressure.
"Voters have been sending a lot of complaints and denunciations to me. Sometimes I feel overloaded. I feel like I owe my voters because I can't address every issue," Quoc said.
"The longer you are in the job, the more of a burden you feel," he said.
But not every voter believes their representative will be able to help with their problems, if they have any.
"I remember going to vote, but I don't remember who I voted for. Actually, I don't care. I don't believe a deputy would be of much help if we voters have any problems," said Pham Khoi Phong, a voter from Dong Da District in Ha Noi.
As stated in the 2013 Constitution, a NA deputy represents the will and aspirations of the people of his or her constituency and of the whole country. But whether that is true in reality remains a question.
"It's common for voters not to know who their representative is," said Si Dung from the NA's Office.
"Because of the way the elections were designed, the pressure on NA deputies to deal with their voters' problems is low. We do have devoted deputies, and that's more because of their personalities rather than something the system requires," he said.
While admitting that with more information channels, Viet Nam had witnessed significant improvements to the NA's activities such as open Q&A sessions, transparent reports and accountability, he said the "representative" function had not improved much.
The 2013 Constitution states that a NA deputy shall "maintain close ties with voters", and "monitor and press for the settlement of complaints and denunciations". Apart from complaints or denunciations that are sent to relevant agencies, what happens currently in Viet Nam is that NA deputies gather voters' requests and recommendations at their meetings before each session, and submit them to the NA.
"It's not quite right and proper. If a voter' concern can be identified as a major concern, the NA deputy must state it as a main motion and have it seconded. If the motion is seconded, it can be discussed at NA meetings, but if they are individual concerns, they should be settled by the relevant NA deputy, not submitted to the NA for solutions," Si Dung said.
"While NA deputies can't directly solve voters' problems, they should have enough skills to utilise their rights stated in the Consitution to help facilitate the settlement," he added.
While Dung encourages NA deputies to improve themselves, he thinks the country also needs to further improve its election system so that NA deputies can properly exercise their representation function.
Following the former Soviet Union model since 1959, the NA has faced unavoidable problems.
"But we are living in a changed world," he said, adding that changes are indispensable.
"If we continue with the old style, we won't improve. We should remember that both the world and the people who live in it have changed."
By Thu Van
VNS