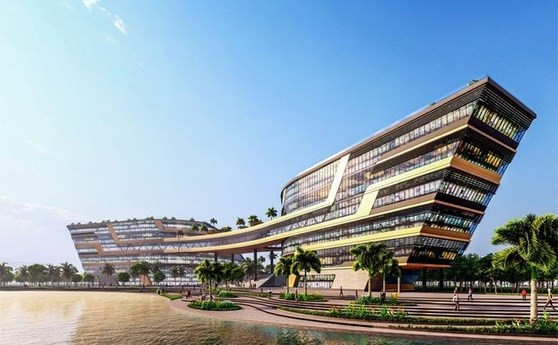 An overview of NIC's new establishment in Hoa Lac Hi-tech Park. (Photo: sggp.org.vn)
Once the new facility is put into operation, the NIC will have two establishments, NIC Hanoi at D25 on Ton That Thuyet street and NIC Hoa Lac.
The NIC is set to support and develop the nation's start-up and innovation ecosystems. It is expected to house domestic and international innovative businesses, laboratories, offices of large corporations, as well as the working place of leading experts and scientists.
It was set up under the Government's Decree No 94./2020/ND-CP which regulates mechanisms and policies for the NIC, including incentives in terms of administrative procedures, finance, land, credit, and infrastructure for the centre as well as organisations and individuals working at the centre.

On this occasion, the Vietnam International Innovation Expo 2023 (VIIE 2023) will be organised from October 28 to November 1.
The expo will introduce innovative solutions, initiatives, and hi-tech products in eight priority fields, namely smart factory, smart city, digital content, network security, environmental technology, semiconductor industry, hydrogen and health.
It is expected to draw the participation of major corporations both at home and abroad as well as start-up community, small-and medium-sized enterprises (SMEs), universities and institutions.
Many activities will be held on the sideline of the exhibition, including international seminars on semiconductor industry, hydrogen energy, game industry, Vietnam Ventures Summit and STEAM Festival.
Addressing the press conference, Deputy Minister of Planning and Investment Tran Duy Dong said VIIE 2023 will be a venue to connect, exchange and expand opportunities for cooperation, research and investment.

The exhibition will also offer an opportunity for businesses to demonstrate and spread the values of their innovative products and services to potential investors and customers through communication activities that can access to tens of millions of Vietnamese users.
This is an important platform to promote cooperation and create unlimited investment and business opportunities in many technology fields of Vietnam, he noted./. VNA