National water resources master plan looks to revive polluted rivers
Hanoi has treated water pollution at Nhue River, but the plan has not met the requirements. Meanwhile, urban area design plans along Lu and Set rivers in Thanh Xuan District are still under construction.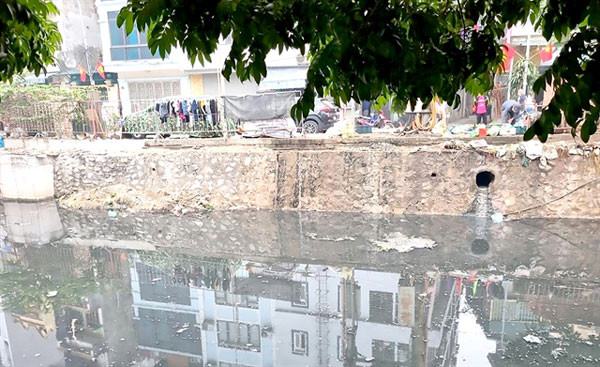 In a national effort to revive contaminated waterways, the newly unveiled national water resources master plan has stirred hope across the country, though environmental specialists caution that significant work remains to be done.
Nguyen Thi Quy, living by the Set River in Phuong Liet Ward, Hanoi's Thanh Xuan District, said: "The river is polluted and the water is a dark colour. As the river is located by a market, people even throw soy pulp into the river."
"I have to close all windows, otherwise we will all get sick from pollution," she told Voice of Vietnam (VOV) newspaper.
Other rivers in Hanoi, such as To Lich, Kim Nguu, Nhue, and Day, have been used as wastewater sewages for dozens of years.
The city's authorities have made efforts to revive those polluted rivers, but a lot of work remains to be done.
In the 1990s, embankments were built, and the infamously-polluted To Lich River was dredged. Other ideas were proposed, such as pumping water from the Hong (Red) River to clean up To Lich River in 2009, cleaning To Lich River with nano-bioreactor technology in 2019 or reviving To Lich River into a historical, cultural and spiritual park.
However, none of these plans went beyond a trial phase.
Hanoi has treated water pollution at Nhue River, but the plan has not met the requirements. Meanwhile, urban area design plans along Lu and Set rivers in Thanh Xuan District are still under construction.
Yen Xa wastewater treatment plant project, expected to be handed over in 2022, is still in progress.
Four other projects in Kien Hung (Ha Dong District), Son Tay Town, Nhue River basin and Yen So are seeking investment.
The slow pollution treatment progress has worried the city's residents.
A resident, who declined to be named, said: "It turns smelly on sunny days, affecting the health of both people living by the rivers and passers-by."
"Households facing the rivers have to close windows all day around. We have been hearing about plans to build an embankment and wastewater pumping lines for a long time, but we do not know when these projects will start."
The same situation is reported in HCM City in canals such as Nhieu Loc - Thi Nghe, Tham Luong - Ben Cat and Xuyen Tam.
Associate Professor Nguyen Dinh Tuan, vice chairman of the HCM City Association of Water and Environment, spoke highly of local authorities' efforts to recover the canals, relocate slums, and install wastewater collection systems under the canals. Some canals have been recovered, however, untreated wastewater is still being pumped into the river.
"Firstly, we have to treat all wastewater before it is discharged into the environment," Tuan said. "The current rate of treated wastewater in urban areas is low, for example, the rate of HCM City is only about 10 per cent. Secondly, we have to remove houses which encroach canals to make way for water flow."
However, he said the investment is huge. It takes hundreds of millions of dollars to recover Nhieu Loc-Thi Nghe Canal in its first phase plan.
"That's one of the reasons delaying renovation of canals in urban areas," he said.
Associate Professor Phung Chi Sy, director of the Environmental Technology Centre (ENTEC), said: "We have solved problems on the surfaces but not the roots. We tried to dredge the rivers and build the embankments to limit the direct discharge sources but have been unable to block sources from the upper stream."
"We have constructed wastewater treatment factories, but how to collect wastewater back to the factory is a big problem," he said.
Expectations of resource plan
Dr Hoang Duong Tung, former deputy head of the Vietnam Environment Administration, expected that the national water resource master plan, which was newly approved by the end of 2022, will help revive dead rivers.
One of the plan's targets is to have 30 per cent of the total wastewater volume in urban areas from Grade II and above collected and treated.
"I think this is a huge ambition that requires the responsibility of not only the Ministry of Natural Resources and Environment but also all ministries, sectors and localities," Tung said.
Associate Professor Phung Chi Sy emphasised the important role of the national water resources plan in reviving dead rivers.
He said financial resources need to be created by calling for private investment. These can be policies to attract investors; for example, those who renovate rivers and canals will be given priority to exploit parts of river banks for lease and business.
Source: Vietnam News