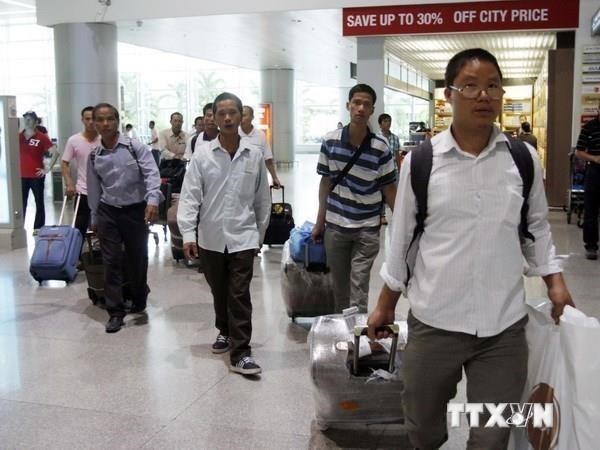 Nearly 67,000 labourers were sent abroad in the first half of 2019.
In the period, Japan was the largest market for Vietnamese labourers with 33,549, followed by China's Taiwan (27,137), the Republic of Korea (3,521), Romania (1,021), and Saudi Arabia (575).
Deputy head of the department Nguyen Gia Liem relished good prospect to the labour market in the second half as various bilateral agreements, which have been already inked, are expected to open more opportunities for Vietnamese workers, thus making fulfillment of the target of sending 120,000 guest workers abroad this year possible.
A Memorandum of Understanding on domestic workers was signed between Minister of Labour, Invalids and Social Affairs Dao Ngoc Dung and Minister of Human Resources of the United Arab Emirates (UAE) Nasser Thani Al Hamli on June 17.
Earlier this month, the Czech Republic officially resumed the issuance of long-term visas for Vietnamese workers after suspending it for almost one year. Meanwhile, the Czech Embassy in Hanoi received the first batch of visa applications submitted by 200 Vietnamese workers who have plan to work in the central European country from August.
Notably, Vietnamese students and workers will have more chances to study and work in Japan following the signing of a Memorandum of Understanding on the specific skilled workers programme between the MOLISA and Japan's Ministry of Justice, Ministry of Foreign Affairs, Ministry of Health, Labour and Welfare, and National Police Agency. Besides, the MOLISA and the National Institute of Technology KOSEN inked an MoU to continue with cooperation activities to implement the KOSEN training models in Vietnam.
The signing was made during Prime Minister Nguyen Xuan Phuc's visit to Japan in June.
To take full advantage of the deals, localities and competent sectors should pay attention to improving capacity for the workers so that they are qualified to work abroad.-VNA