Senior negotiators from almost 200 nations on Sunday began thrashing out a new global deal to curb climate change as the president of China, the world's biggest polluter, landed in Paris.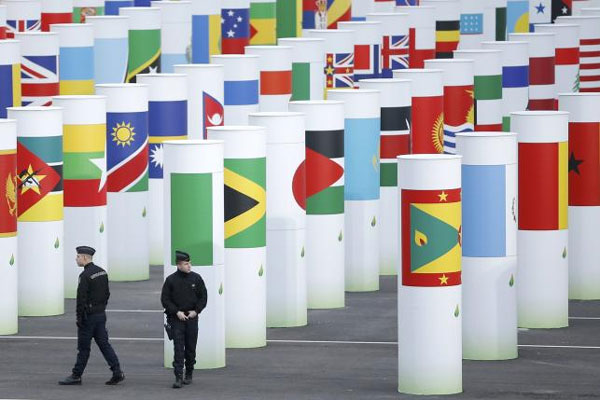 French police officers patrol in front of the entrance at the venue for the World Climate Change Conference 2015 (COP21) at Le Bourget, near Paris, France, November 29, 2015.
The United Nations conference begins at summit level on Monday, when more than 150 heads of state and government - including U.S. President Barack Obama and Chinese President Xi Jinping - will attend talks at a sprawling complex north of the French capital. Xi arrived on Sunday.
To signal determination to resolve the most intractable issues, expert negotiators sat down on Sunday rather than after Monday's high-level speeches, as originally planned.
French Foreign Minister Laurent Fabius said the aim was to give the world the means to cap global warming at 2 degrees Celsius (3.6 degrees Fahrenheit) above pre-industrial times or even 1.5 degrees.
That would avoid the most devastating consequences of global warming, such as rising sea-levels and desertification.
Referring to previous U.N. conferences that have dragged on days beyond the official close, Fabius said relying on "a last-night miracle" could risk failure. Progress must be made every day.
Source: Reuters