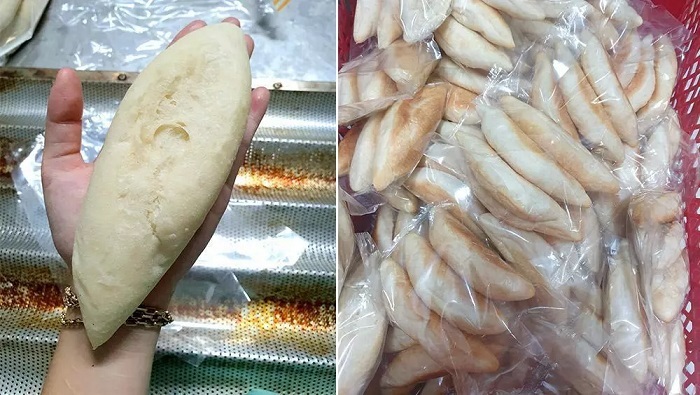 It took Duong and her husband about a month to try different formulas to finally find the right recipe to make the frozen bread, a suitable storage time, re-baking temperature, and re-baking time.
During the Covid-19 pandemic, Au Thuy Duong was forced to close her wedding dress shop but she has started a new, promising business.
At 4 am on a day in late August, Au Thuy Duong, 30, of Long Bien district in Hanoi and her husband Pham Duc Duy got up to make more than 1,000 pieces of bread. They had they received their largest number of orders. That day, the couple stood in the kitchen from 5am to 8pm but could not fulfill the orders. Although very tired, the couple was excited because they had found a new, promising business.
Previously, they ran a wedding dress and bridal makeup shop. Since the epidemic broke out in early 2020, the shop has had no revenue because there were no weddings. The couple tried to hold on until early 2021, but finally they had to close it. After closing, Duy worked for his friend who owns a bakery, where he learned how to make cakes.
In mid-April, the couple opened a bakery shop. Just two weeks later, the 4th wave of Covid-19 broke out. The bakery is located deeply in an alley, so it did not have many customers and profit was very modest.
During the time of social distancing, storing food became a habit of many families. Duong not only kept fresh food but also bread in the freezer. When her two children asked for bread, she would take it out and bake them. She noticed that the bread was usually hard and not as delicious as it was at first.
The young mother came up with the idea of frozen bread. She baked the bread and then stored them in the refrigerator or freezer. She baked breads within a certain amount of time and they were much more delicious this time.
It took Duong and her husband about a month to try different formulas to finally find the right recipe to make the frozen bread, a suitable storage time, re-baking temperature, and re-baking time.
Their first loaves of frozen bread were launched in early August, the time of social distancing in Hanoi. On the first day of online sales on their Facebook pages, Duong received orders for up to 400 pieces of bread. Many people ordered dozens of pieces of bread.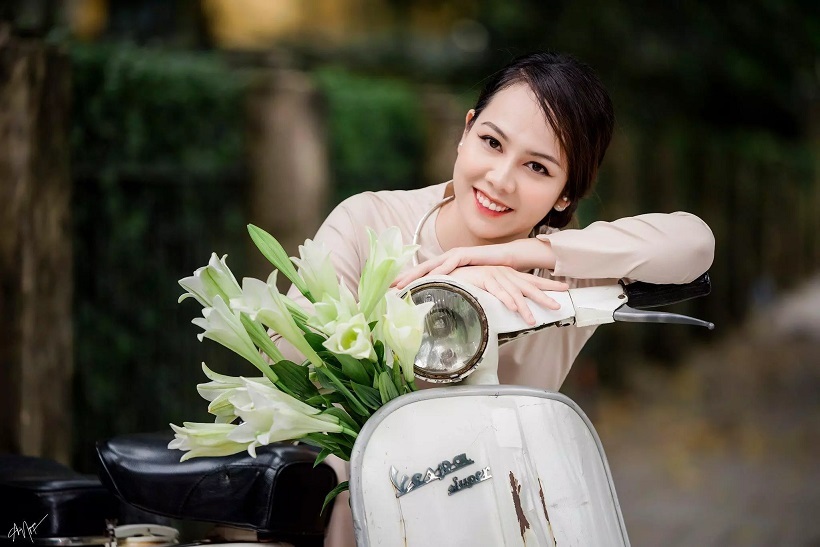 Ms. Au Thuy Duong.
The idea of frozen bread "changed the game" at Duong's bakery. During the pandemic, they lost their business but also thanks to Covid-19, they found a new opportunity. "If it was launched at a different time, it is unlikely that our product would have achieved such results," Duong said.
The couple trained themselves about skills in online sales and customer care, and connected with delivery apps to deliver frozen breads to customers.
Their bakery sells 500-700 loaves of bread per day on average. Sales after the social distancing time decreased a little but Duong has focused on her range of customers: families living in apartments and office workers.
The couple is researching other types of frozen cakes and plans to establish a company specializing in this product. They target distributing frozen breads and cakes to mini supermarkets and shops at apartment buildings.
A wise step after a sad New Year
For Ha Huy Vu, director of a media company in Hoang Mai district, Hanoi, the two years 2020-2021 are also memorable.
Vu founded the event organizing company in 2017. The company was operating well when the Covid-19 whirlwind appeared and struck a fatal blow to event organizers.
Vu had to shrink the size of the company, reduce the number of employees and wait for the storm to pass. In August 2020, when the epidemic situation was temporarily stable, he prepared to run year-end events. But in late December 2020, Hanoi recorded new cases of Covid-19. On the afternoon of December 29, he received calls to cancel four events. After that, many similar calls came.
After two months suspending operation and returning home, in March 2021, Vu returned to Hanoi to set a new direction for the company. He promoted the organization of online events such as seminars, opening ceremonies, talk shows, and livestreams...
Customers only need to sit in front of the computer and his company will prepare the virtual studio, plan the program, design the invitation letter, and provide the camera and the event host.
Vu previously had the idea of organizing online events but was unable to realize it. Covid-19 struck his company but it helped him see an opportunity to implement his long-time idea.
"In recent years, online tech-based occupations have developed. The demand is high, but the service providers are in modest number. I see this is as the best time for my company to make a transformation," Vu said.
About the future direction, Vu said that his company would maintain both online and offline segments.
Young people easily adapt to transformation
Duong and Vu are just two of many cases where workers and companies have changed jobs and found new directions during the pandemic.
Due to the influence of Covid-19, many people have created their own jobs, businesses or moved to technology-based industries.
Pham Minh Huan, former Deputy Minister of Labor, Invalids and Social Affairs, said that there will be a part of workers moving to these occupations but not the majority. It is usually young people who are the most highly adaptable.
According to Huan, changing jobs is not easy for many people because it depends on age, qualifications, and skills.
The Covid-19 pandemic has also contributed to changing working habits, promoting the application of technology to adapt to unpredictable developments of the pandemic.
According to the General Statistics Office's report, in the first quarter of 2021, more than 78,000 employees said that due to the pandemic they had switched from not using information technology (IT) to having IT in their work.
Huan said that businesses and employees have found ways to adapt, work remotely, and apply technology to their operations.
Many people found opportunities to start a new business thanks to technology and more vibrant e-commerce activities. For example, many agricultural products have been traded on e-commerce platforms.
Dr. Dinh Trong Thinh, Senior Lecturer at the Academy of Finance, said that creating new jobs and transforming businesses during the epidemic is a trend. Many individuals and businesses in the fields of tourism, entertainment, events and others have had to change their business methods in order to create jobs, maintain the workforce, and have a source of income to get through the pandemic.
"At first, many individuals and businesses only considered switching careers as a left-hand job and then it became a right-hand job. In the time of pandemic, they have discovered opportunities, and have adapted to a new field that is even more effective than the old one. This profession may be a better one in the post-pandemic period," he said.
Hong Hanh

Although most business resumed after the lockdown was lifted, The Coffee House Signature, a trendy destination of many young Saigonese, has announced its closure.

Vietnam's emerging and dynamic private sector proved its resilience during the Covid-19 pandemic as it helped the country become one of the few countries to obtain positive growth in 2020.