New children's books about Tet released
The Kim Đồng Publishing House, one of Vietnam's leading publishing houses for children's books, has presented new books to celebrate the Tet (Lunar New Year) festival in the Year of the Buffalo.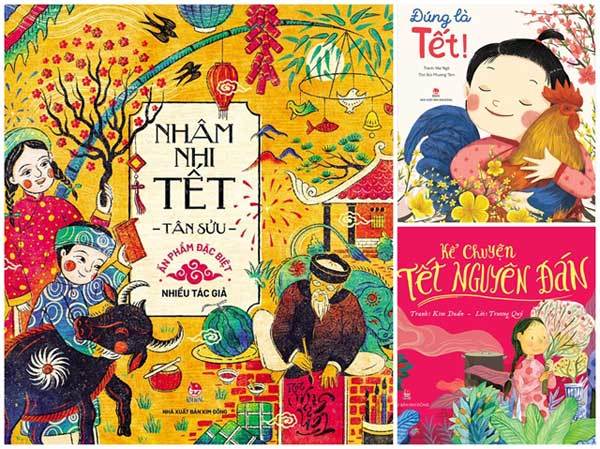 Nhâm Nhi Tết – Tân Sửu 2021 (Book for the Year of the Buffalo 2021), Đây Là Tết! (This is Tết!), and  Kể Chuyện Tết Nguyên Đán (Stories of Tết) are three new children's books celebrating Tết printed by the Kim Đồng Publishing House. — Photo courtesy of the publishing house
The book Nhâm Nhi Tết – Tân Sửu 2021 (Book for the Year of the Buffalo 2021) consists of interesting stories, poems, songs, paintings and illustrations about Tet and buffaloes by various writers.
The 150-page book includes funny and warm stories, such as Món Quà Quý (Precious Gift) by Tran Duc Tien, Mùa Xuân Ấm Áp (Warm Spring) by Thuy Nguyen, and Nghé Con Không Muốn Lớn (Baby Buffalo does not Want to Grow up) by Huong Thi.
The publication features literary works by famous 20th century Vietnamese writers and poets, like Trâu Vàng Hồ Tây (Golden Buffalo at West Lake) by late author To Hoai and Thi Nghé (Poems about Baby Buffalo) by late poet Huy Can.
It also has a copy of Vườn Xuân Trung Nam Bắc (Spring Garden of the North, Central and South), a master painting by lacquer artist Nguyen Gia Tri.
The book has illustrations by favourite young painters Vu Xuan Hoan, Nguyen Quang Toan, and Tat Sy, among others.
Hoang Kieu Nga, editor of Kim Dong, said: "Through Nhâm Nhi Tết – Tân Sửu 2021, readers can feel spring in the different regions of the country, from the peaceful countryside to busy urban areas."
Another publication, Đây Là Tết! (This is Tết!), features poems by Bui Phuong Tam and illustrations by Mai Ngo.
The 44-page book includes simple verses about traditional Tet customs and children's greetings to grandparents and parents for the festive season.
Along with the Vietnamese version, the publishing house has introduced an English version of the book.
The book Kể Chuyện Tết Nguyên Đán (Stories of Tet) consists of fairy tales about preparations for Tet by author Nguyen Truong Quy.
The 40-page work features stories about the origin of the Kitchen God, Tết totom pole, bánh chưng (square sticky rice cake), and the five-fruit tray.
The book includes large-scale illustrations of painter Kim Duan.
Vu Quynh Lien, editor-in-chief of Kim Đồng, said children's books for Tet began to be popular in 2020, but the publishers have released these kinds of books for 60 years.
"Children's books for Tet are meaningful gifts during the holiday and help children learn more about the festival," she added.
All three books are available nationwide at bookstores and on e-commerce websites. VNS

A wide range of cultural activities will take place throughout Hanoi's Old Quarter from February 6, or the 25th day of the 12th lunar month, as part of celebrations for Tet (Lunar New Year).

Author Nguyen Nhat Anh shared many insights about his career.