New Da Lat tourist site criticized for being too flashy
A new tourist zone in the resort city of Da Lat has become controversial on social media due to its design that is said to be "flashy", "messy", and "spoiling the natural beauty of Mimosa Pass".
Panoramic photos taken from above of Thuong Uyen Bay Garden tourist area, located at Khe Sanh Road, Mimosa Pass, Ward 10, in Da Lat City are being shared widely on social networks.
A large number of opinions say this resort has a messy design, flamboyant colors, and copied ideas, and does not have the unique and natural beauty of Da Lat tourism.
"Visitors come to Da Lat for its natural beauty, great climate, and old French architecture, not modern high-rise buildings and amusement parks without their own identity. It's difficult to understand the mindset of developers of Da Lat recently," a visitor said.
"This resort is like a mixed hot pot, with designs from everywhere without connection or harmony. It's really sad to see this image of Da Lat tourism," another tourist said.
"I loved Da Lat in the past, a rustic, quiet, cool place. I remember Da Lat at the time it did not have many coffee shops for shooting photos like now. Looking at this work, I am more disappointed," tourist Han Han said.
Senior tour guide Ha Hoang from Ho Chi Minh City said: "I have not been to this resort directly, but through the pictures, I feel it is too colorful, and really lacks the characteristics of the highland city. I usually take international tourists to Da Lat - Nha Trang. Tourists love Da Lat for the wild features of the pine forest and lakes, not modern and man-made tourist areas."
In addition to the design, public opinion is also interested in the license of this resort.

"Why is there such a concrete tourist area in the middle of the pine forest? Is this an illegally built work?", visitor Ha Anh Thu said.
This tourist zone was developed by Xuan Ai Hung Cooperative on 17,000 square meters. It officially opened to tourists on February 1.
Ms. Vu Thi Ai, Chair of the Management Board of Thuong Uyen Bay Garden tourist zone, told VietNamNet: "I wanted to build a prominent and brilliant work. My idea was to create a royal garden like those of kings in the heart of Da Lat. I have read many different opinions about the design of the resort, but I don't think about this too much. I personally built this place with all my heart and desire to develop local tourism."
Head of the Da Lat Culture and Information Department, Mr. Le Anh Kiet, told VietNamNet that the resort is licensed according to the regulations of the city and Lam Dong province.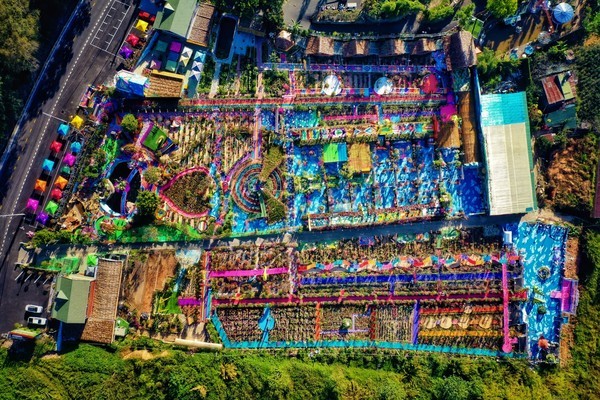 The controversial tourist area. (Photo: Sam Sam - Amazing Da Lat)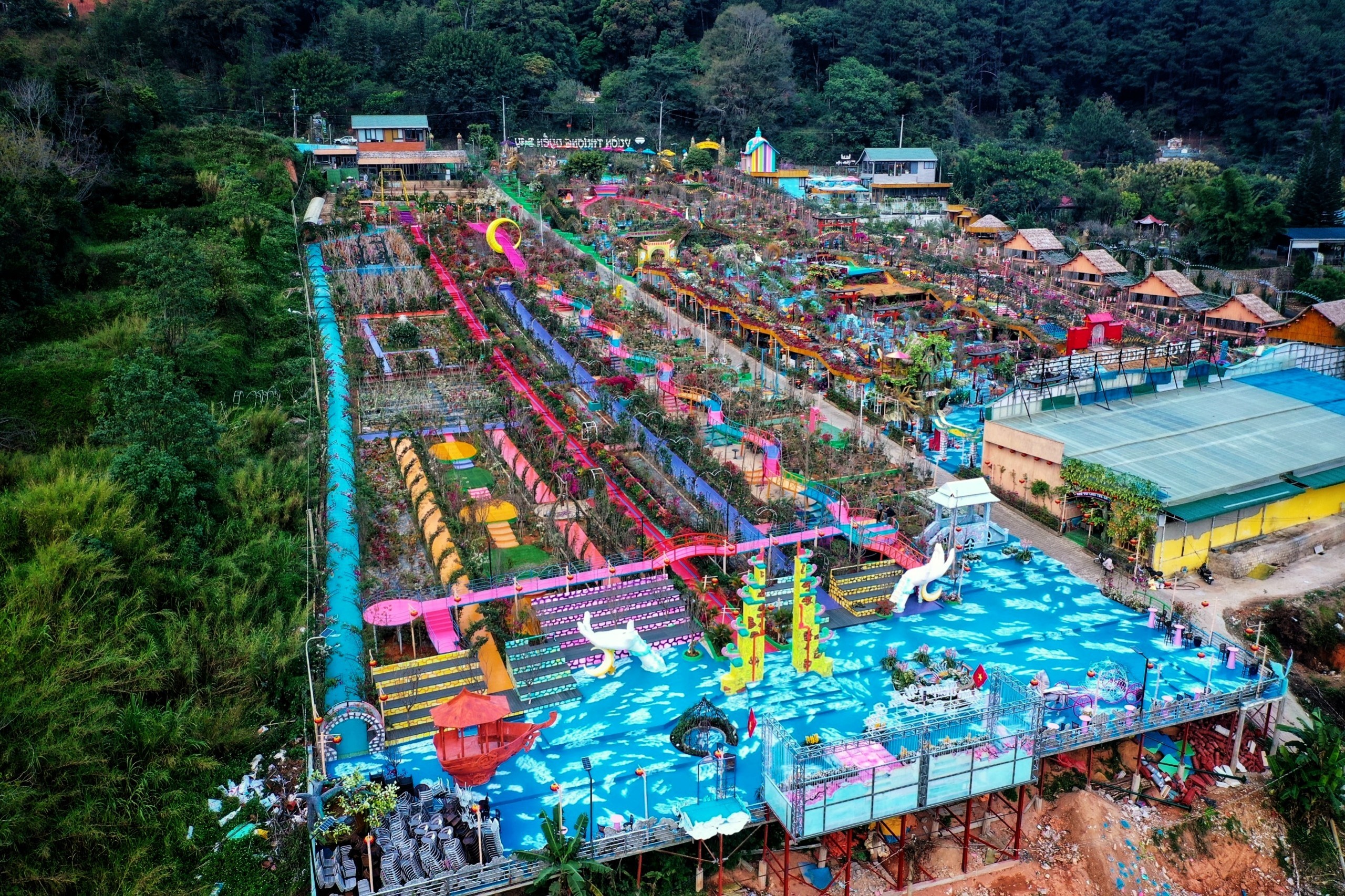 Photo: Sam Sam - Amazing Da Lat
A rose road in this tourist zone. Photo: Sam Sam - Amazing Da Lat
Photo: Sam Sam - Amazing Da Lat
Photo: Sam Sam - Amazing Da Lat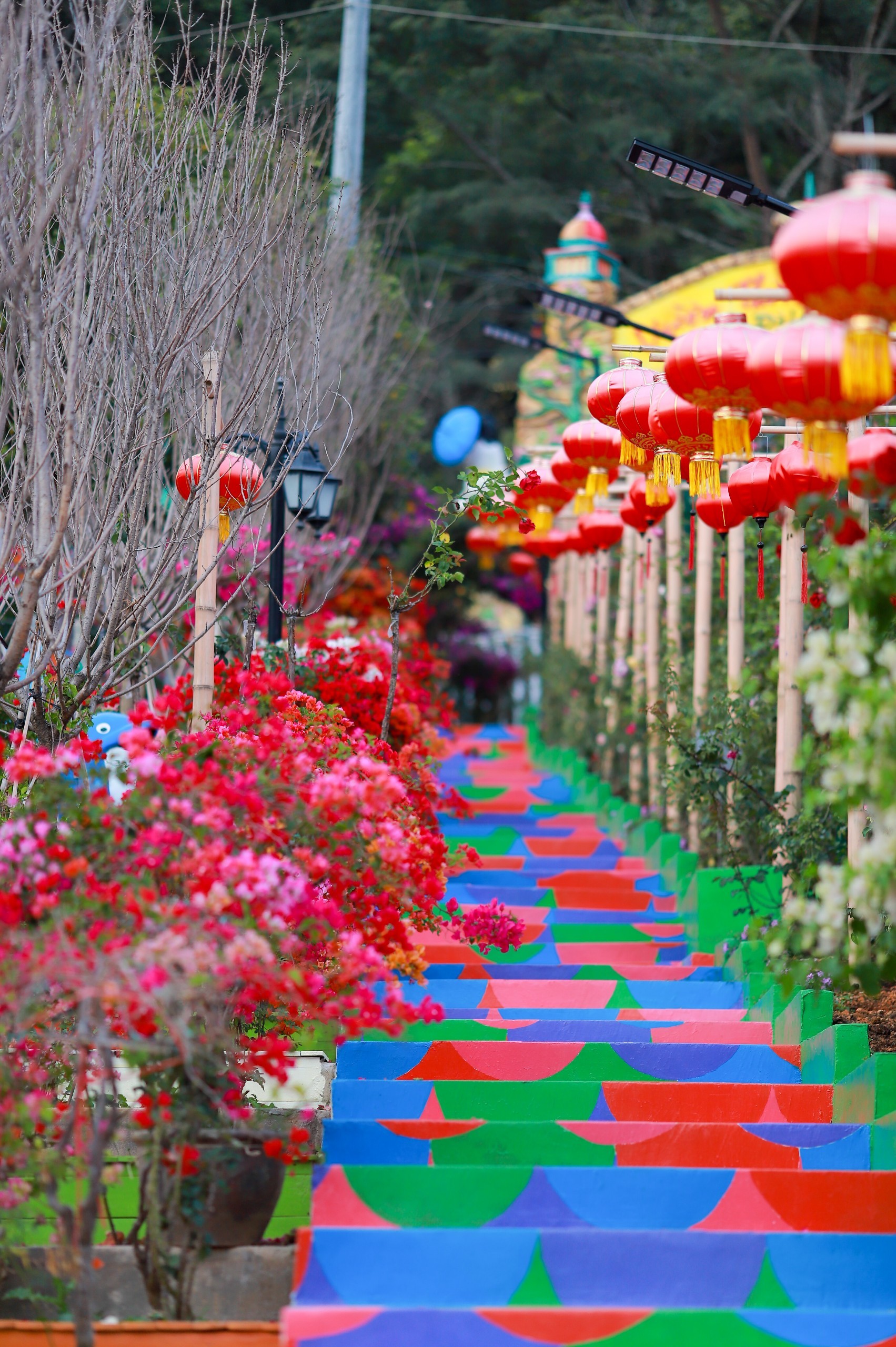 Photo: Sam Sam - Amazing Da Lat
Photo: Sam Sam - Amazing Da Lat
Linh Trang

Da Lat entices travelers with more than just attractive check-in points and its fresh, pleasant climate. Its low-cost refreshments are also a big draw.

The 'mai anh dao' (prunus cesacoides), a variety of cherry-like apricot tree, comes out in full blossom troughout the central highland mountainous city of Da Lat, from the central roads to the suburban hills, during the last days of the year.