New deal promoting fruit and vegetable exports
The Regional Comprehensive Economic Partnership coming in effect last week will enable Vietnam's exports of more fruits and vegetables under official quotas to the deal's member countries.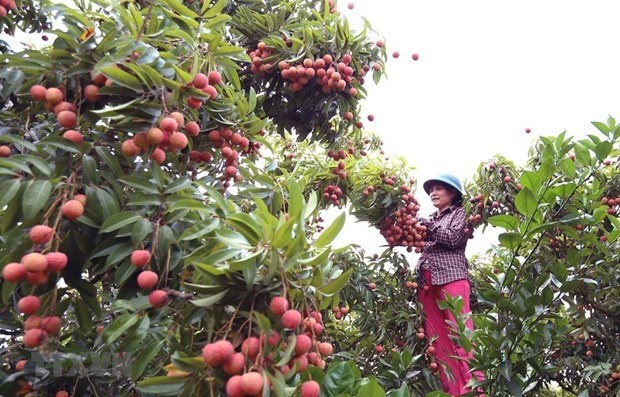 Lychee is among the Vietnamese fruits that have been permitted to enter China via official channels (Photo: VNA)
Nguyen Dinh Tung, general director of Vina T&T Group, told VIR that the immediate benefit from the Regional Comprehensive Economic Partnership (RCEP) is to boost export products under official quotas, especially to China. "The company is studying the opportunity to export our products in this way. Before the deal came into effect, our products could not compete in terms of selling prices with fruits imported into China," Tung said.
Vina T&T is also looking to boost exports to Australia. "This opportunity is feasible because of the member countries' commitment to open the door for goods and services. Besides that, the requirement on quality in numerous member countries is not as strict as requirements in the European Union and the United States," Tung said.
Figures from the General Department of Vietnam Customs showed that the export of fruits and vegetables reached $1.75 billion for 11 months of 2021, up 3.6 per cent on-year. China was still the largest consumer of Vietnamese fruits and vegetables in 2021.
The potential for Vietnamese fruits and vegetables is huge with the RCEP considered the world's biggest free trade agreement with a population scale of 2.2 billion and accounting for nearly one-third of the globe's GDP, equalling $26.2 trillion.
"Along with the benefit of exporting in this official way, the portfolio of Vietnamese fruits and vegetables licensed for exporting to member countries is also expected to be prolonged. At present, the portfolio is quite modest," Tung said.
Vietnam currently exports 10 different kinds of fruits under official quotas to China. In the upcoming time, Vietnam expects to expand that list with durian, passion fruit, pomelo, avocado, and star apple.
Meanwhile, Japan only began licensing Vietnamese lychees for export from December 2019. Local authorities have since asked Japan to provide export licences for Vietnamese fresh longan from 2022.
And in Australia, the Vietnamese Trade Office said that the first 2,000 fresh wax coconuts were sold out. With a retail price of AU$30-35 ($26) per unit, the total value of the shipment was over $52,000.
The question now is how processors and exporters can take maximum advantage of the RCEP. According to Dang Phuc Nguyen, general secretary of the Vietnam Fruit and Vegetable Association, quality is the answer. "Vietnam's advantage is that the typical types of fruits are available all year round, such as watermelon, jackfruit, passion fruit, and dragon fruit, among others, thus the supply source is abundant. The importance is how to ensure quality that meets international standards," Nguyen said.
Responding to the business community's expectations of the government's support for exploiting maximum advantage from free trade agreements and the RCEP in particular, Tung from Vina T&T said, "The government should promote the strategy to export fruits and vegetables via lowering fees for logistics. The fees account for 50-60 per cent of the products' selling prices."
"It is quite necessary to increase flights to the member countries, which will contribute to dropping fees and customs procedures at seaports," Tung added. "Vietnamese producers can build a sustainable export market instead of being excited at first and then falling behind the competition."
Source: VIR