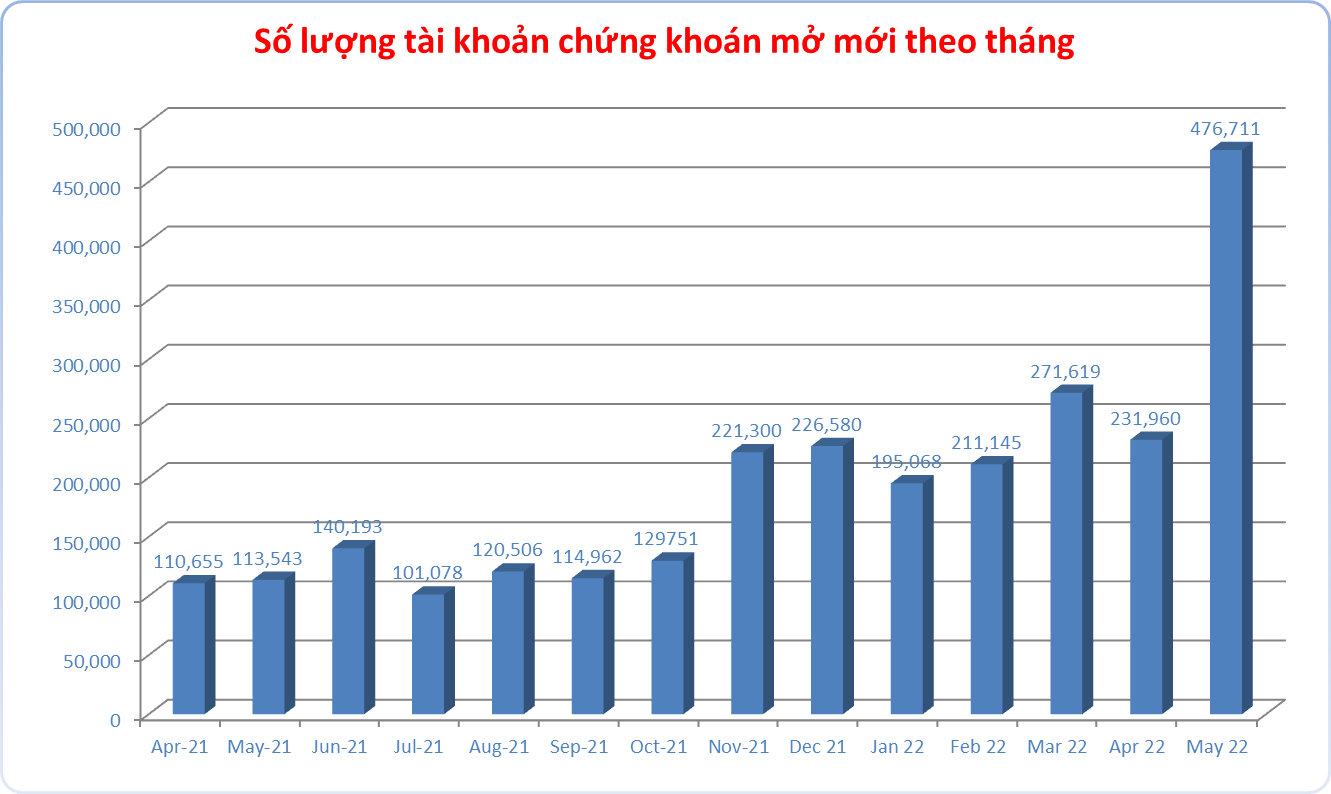 Of the newly opened accounts, there were 476,332 individual accounts and 123 accounts of institutional investors.
This is a new record in the number of monthly newly opened accounts. In April, domestic investors opened 231,960 accounts. The figure was 271,619 accounts in March.
In the first five months of the year, domestic investors opened 1.38 million accounts in total, nearly equal to the total number of accounts opened in the whole year of 2021 (1.53 million). As of the end of April, there were 5.6 million securities accounts, or 5.7 percent of the population.
However, analysts say the number of securities accounts doesn't truly reflect the exact number of investors who make transactions regularly. One investor may have many securities accounts at many securities companies. There also are inactive accounts.
The number of newly opened accounts is increasing because the stock market has been bustling over the last two years. With the support of technology, investors can open accounts and remit money online. They can also place orders via apps and websites of securities companies.
The stock market saw big fluctuations in May. Closing the last trading session of May, the VN Index reached 1,292.68 points, a decrease of 5.42 percent compared with April, and 13.72 percent compared with late 2021.
The VNAll share was 1,312.15 points, a decrease of 6.64 percent from April and 15.96 percent compared with late 2021. Meanwhile, the VN-30 was 1,332.59 points, a decrease of 5.98 percent compared with the month before, and 13.23 percent compared with late 2021.
The total trading value and trading volume were VND299.02 trillion and 10.8 billion shares, a decrease of 32.4 percent in value and 20.98 percent in trading volume compared with the month before. Compared with the month before, the trading value was VND143 trillion, or $6.2 billion.
In May 2022, the total trading volume of CW (cover warrant) reached 542.08 million CW and the trading value was VND347.61 billion. The average trading volume was 27.1 million CW and the average trading value was VND17.38 billion, which meant the 19.9 percent decrease in volume and 46.5 percent in value in comparison with April 2022.
The total trading value of foreign investors in May reached VND53.764 trillion, which accounted for 8.99 percent of total trading value. Foreign investors bought more than sold in the month with the net purchase value of VND889.79 million.
M. Ha