New songs honour frontline forces battling pandemic
As Vietnam is facing the fourth wave of the COVID-19 pandemic, new music productions have been released to honour frontline forces.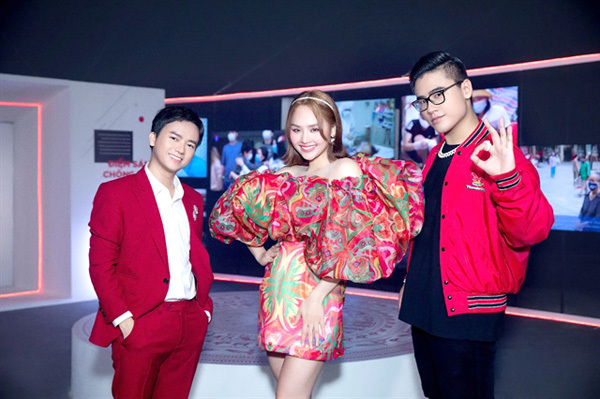 Music video Tỏa Sáng Việt Nam (Vietnam Shines Bright), which honours frontline forces, features singer and songwriter Bui Cong Nam, singer Miu Le and rapper GDucky. Photo courtesy of the producer
Tỏa Sáng Việt Nam (Vietnam Shines Bright) is a new song by young singer and songwriter Bui Cong Nam to show his love and gratitude to health workers and frontline workers who are working day and night to take care of and protect the community.
The song has meaningful lyrics combined with a joyful melody that bring faith and joy to people.
Nam said: "The song reflects my pride as a Vietnamese. I expect Vietnamese people to keep strong together to overcome the challenging time and make Vietnam shine."
The song features the voices of Nam, singer Miu Le and rapper GDucky.
GDucky, runner-up of TV reality show Rap Viet 2020, wrote rap lyrics for the song, calling on people to fight against the pandemic, donate to the national COVID-19 vaccine fund, and praise the solidarity and bravery of frontline forces and Vietnamese people.
The MV contains beautiful images of healthcare workers across the country working to protect people, as well as charity activities such as Vietnam Red Cross Society's campaign to help farmers in pandemic-hit localities sell agricultural products, and "rice ATMs" to support the poor across the country.
MV Tỏa Sáng Việt Nam was released on YouTube on June 4, and has earned more than 517,000 views and hundreds of compliments for its emotional lyrics.
Singer and songwriter Nam was born in 1994 in the Tay Nguyen (Central Highlands) province of Dak Lak.
He became popular after competing in Bài Hát Hay Nhất (Sing My Song), a TV reality show about original songs, launched by the Vietnam Television in 2016. His music is pop, ballad and country.
He won Song of the Year at the 2019 Cống Hiến (Devotion) Awards given by Thể Thao & Văn Hóa (Sports & Culture) with his song Có Ai Thương Em Như Anh (Nobody Loves You As I Do).
This year, he became a hit on social media in Việt Nam after joining  Xuân Hạ Thu Đông Rồi Lại Xuân (Spring, Summer, Autumn, Winter, and Spring), a TV reality show showcasing street performances of favourite Vietnamese singers.
Its videos, which screen live performances on HCM City streets, have earned tens of millions of views on YouTube.
Lieutenant Colonel Vu Thi Huyen Ngoc of the cultural house of the Vietnam Border Guard's Political Department has released a song Lời Ru Nơi Tuyến Đầu (Lullabies at Frontline) as a gift to the country's heroes who are sacrificing to protect the people.
Ngoc said she wrote the song to honour motherhood after seeing a baby girl cry when she saw on TV her mother, a doctor sent to Bac Giang Province, a hotspot of the latest COVID-19 outbreak.
"As a mother, I cried at this beautiful image," Ngoc said.
The song also expressed her gratitude to her women colleagues and frontline forces who left their families and children to fulfil their duties.
Lời Ru Nơi Tuyến Đầu is Ngoc's third motivational song during the pandemic, along with songs Vì Nơi Ấy Có Anh (Because You're Here) and Nếu Anh Không Về (If You Don't Return).
As recognition for her contribution to the fight against the pandemic, the General Department of Politics under the Vietnam People's Army last year granted Ngoc a certificate of merit for studying and following President Ho Chi Minh's thought, morality and lifestyle.  
Source: Vietnam News

Sleeping three or four hours a day, being ready to work regardless of the time, or spending hours sweltering inside a protective suit.
Prime Minister Pham Minh Chinh on May 29 went to Bac Giang province, the country's largest Covid-19 hotspot, to encourage the frontline forces in epidemic fighting.