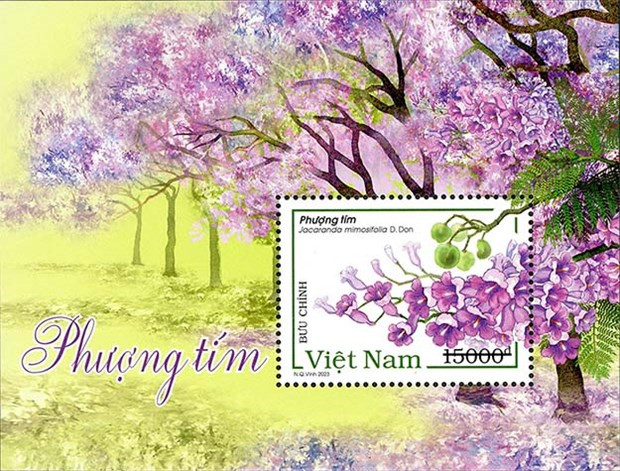 The stamp collection features blooming flowers from fern trees (Jacaranda mimosifolia). (Photo courtesy of Vietnam Post Corporation)
The release of the set aims to promote the images of biological diversity in Vietnam to the public.
Designed by artist Nguyen Quang Vinh, the collection includes a 54x37 mm stamp and a 105 x 80 mm block. The stamp is a close-up image of a branch of blooming Jacaranda mimosifolia flowers and the block features a row of blooming fern trees.
By using tempera watercolours, the artist has showcased the tender and poetic beauty of the flowers.
Jacaranda mimosifolia is a species of plant in the family Bignoniaceae, with a woody stem, about 10 to 15-metre-tall when mature, with wide canopy and double compound leaves. The flowers are bell-shaped, fluffy and grow in clusters. Flowering season lasts quite long, for around 3 to 4 months.
Jacaranda mimosifolia is native to the Americas and grows in places with cool climate and suitable soil. In Vietnam, it is grown the most in Da Lat city.
Prior to the Jacaranda mimosifolia stamp set, the Ministry of Information and Communications has issued a number of stamps to introduce the diversity and abundance of orchid species in the city.
The latest collection set is provided on the postal network from March 30, 2023 to December 31, 2024.
Lying on a plateau around 1,500 metres above sea level, Da Lat enjoys year-round cool weather that is in contrast to Vietnam's tropical climate.
As one of the country's biggest flower-growing regions, the city is described as a must-visit destination by flower lovers around the world./. VNA