New tours aim to boost travel and attract international visitors
A new tourism route departing from Hà Nội to many tourist attractions in the northern province of Bắc Giang, including cultural, historical and spiritual heritage sites, natural landscape and craft villages, has been officially opened.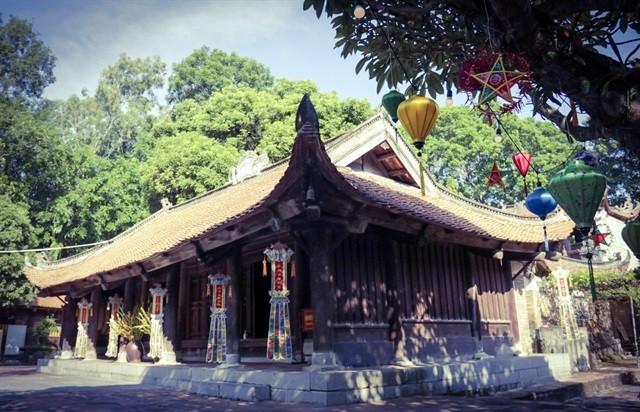 It has been jointly launched by SGO Travel, a member of the SGO Group, and by the Centre for Information and Tourism Promotion of Bắc Giang.
"The opening of the Hà Nội-Bắc Giang cultural tourism route right after the National Tourism Conference on March 15 is a meaningful activity that shows the will and determination of the whole in accelerating recovery, development and creating new successes to heighten Bắc Giang tourism to a new position in the national tourism map," said Đỗ Tuấn Khoa, deputy director of the Department of Culture, Sports and Tourism of Bắc Giang.
According to Phùng Quang Thắng, vice chairman of the Board of Directors of SGO Group and permanent vice chairman of the Vietnam Travel Association, the province has great potential for developing agricultural, historical and cultural tourism.
"We hope that the tourist route will be welcomed by a large number of tourists and open new links between other localities with Bắc Giang Province in the future," he said.
Initially, this new route will include diverse tours, departing daily from Wednesday to Sunday and serving domestic and international tourists under four main themes.
The first theme, Tourism Associated with Cultural and Spiritual Stories, is the core of the programme and includes the one-day tour Hà Nội - Tây Yên Tử: Theo dấu chân Phật Hoàng (Hà Nội - Tây Yên Tử: Following the Footsteps of Buddhist King).
According to Thắng, this distinctive tour takes tourists on King Trần Nhân Tông's journey of Buddhist practice and enlightenment over 700 years ago.
Departing at Thăng Long Imperial Citadel, visitors will travel to Vĩnh Nghiêm Pagoda, where King Trần Nhân Tông led a religious life as a hermit and founded the Thiền Tông Zen sect.
Visitors can witness 3,050 printing woodblocks from the Nguyễn dynasty (1802-1883) preserved at the pagoda, which have been recognised as World Documentary Heritage by UNESCO, and try their hands at woodblock printing.
Under the theme, Tourism Associated with Preserving Long-Standing Traditional Values, the one-day tour will enable tourists to live a day like singers of quan họ (alternate singing) by donning four-panel traditional dresses, learning to sing a few quan họ verses, visit houses several hundred years old and many other interesting experiences.
In tours themed Tourism Arouses Patriotism and National Pride, visitors review historical traditions and national pride through cultural activities and visit cultural and historical destinations of Bắc Giang.
In the last tours under the theme Tourism Associated with Local Life and Agricultural Development, visitors will be taken to fruit orchards, and craft villages and explore beautiful poetic lakes in the province like Khuôn Thần, Bầu Lầy or Cấm Sơn on inflatable boats.
FAM trip Đà Nẵng – Hội An – Huế organised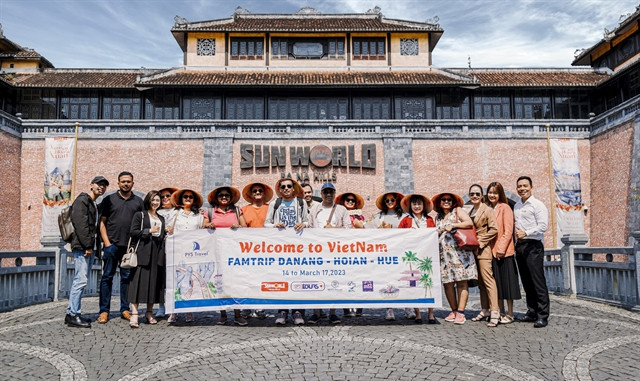 Members of Indian travel agencies, press and media participating in the FAM trip are pictured in front of Sun World Bà Nà Hills mountain resort. — Photo courtesy of PYS Travel
Over 20 Indian travel agencies, press and media participated in a four-day FAM trip surveying the tourism services in Đà Nẵng, Hội An and Huế.
The trip has been organised by PYS Travel to promote and introduce Việt Nam as an attractive destination to Indian tourists.
"We hope that our Indian partners can experience the services of PYS Travel themselves and that after this FAM trip, we will be able to serve a 160 per cent increase in Indian visitors compared to 2019," said Nguyễn Thị Việt Anh, operation director of PYS Travel.
During this trip, the participants visited famous tourist sites in Đà Nẵng, Hội An and Huế, such as Marble Mountains, Bà Nà Hills, or Thiên Mụ Pagoda, while surveying the quality of hotels, restaurants, especially those serving Indian food.
During a meeting with Nguyễn Văn Phúc, director of the Department of Tourism of Thừa Thiên Huế, they were introduced to attractive tourist destinations for Indian tourists, UNESCO-recognised heritages and tourism promotion activities to attract foreign tourists such as the Huế Festival or the Áo Dài Festival.
According to Phúc, the tourism authority of Thừa Thiên Huế has supported and trained staff of restaurants and hotels in the province to meet the needs and tastes of Indian guests.
"I am especially impressed with Bà Nà Hills and the Golden Bridge. I think it is a very prominent and extremely attractive destination for Indian tourists. After this trip, we will decide to promote more tour packages to Đà Nẵng, especially Bà Nà Hills," Salman Moideen, a representative of Flyland Travel & Tour travel company based in Mumbai.
Another participant, Thottathil Jasim, highly appreciated the FAM trip and the Vietnamese travel agents.
"We are impressed with the professional working style and attentive and dedicated service of Vietnamese travel agents," he said.
"After this trip, we will coordinate with PYS Travel to build more attractive tours to bring more Indian tourists to Việt Nam." VNS