New trends influencing Vietnamese real estate market

CBRE Vietnam's senior director Dung Duong offers her take on the new trends that will shape the local real estate market since the COVID-19 outbreak.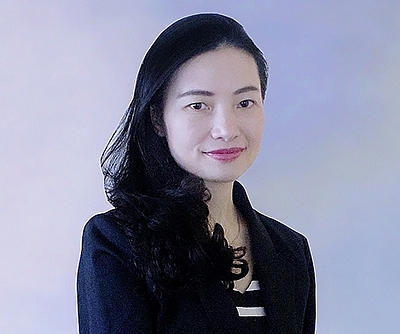 Dung Duong, senior director of CBRE Vietnam.
What trends do you foresee for the real estate market in Vietnam?
Under our research, we expect a set of key trends which will characterise the Vietnamese property market in the coming time. These are the omni-channel, flexible working space, properties with sustainability and wellness features, and the importance of property management.
Can you outline the importance of the new trend in the retail segment?
In the retail segment, consumption will slow but omni-channel retailers display a resilience to COVID-19 which has had the strongest impact on the retail sector. Omni-channel is very familiar in other countries, combining online and in-store types, a mixture of electronic and traditional commerce.
Vietnam has been approaching online consumption, but this trend has not reached adequate levels. This is because the mindset of Vietnamese consumers and a predominant mistrust of the quality and actual specifications of the goods they see online. Many Vietnamese consumers want to see and try the products on before taking them home.
Based on this demand, some retailers are expanding multi-functional services such as The Gioi Di Dong (Mobile World), Dien May Xanh, and Nguyen Kim which permit consumers to order online then come to the store to check out the goods. They also offer delivery.
However, these services require improvements in terms of card payment, logistics, and supply chain management. Vietnam is doing quite well in sectors where preservation is not heavily necessary such as electronics, fashion, and home appliances, however, the country is painfully short on preservation and storage systems for groceries and foodstuff, especially the cold storage system.
Sales will be hit in the short term, with food and beverage, and entertainment the most vulnerable. Retailers are generally in a wait-and-see mode, which has led to a significant fall in site visits and enquiries. This will increase challenges around pre-leasing for new malls. Some retailers are asking landlords to cut rents by up to 50 per cent or even waive rents for the duration of the outbreak.
While retail is set to experience severe short-term headwinds, CBRE believes the sector remains an attractive long-term investment opportunity. The ongoing transformation of shopping centres into experience centres will require strong operational expertise. This will create more opportunities for investors possessing solid retail experience as competition for retail asset will be less intense.
How about the office for lease segment?
We believe the outbreak will create further opportunities for office occupiers to test the feasibility of flexible working or agile working in many markets.
In recent weeks, the government and private sector in Singapore, Hong Kong SAR, Macau SAR, Mainland China, Japan, and Korea have ordered or encouraged employees to work from home in order to limit social contact to slow the spread of COVID-19.
Some companies – particularly those whose staff require only a computer and internet connection to perform their duties – have found this experiment to be relatively successful. While concerns remain over productivity and collaboration among employees working from home, CBRE believes this large scale trial may encourage companies to be more willing to accelerate the adoption of flexible and home working policies in the future.
What other new trends will appear in the future?
The demand for buildings with sustainability and wellness features will be stronger as occupiers strengthen their commitment to employee health and wellness. Properties with such features, particularly those related to indoor air quality, ventilation systems, water drainage systems, and other indoor environmental features to improve employee comfort, will attract stronger demand in the long term.
This could potentially hasten the development of more LEED and WELL-certified buildings.
The outbreak will force companies to reassess Business Continuity Planning (BCP), particularly the need to maintain back up locations for critical business functions and essential employees.
Moreover, property management will become more prominent. At the individual tenant level, greater sensitivity towards hygiene will require more frequent and rigorous sanitisation of the office environment, particularly of shared areas such as canteens and bathrooms along with hardware such as phones and keyboards. Hygiene concerns will require office managers to ensure that high standards of cleanliness are maintained while communicating this to employees.
Asset managers – particularly of properties that include shared amenities such as cafés, retail and agile space – will need to augment their existing hygiene policies to reassure tenants and employees.
Apart from that, data centres which are already the subject of strong investor interest amid the growing importance of big data, Industry 4.0, Internet of Things, and the mainstream adoption of cloud-based services are likely to take on a more prominent role should companies decide to allow employees to work from home more regularly. This would drive cloud storage demand and data usage, boosting date centre fundamentals. VIR
Bich Ngoc

COVID-19 has had a strong impact on the global economy, and the property market has not managed to escape the blow.

To minimize risks as the real estate market has decelerated, investors have been told not to pour all their money into one project.