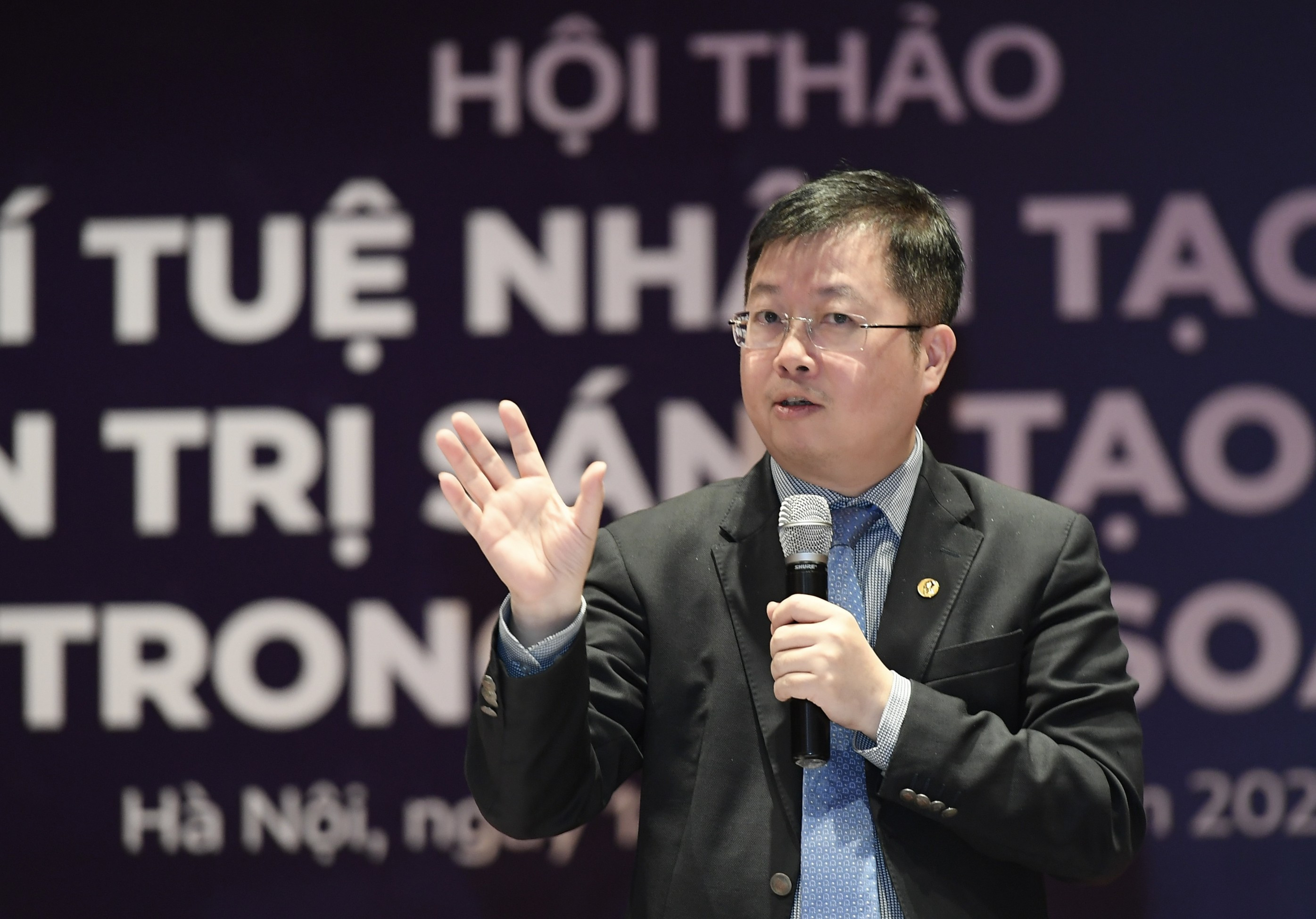 Deputy Head of the Central Propaganda Department, Editor-in-Chief of Nhan Dan Newspaper, and Chairman of the Journalists Association Le Quoc Minh, said the rapid development of AI, especially ChatGPT, is posing opportunities and challenges for journalism, and the positions of journalists and managers.
AI may create false information. Who will own the articles created by AI? Who will take responsibility for publishing the content of AI? What should be done with the toxic content created by newspapers using AI? These are issues that need to be considered.
Minh said AI is also threatening the revenue of the press. Newspapers and search engines have been relying on users' attention for advertising. Users type questions on a search tool (creating ad turnover by prioritizing links with sponsors) before switching to third party websites to give answers (these websites, in turn, get revenue through ads of other parties).
"But now, when ChatGPT scans the entire Internet, reads links with relevant content and then packs the answers in a short text, the question is will users still surf on the internet?" Minh said, adding that this may lead to big changes in relations among press agencies and enterprises that want to advertise as well as search engines such as Google.
However, Minh believes that it is still necessary to invest in AI in the press, or they will lag behind.
Four years ago, when Minh was Deputy General Director of the Vietnam News Agency (VNA), he used AI in VNA's activities. At that time, many people said that AI was still far away from use in Vietnam. Now, ChatGPT has appeared in Vietnam.
Minh said that investing in AI doesn't mean buying a chatbot like ChatGPT which can write articles. AI can be used for many other purposes to support press activities, such as understanding readers' behaviors, thus recommending personalized content to attract readers.
"At present, the quality of newspapers is not only measured and assessed by the number of visitors and page-views, but also in the time readers spend on pages," he said.
According to Deputy Minister of Information and Communications Nguyen Thanh Lam, the appearance of AI such as ChatGPT gives the press an opportunity to gradually eliminate simple skills that machines can do.
"AI makes us realize that we are wasting resources creating similar press products," Lam said.
Lam recommended that press agencies should think about what they should not do because many other press agencies are doing the same.
"We should use technology to bring benefits to us and service us, but we should not rely on it and lose our nature and core value, become dependent or even be controlled," Lam said.
Tran Le Thuy, a journalist researcher at Oxford University, and director of MDI, said that AI, such as ChatGPT, can help journalists with ideas for articles, or it can write simple articles. However, she stressed that the information, and materials given by ChatGPT need to be verified by journalists.
Thuy said that in-depth articles such as reportage, or the articles written in special structure that helps the New York Times collect fees from users on electronic platforms still cannot be written by ChatGPT.
Meanwhile, Ngo Tran Thinh from HCM City Television (HTV), introduced a report written by AI for the first time in Vietnam.
The reportage belongs to CafeTek broadcasted on HTV9 channel in mid-February. It talked about the AI trend in Vietnam. Editors used AI to build up a scenario and write the scenario. AI suggested five major parts of the scenario and wrote 500 words for each part. It even suggested to IT experts that editors should do interview.
Thinh said that AI still made a lot of mistakes like using unsuitable word, having no focus and no human element.
Van Anh