VietNamNet Bridge – Le Thi Hoang Ngoc bagged gold at the Southeast Asian Shooting Association Championship (SEASA) 2016 at the Ha Noi based-National Sports Training Centre on Wednesday, Nov 9.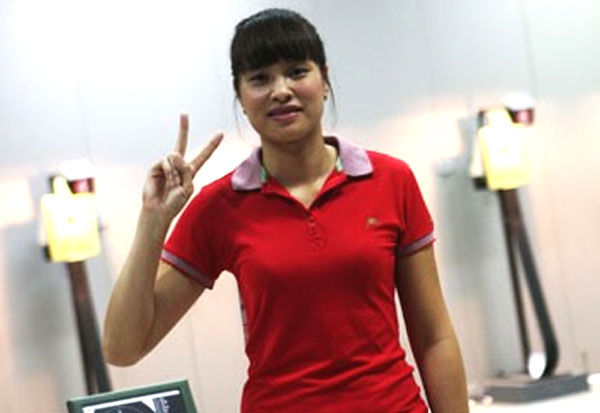 Le Thi Hoang Ngoc won a gold medal at the SEASA 2016 at the Ha Noi based-National Sports Training Centre on Wednesday. — Photo baomoi.com
35-year-old shooter Ngoc defeated other seven rivals in the final of the women's 10m air pistol to triumph with 197.8 points. Ismail Wahidah of Malaysia took silver with 197.0 points, while Lo Ka Kay of Hong Kong received bronze with 153.4 points.
"I am very glad because I overcame myself at this tournament," said Ngoc who has competed in the annual event since 2002.
"Malaysia sent their best shooters to the tournament because next year they will host the Southeast Asian (SEA) Games. Their achievement is outstanding. Viet Nam and Malaysia often battle each other for gold medals," said Ngoc.
"In the qualifying round, Ngoc ranked third but in the final took the lead. Although she won the gold medal, it wasn't her best result. I only think that she overcame herself because the competition in this category was very tough with the Malaysian nearly taking the lead," said Nguyen Thi Nhung, head coach of the Viet Nam national shooting team.
In the team event, Malaysia including Mohd Siti Masitah, Alia Sazana Azahari, Ismail Wahidah took gold medal with total points of 1.125 points. Viet Nam and China's Hong Kong got silver and bronze, respectively.
"I am very happy because it is the first time I took an international gold medal in the team event," said 24-year-old Azahari who has eight years of shooting training.
"The event is very exciting. I like the environment here, it is very competitive. It makes me strong everyday when competing with top female shooters in the region," Azahari added.
"Malaysia has many programmes to develop shooting in general and junior shooters. This event is a test for Malaysia to prepare for the coming SEA Games," said Sabki Mohamad Din, coach of Malaysia team.
Earlier, Indriani Nouma Try of Indonesia won gold in the 10m running target mixed women's event with 341 points. Vietnamese shooter Nguyen Thi Thu Hang took silver medal with 332 points.
In the team event, Hang, Nguyen Thi Le Quyen and Dang Hong Ha took gold for Viet Nam with 970 points. Indonesia was the runner-up with 959 points.
In the men's junior 10m air pistol, Nugraha Kresna Arya of Indonesia won gold medal with 575 points. Pham Ngoc Huy of Viet Nam and Poh Yu Hao of Singapore took silver and bronze medal with 568 and 566 points, respectively.
Viet Nam temporarily lead in both the SEASA senior games and junior games.
The event, which has seen the participation of 300 athletes and coaches from nine countries and territories, will close on Friday.
Source: VNS