Ngu Vien Heritage offers the vegetarian side of menu

So the news on climate change does not look good. The world keeps getting a little warmer every year. 
If you are eco-responsible and discard little waste, you consume little or no meat, and you travel by train instead of plane, you'll still end up among those who consume a lot of meat, travel by plane and dump the plastic cutlery they eat their takeaways with. 
Vegan food makes us live not for meat, but for flavor
Co Noi Restaurant for vegetarians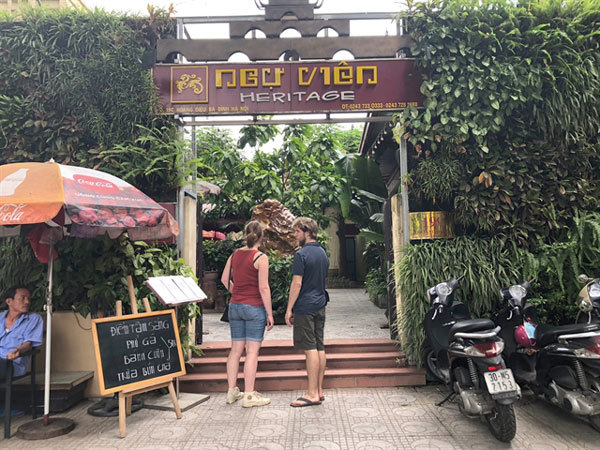 Conveniently located next to the Thang Long Citadel, Ngu Vien Heritage boast a large menu that caters to all tastes. VNS Photo My Ha

If you follow international news on the environment, the recent Oslo ZeroKonferansen in Norway would have been an eye-opener, with the outlook for Earth gloomy.
So what can we do?
The least we can do is to go vegetarian. Not long ago, only in the 1980s, Vietnamese society suffered from a shortage of cattle and poultry protein. Consuming meat was limited to only the privileged in the cities or farmers in the country.
After 30 years of renewal and change in economic structure, more meat is now accessible to the majority of the population. Then came the vegetarian wave.
We are not vegetarian nor vegan, but recently we were treated to a beautiful and delicious vegetarian meal at Ngự Viên Restaurant located next to the Thang Long Citadel in Hanoi.
The spacious restaurant boasts an open garden on Hoang Dieu Alley. It caters to tourists who visit the citadel next door, and the former residence of the legendary General Giáp just across the street.
It was a meeting with a Buddhist monk, so we all switched to vegetarian mode, though the restaurant also serves meat.
We had banana flower salad (VND68,000) which was simple and easy to start with. Then vegetarian summer rolls (VND88,000) came next. The rolls were fresh and dipped in a mix of soybean, peanuts and sesame with seasoning to taste.
The biggest concern for those who decide to go veggie is nutrition. In Vietnamese cuisine, most of the non-meat sources of protein come from soyabeans and its derivatives such as tofu: fried or steamed, tofu leaves or soya curd for dessert.
The only concern is that soybeans are some of the most seriously genetically-modified organisms on the planet, and you don't have any way to figure out what's good and what's not. Cheap tofu is available at most markets at very modest prices. It is the main supply of veggie protein in the lives of millions of Vietnamese people.
As long as the tofu taste good, people do not ask questions, and even if they could ask, there are other barriers preventing them from getting access to a good, non-GMO supply of soybeans.
If you're not a vegan, and do not want to rely on tofu for protein, then you can opt for eggs or cheese instead.
Some of us decided to try the crispy fried cheese, Czech style, (VND128,000) which is a hot seller at beer joints and gardens.
Then we had fragrant mushroom stir-fry with broccoli (VND98,000), which was delicious as I'm a big fan of both mushrooms and broccoli.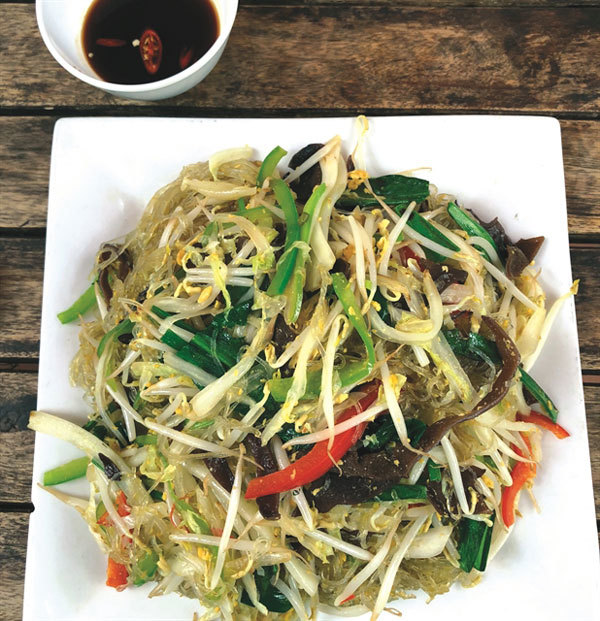 Vegetarian crystal noodle stir-fry has wood-ear mushrooms, assorted vegetables and eggs. VNS Photo My Ha

The meal would not have been complete without steamed rice and hot soup, which we chose to have with eggplant stew and tofu cubes (VND168,000).
In the non-vegan world, this is one of my favourite soups of all time, with the buttery eggplant and chewy tofu in a sour hot soup, especially with a herbal topping of purple basil. This soup can be cooked with pork ribs or pork belly. But to me, the vegetarian soup tasted just as good. It can be poured over steamed rice or fresh vermicelli and it's the perfect way to end a meal.
I later returned to Ngu Vien and tried vegetarian glass noodle stir-fry (VND88,000), which was delicious, but the size of dish was too big for two to share. We Vietnamese tend to go in bigger groups of four to six people. I recommend asking how big the dish is just in case two diners cannot finish one plate.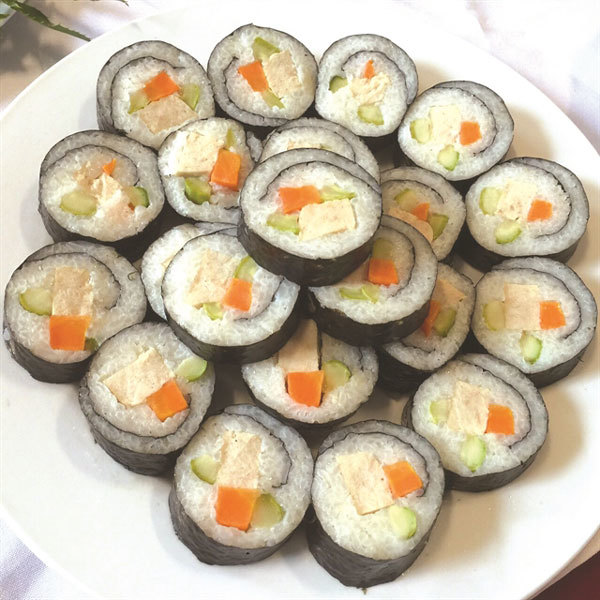 Vegetarian kimbap at Ngu Vien, which also offer vegetarian spaghetti. Photo courtesy of the restaurant

The restaurant also offers other vegetarian dishes such as Korean kimbap and vegetarian spaghetti with tomato sauce. The restaurant also offers a vegetarian food tray for six at VND1,500,000 booked one day in advance.
Many trendy vegetarian restaurants in town have become so obnoxious with their decor and lofty ideals they make meat-eaters feel humble accompanying their vegan friends.
I'm happy as a vegetarian, but I do not mind sharing a table with a meat-lover. I respect their culinary choices and would be happy chatting with them over the course of a meal, without forcing others to follow my food preferences.

Ngự Viên Heritage Restaurant
19C Hoàng Diệu St., Ba Đình Dist. Hà Nội
Tel: 024-3733-0333
Comment: Diverse menu with great vegetarian food cooked in same kitchen with meat dishes
U Hoa Restaurant is located in a French-style villa with a beautiful garden where birds sing all day. Even at first sight, it offers an escape from the noisy streets and hectic life.

Among the dozens of Indian restaurants in Hanoi, Rasm Modern Indian Cuisine Restaurant, which has been open for three months now, offers a fresh style of Indian cooking.


by Nguyen My Ha
VNS