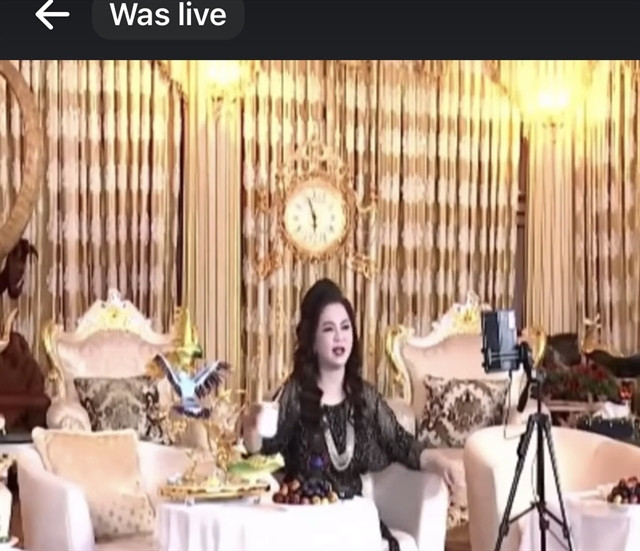 A screenshot of a video showing Nguyen Phuong Hang, 52, former director of Dai Nam JSC, livestreaming on her social media account. She has been sentenced to three years in prison for "abusing freedoms and democratic rights" to slander celebrities. — VNS Photo Bo Xuan Hiep
On Friday (September 22) the court also sentenced Dang Anh Quan, a lecturer at the HCM City Law University, to two years and six months, and Hang's employees Nguyen Thi Mai Nhi, Le Thi Thu Ha and Huynh Cong Tan to 18 months in jail for spreading unverified information about the private lives of certain people on social media.
According to the court, the judges "infringed on the interests of the State, the rights and the legitimate interests of organizations and individuals," especially celebrities and singers, by deliberately tarnishing their reputation and affronting their dignity.
Their actions also violated the "Law on Cybersecurity" and had "negative effects on public order and social security," the judges ruled.
They also ordered the criminals to pay the victims restitution of VND18 million.
According to the court, Hang, 52, and her accomplices organized 57 livestream sessions on social media platforms in which they used derogatory language to attack the honor and dignity of various people.
She got Quan, the law lecturer, to participate in 11 of them to increase the credibility of her statements.
They were held at Hang's private residence in HCM City's District 3 and at the Dai Nam Tourism Area in Binh Duong Province.
Hang expressed remorse for her actions in court and stated her desire to continue charitable work and aid the poor.
Her husband, Huynh Uy Dung, is the legal representative of a company based in Binh Duong.
The two are known for their extravagant lifestyles, but also philanthropic activities.
Hang and her accomplices were arrested in March last year after ignoring several warnings from the police and continuing with the livestreaming.
They were sentenced under Article 331 of the Penal Code.
The court said it is necessary to impose stringent punishments to educate and deter others from engaging in similar behavior. — VNS