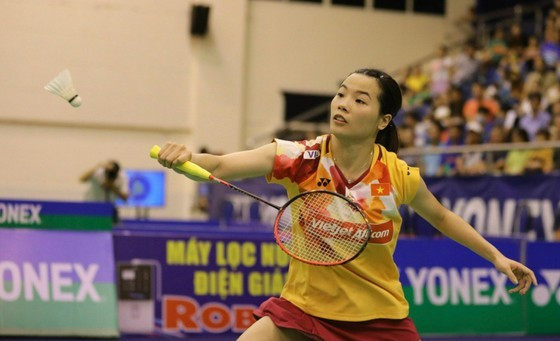 Nguyen Thuy Linh enters the final of the Vietnam Open badminton tournament for a second time.
Reigning champion Nguyen Thuy Linh demonstrated the strength of the top-seeded player as she defeated Japanese player Manami Suizu in the semifinal on September 16, securing her place in the final of the 2023 Yonex Sunrise - Vietnam Open, currently taking place at Nguyen Du Stadium in Ho Chi Minh City.
In the semifinal on the afternoon of September 16, Vietnam's top female player, Nguyen Thuy Linh, encountered the 80th-ranked Manami Suizu again. In last year's Bendigo International tournament held in Australia, Nguyen Thuy Linh convincingly defeated Manami Suizu with a score of 2-0 (21/11, 21/15) in the semifinals and went on to achieve the runner-up position in the tournament.
In this rematch, the result stayed consistent, with Thuy Linh showcasing her dominance over her Japanese opponent. Despite not having the height advantage of her rival, Vietnam's top female player displayed graceful movement and excellent stretching ability, frequently seizing the initiative with her versatile playing style.
Utilizing her proactive and tactically astute approach, combined with her exquisite technique, Thuy Linh consistently assumed control in the first game. Following a brief 6-point tie, Thuy Linh swiftly secured three consecutive points to establish a 9/6 lead, which she maintained throughout. When she was ahead at 13/11, Thuy Linh remarkably tallied seven consecutive points, elevating the score to 20/11, ultimately clinching the game with a score of 21/12.
In the second game, Manami Suizu had a strong start, scoring four consecutive points, which had a psychological impact on Nguyen Thuy Linh. Perhaps the Vietnamese top-ranked badminton player was a bit impatient, affecting her performance. Her shots did not go as planned, and she made several unforced errors. Consequently, Manami Suizu won 21/16, tying the score at 1-1.
In the decisive game, Nguyen Thuy Linh promptly adjusted her mindset and playing style. At a moment when she was trailing 2/3 against Manami Suizu, Thuy Linh achieved something extraordinary by scoring 14 consecutive points to take a commanding lead of 16/3 and ultimately won 21/7.
By defeating Manami Suizu with a score of 2-1 (21/12, 16/21, 21/7), Nguyen Thuy Linh has reached the finals of the Vietnam Open 2023 for the second consecutive time. Her opponent in the final match is also a Japanese player, Akari Kurihara, who entered the tournament through the qualifiers. This is an opportunity for Thuy Linh to defend her title and maintain her position in the top 30 in the world rankings.
After the semifinal, Thuy Linh expressed her joy, saying, "I'm delighted to make it to the finals for the second time in my homeland. However, I'm not entirely satisfied with my performance today, especially during the second game when I did not perform at my best. I'm unsure why I made less attacks and more mistakes in that game. Nevertheless, I adjusted my tactics, made more attacks, and gained the upper hand in the third set. At this point, I do not have much information about my Japanese opponent in the final. Tonight, my coaching staff and I will analyze Akari Kurihara. I will do my best to defend the championship in my hometown because this outcome could secure my spot at the Paris Olympics."
Source: SGGP