VietNamNet Bridge – The biennial Sea Festival in Nha Trang, in the central coastal province of Khanh Hoa, will begin on June 8 and run for four consecutive days.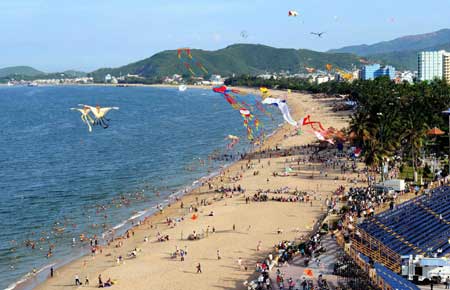 High flyers: Tourists flock to Nha Trang beach to enjoy the kite festival.
This year, the biennial festival will feature more than 60 activities.

The festival's activities will officially kick off at the April 2 Square by Tran Phu Road in the beach resort city, with a fireworks display held later in the night. Earlier on the day, festive goers can amuse themselves with performances of Spanish flamenco and traditional Japanese dance Bon Odori.
With more than 60 activities focusing on culture, arts, sports, tourism, fairs and workshops, the festival's organisers said they hoped to introduce to people at home and abroad the natural beauty and culture of Nha Trang – Khanh Hoa as well as the friendliness and hospitality of the local people.
Speaking at a press conference in Ha Noi on Saturday, Khanh Hoa People's Committee deputy chairman and head of the festival organising board, Le Xuan Than stressed that all acitivites would be free of charge for both foreign and local visitors.
"We organised a variety of diversified activities to promote the beauty that nature bestows on the city. And one of our criteria is for sustainable tourism development to draw an increasing number of visitors to Nha Trang – Khanh Hoa and to keep them here for longer," said Than.
Over the past two years, the province has seen a significant increase in international visitors, particularly Russians.
According to Than, the first direct flight from Cam Ranh International Airport [the main airport serving Nha Trang area] to Russia's Moscow will take off this Friday and once every week and then twice a week as of September this year.
In 2012, the province's budget was at nearly VND10 trillion (US$450 million). Than said despite economic difficulties the province targeted to increase the budget to more than VND10.5 trillion.
According to organisers, up to 20 activities will take place ahead of the festival to amuse visitors.
The national Rock and Hip-Hop Festival will be held from June 1-3. On June 2 everybody is encouraged to join in the campaign to clean up the city by collecting rubbish.
A range of sports activities including bicycle racing, handball, volleyball and sailing competitions, and a national golf tour along with other arts and culture activities and seminars such as discussions on the development of swallow breeding in Viet Nam will be during the festival.
Tours to discover Nha Trang's islands and night fishing expeditions will be held during the festival among events such as beer, wine and food festivals, a cooking competition, kite flying and bicycle and vintage motorbike parades.
For fans of beauty pageants, the finals of the inaugural Nha Trang – Khanh Hoa Sea Queen will take place on the night of June 9, while a street carnival will be held on June 10 before the festival wraps up the following night.
On the sidelines of the festival, the first ever International Sea Travel Expo 2013 will be organised from June 7-10, with the aim to promote and build the trademark of Vietnamese sea and island travel.
The expo seeks to promote regional tourism and co-operation in the sector while also helping to draw more foreign investment into tourism industry infrastructure.
Source: VNS