Nhi one fight away from being Vietnam's first-ever unified boxing world champion
Nguyen Thi Thu Nhi, defending World Boxing Organisation (WBO) strawweight champion, will travel to San José, Costa Rica in September to put her belt on the line, in the hopes of becoming Vietnam's first-ever unified boxing world champion.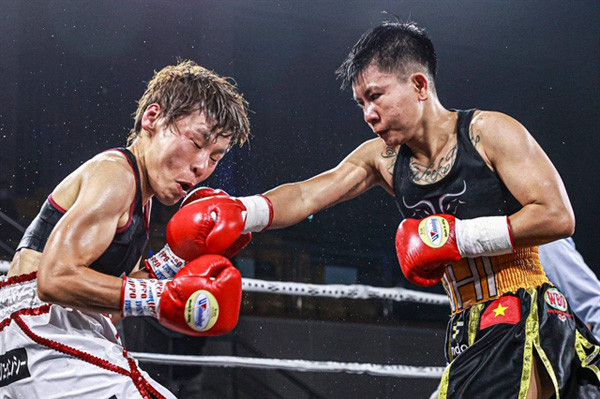 Her opponent is Yokasta 'Yoka' Valle, a Costa Rican native who holds the International Boxing Federation (IBF) world champion belt.
Valle is ranked fifth in the world, with a professional record of 25 wins, nine knock-outs and two losses. She is currently on a 12-fight win streak.
Nhi is undefeated in the professional game. The 26-year-old is second in the world with five wins, one of them via knock-out.
"I am very excited about this fight and for the opportunity to be a unified world champion," Nhi said.
"I am going to win this fight, no matter what. I will be the hero of Vietnam, it is my honour to represent my country and the women of my country. I have been training every day to make this an exciting, action-filled fight and deliver a KO victory."
Last October, Nhi made history when she beat world No 1 Etsuko Tada of Japan to take the belt inside 10 rounds in South Korea.
Before that, she defeated Kanyarat Yoohanngoh from Thailand to set up the fight with Tada for the belt.
Her burgeoning boxing career was a surprise to most boxing spectators, though Nhi has since proven to the world that she is a force to be reckoned with.
Now an icon of national pride, the world champion is paving the way for women in boxing and sports in Vietnam.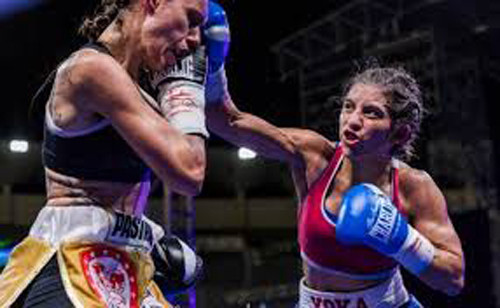 Valle secured her title in 2019 after beating Joana Pastrana of Spain.
In June, Valle defeated challenger Lorraine Villalobos of the US to retain her belt. It was her fifth successful title defence.
The unification fight was originally scheduled for June but was delayed until September to ensure Valle's fitness.
Valle is a world champion in two weight classes. Before her IBF strawweight title, she also held the IBF Atomweight World Title in 2016.
She was named 2021's "Female Fighter of the Year" by the IBF.
Although Valle is behind Nhi in the world ranking, the 30-year-old is the much more active of the two and has a lot more experience.
Since her move to professional boxing in 2014, Valle has fought four times a year. In 2016, she fought five times.
The unification bout will be her third fight of 2022, while Nhi has only participated in the world championships in May.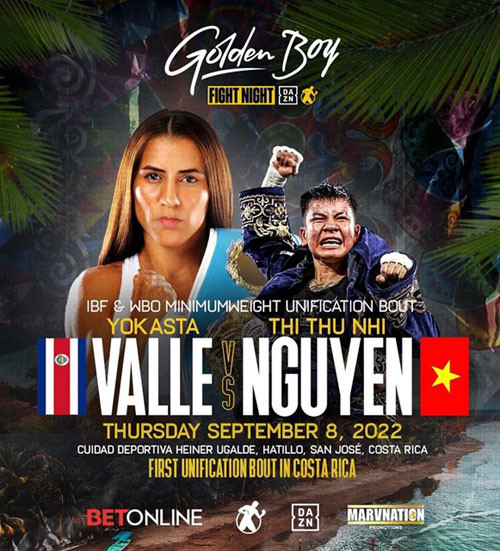 Valle is set to put everything on the line when she faces undefeated world champion Nhi. The fight will be a 10-round world championship fight in Cuidad Deportiva Heiner Ugalde, Hatillo, San José.
"I am surprised with the opportunity to be able to show the world that Costa Rica supports its athletes. I can promise all of my fans and Costa Rica that I will give the fight of my life against a great rival, the WBO World Champion Nhi Nguyen, who is an internationally recognized boxer," Valle, told boxingscene.com.
"I know this fight is going to be a war of champion versus champion, unifying world titles, all or nothing! The only difference is that she is going to have to come to my house to face a 'Yoka' more motivated than ever! With the support of my people who I am sure will make their presence known with their incredible support. I will make this a house to be respected!"
Source: Vietnam News