VietNamNet Bridge – On May 2, several residents of Lien Son 2 village in Phuoc Vinh commune, Ninh Phuoc district of the central province of Ninh Thuan got poisoning from alcohol. One was reported dead and three others were treated at a local hospital.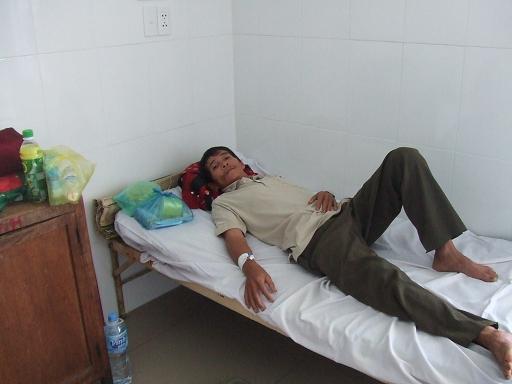 Nguyen Van Nga is being treated in the hospital.
Dr. Tran Van Thach - Deputy Director of the Ninh Thuan General Hospital, said in the afternoon of May 2, the hospital received four people from Phuoc Vinh commune who got alcohol poisoning. One of them – a 52-year-old man - died on the way to the hospital. The three others are three men at the age of 23, 27 and 47 who were hospitalized in a state of continuous vomiting and respiratory failure.
A patient, Mr. Nguyen Van Nga, said he used to buy alcohol from a grocery in his village. On May 2, he and two other men drank two liters of alcohol. Nga then had headaches, vomited and fainted so he was brought to the hospital for emergency.
The same day, two other men in the same village bought two liters of alcohol from the above-mentioned grocery. After drinking the alcohol, both vomited and fainted. One of them died on the way to the hospital.
The third victim is Mr. Tran Ngoc Den, 23, who bought alcohol from another grocery in the village.
Mr. Nguyen Mong, Chairman of Phuoc Vinh commune, said that the death toll by alcohol-related reasons in the last three months in the commune is up to eight. Most of them are ethnic minority people in Lien Son 1 and 2 villages. Specifically, five died of alcohol poisoning and three of hypotension after drinking.
On May 3, experts worked with officials of Phuoc Vinh commune. They seized around 40 liters of alcohol from the two related groceries to test.
The local administration also advised people not to buy and drink unidentified alcohol to avoid poisoning.
Vo Tan