As part of the draft national Power Development Plan VIII (PDP8), Vietnam plans to generate 7GW offshore wind capacity by 2030, but the lack of an official strategy is hindering progress.
At a conference organised by the Central Economic Committee last week, Mark Hutchinson, chairman of the Southeast Asia Task Force, said, "7GW of offshore wind is crucial for Vietnam for its net-zero goal and for the country's long-term energy security. Our message has been the same for years – a clearly defined route to the market is needed."
He said that offshore wind deployment was in its early stages and the deployment of the country's 4GW of offshore wind was not driven by a direct auction mechanism but instead arranged at a time when clear policy measures were not in place. Thus, he called for accelerating a large-scale pilot or mechanism that covers a certain volume of the target, to bypass obstacles and fast track wind power.
"There are now two main options: an accelerating mechanism such as a pilot project yet to be fully defined, or an auction, which in the experience of most countries takes years to be developed due to its complex nature," Hutchinson added.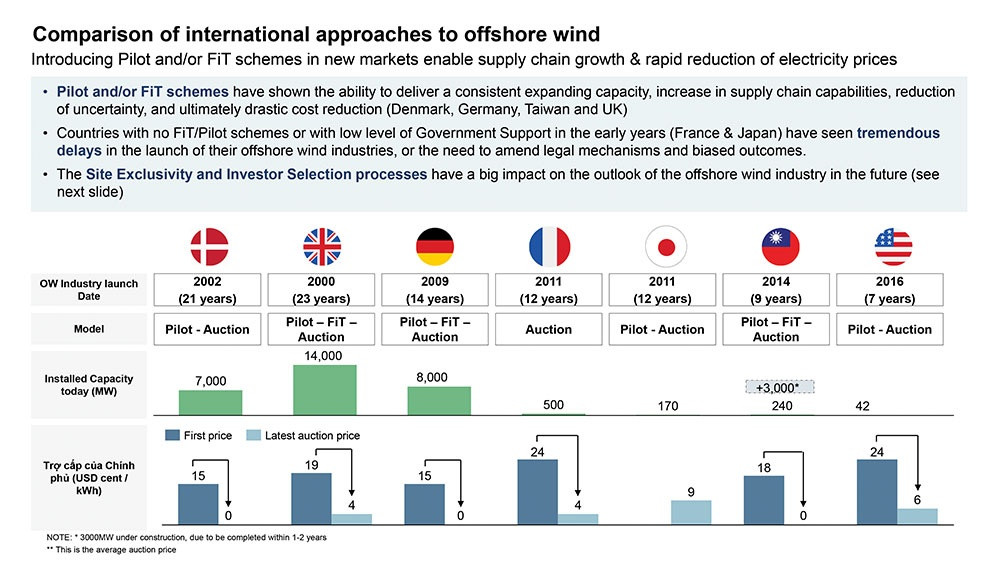 Source: CIP
Meanwhile, Henrik Scheinemann, co-CEO of Copenhagen Offshore Partners (COP), said that it was critical for Vietnam to learn from other markets that have progressed well during their journey to deliver an offshore wind industry that is well-suited to the country's needs and skills.
"It is clear that Vietnam can and will get this industry established. Now is the time to press forward and allow pilot projects to be instigated, a clear regulatory framework to be delivered, and for developers to share experience to build the local supply chain and address Vietnam's growing thirst for green energy," Scheinemann said.
Currently, COP is managing the development of the La Gan offshore wind project off the south-central province of Binh Thuan. With a potential capacity of 3.5GW, the project would be one of the first large-scale offshore wind projects in Vietnam when operational.
According to the Global Wind Energy Council, there are certain legal barriers to be removed in Vietnam, including amendments to the laws on bidding and investment, or integration into the newly developed electricity law and offshore surveys. Overcoming all the barriers would easily take at least a couple of years. Although the PDP8 is in the process of being approved, offshore will still play an important role in energy transmission and delivering net-zero emissions. A representative from the Ministry of Industry and Trade said that if the plan was approved, there were various other tasks ahead such as planning offshore areas and survey rights, setting up price incentives for offshore projects, and determining criteria for selecting investors and licences.
Truong Duc Tri, deputy director of the Vietnam Agency of Seas and Islands, said amendments to Decree No.11/2021/ND-CP stipulating the allocation of certain marine areas to organisations and individuals to exploit marine resources was expected to be approved in the next few months. "With the amendment, both foreign and domestic organisations would be allowed to participate in offshore wind power surveys. There will also be a specific time limit for surveys," Tri said.
One of the key recommendations of a new report on offshore wind power development in Vietnam, jointly prepared by the Danish Energy Agency and the World Bank, is that Vietnam should award large-scale demonstration projects to be commissioned in phases to kick-start the sector. "Now is the time for the government to act if the target of having 7GW offshore wind capacity is to be met," the report noted.
Assar Qureshi, regional energy counsellor for Asia at the Danish Ministry of Foreign Affairs, said that offshore wind projects have many advantages, but were more complex and involved more stakeholders than onshore wind or solar projects.
"Successful offshore wind development requires a clear long-term vision, stakeholder engagement, and government support," Qureshi said. "Vietnamese offshore wind will benefit from lessons learned from abroad, especially at this critical juncture when the country's energy system decisions will determine whether it has a clean energy future or locks in a carbon-intensive generation."
However, lessons from abroad should not be applied to Vietnam in a stereotypical way, Qureshi added. "Instead, we recommend that the government learns about other countries' examples, both their achievements and mistakes, and then uses those lessons to come up with a policy that is suitable for this country."
Nicolai Prytz-Danish Ambassador to Vietnam
Vietnam and Denmark have been close friends and partners for the over the last 50 years with our diplomatic relations established back in the early days of 1971. We have been maturing and transitioning our relationship from development partners to more mutually beneficial relationship, with a focus on green energy, environment, agriculture, health and education.
Within the green energy sector, Denmark has been sharing our experience with Vietnam for many years, and this year we are celebrating a decade of the Danish-Vietnamese Energy Partnership, established to assist Vietnam on its transition to a low carbon economy through government cooperation.
Offshore wind is a great dual opportunity for Vietnam: to deliver green and cost-efficient energy for the continued economic development of the country, and at the same time support Vietnam in achieving its net-zero goals. The huge inflow of capital investment into this sector could boost the competence of local production and the development of training and skills for the workforce.
Vietnam has many favourable conditions to create a thriving offshore wind industry: a long coastline, ample wind resources, relatively shallow seabed areas, and a well-established supply chain that can be used almost immediately or transition relatively quickly to support many parts of the construction process. Indeed, Vietnam should be able to become an offshore wind hub in Southeast Asia to export to surrounding markets.
Being one of the strong and long supporters of Vietnam's transformation to a green and sustainable energy sector, Denmark is looking forward to a clear and consistent regulatory framework, which is essential for the development of the offshore wind industry.
Chiara Rogate-Energy specialist, World Bank
To exploit the potential of renewable energy in Vietnam with an interdisciplinary survey, it takes 2-3 years and the cost is three times higher than onshore electricity. The expected roadmap for offshore electricity is 6-8 years, with steps including mobilising domestic and foreign capital.
Successful implementation of offshore wind requires a vast number of conditions. These include sufficient wind speeds and water depths, national targets and a clear policy, and central planning on capacities, location, and timelines.
They also need a grid network with sufficient capacity to support targets and timelines, port infrastructure, a legal framework to award seabed rights, a long-term power offtake and other permits, and bankable power purchase agreement terms.
Thus, the next steps will be the identification of development areas, planning of grid network builds, the selecting of investors, and licencing site exclusivity. This is the basis to solve offshore wind projects.
Source: VIR