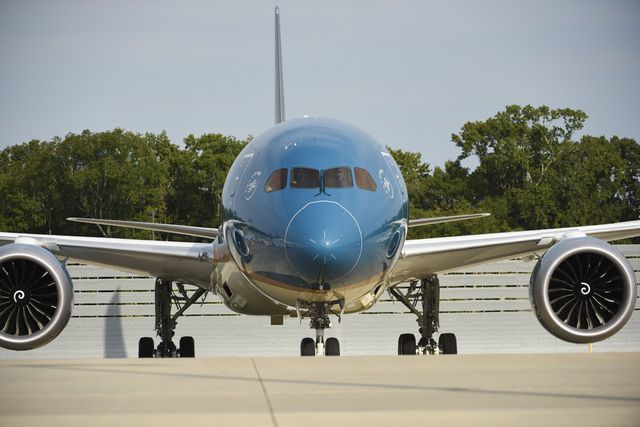 illustrative image
A scratch has been discovered on the tyre of a Vietnam Airlines Boeing 787 after an Incheon-Hanoi flight. The managers at Noi Bai Airport co-operated with other agencies to check the runway and the parking space but didn't find any strange objects.
The tyre of Bamboo Airways' plane was also damaged after the Phu Cat-Hanoi flight. The technicians suspected that the tyre might have been damaged by a nail. The tyre was quickly replaced for the following flight.
On November 18, the security camera at Noi Bai Airport caught the sight of foreign debris on the runway. After checking the site, a metal object that was suspected to be an aircraft component was found. The Northern Airport Authority has asked the air traffic control department to review the planes that used the runway. The airlines were also asked to check on their aircraft that had used the runway an hour before the debris was found.
In another incident, a tractor part fell off at HCM City's Tan Son Nhat Airport on November 30. The tractor then collided with a shuttle bus, injuring several passengers.
The Civil Aviation Administration of Vietnam admitted that several shortcomings have been found in the past because of rapid growth. They are facing a shortage of human resources, especially a highly-skilled workforce, as well as dealing with the lack of infrastructure.
In the coming time, the inspectorate will apply stricter punishment. Airport managers must make sure that the teams work efficiently. They must also tighten monitoring and invest more in equipment to check for foreign objects or debris.
Airlines were also asked to assess their work and changes closely to make sure that new activities or investment will not badly affect the training courses or maintenance services. Dtinews
Chau Nhu Quynh

The age of second-hand aircraft imported into Vietnam is among new regulations in the Government's Decree 89/2019/ND-CP.
Vietnam has witnessed strong growth in the aviation industry over the past five years, with the number of air passengers increasing threefold and its airline fleet doubling.