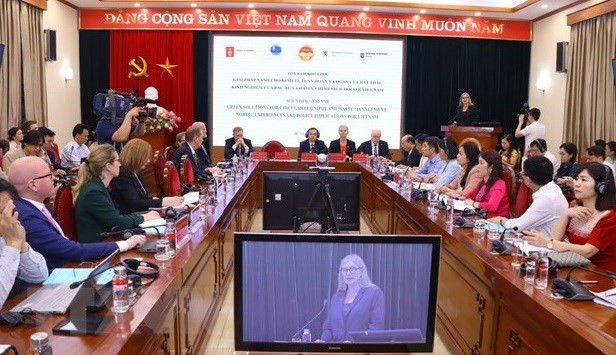 An overview of the scientific seminar (Photo: VNA)

This is an annual event jointly organised by the Ho Chi Minh National Academy of Politics and the embassies of four Nordic countries of Denmark, Finland, Norway and Sweden since 2018.

Vice President of the academy Assoc. Prof., Dr. Duong Trung Y said that the seminar focused on how the Nordic region makes strong commitments to the environment and circularity, and is leading the world in green innovation.

He emphasised the importance of efforts and the need for international cooperation in achieving the Sustainable Development Goals.

As Vietnam commits to transitioning to a greener and low-carbon economy after the COVID-19 pandemic, this is really the right time to mainstream the circular economy to effectively manage resources, limit emissions and waste, as well as boost environmental regeneration.

Studying international experience, including from Nordic countries, on circular economy development will help Vietnam have more policy suggestions suitable to its actual conditions to build a strong economy, thus contributing to improving the quality of life, he added.
Swedish Ambassador Ann Måwe said that Nordic countries want to share their lessons and experience in order to be able to transform the economic model in a more sustainable direction.

Vietnam can start the process of developing a circular economy from treating garbage and waste by turning them into recycled and reused raw materials and fuel instead of the current way of landfilling and incineration.

In addition, it is necessary to maximise the public-private partnership model in building and developing a circular economy, she stressed.

At the seminar, representatives of several organisations and companies from Nordic countries introduced and discussed circular business models along with commitments to increasing recycling and reducing waste and carbon emissions during operations./. VNA