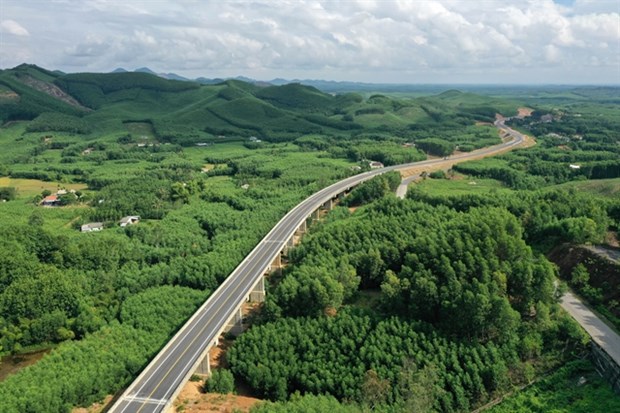 A section of the La Sơn-Tuy Loan Highway, part of the North-South Expressway, crossing the central province of Thua Thien-Hue 
The management boards of the North-South Expressway's sub-projects have received applications from 32 domestic investors and joint ventures.
There are eight public-private partnership (PPP) sub-projects seeking domestic investors.
The list of investors has not been revealed. A decision on the pre-qualification round is expected in February next year.
The Ministry of Transport has set criteria to mark potential investors with a maximum score of 100. Financial capacity accounts for 60 points, while 30 scores points will be awarded for experience and 10 points for planning.
Each project will select five investors to bid.
According to Minister of Transport Nguyen Van The, it would take 30 days to evaluate the pre-qualification applications and 40 days to approve them.
Bidding will start in April, and will take 90 days to evaluate and about 50 days to approve.
The bidding could be completed by November next year, The said.
In July, the ministry announced they would cancel open international bidding for eight projects on the North-South Expressway, in favour of homegrown investors.
The number of foreign investors passing the pre-qualification stage was low, leading to a lack of competition, said the ministry.
The North-South Expressway covers 2,109km, extending from the northern mountainous province of Lang Son to the southernmost province of Ca Mau.
It has 11 sub-projects, with three invested by the State budget, and others under PPP deals.
Once completed, it is expected to become a backbone connecting the entire country.
A number of sections covering 601km are already under construction./.VNA

Investors for eight components of the North-South expressway project will be named in August next year at the earliest, according to a report sent by the Government to the National Assembly.

With the decision on canceling international bidding for the North-South expressway, the success or failure of the project now depends on the capability of domestic contractors and the credit to be provided.