VietNamNet Bridge – Most threatres in northern Vietnam have failed to attract audiences due to poor marketing, bad shows and a lack of good actors, experts said.
Poor marketing
The Vietnam Drama Theatre has recently coordinated with Vietnam Stage Artists' Association to organise a seminar to discuss the failures of northern theatres and how to draw back audience.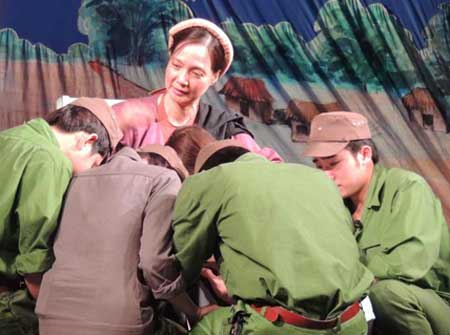 A scene from "Loi the thu 9" or The Ninth Oath at the Youth Theatre.
"Northern theatre productions remain unattractive as they don't take into account what audiences want to see," Meritorious Artist Nguyen Dinh Quang said.
Many journalists said they find it difficult to get even basic information from theatres.
"Only a few theatres have regular relationships with media agencies. Northern theatres are still operating as if they were under the subsidised period. They don't pay enough attention to ticket sales and updating information on their sites as well," journalist To Lan said.
Fellow journalist Cao Ngoc agreed, saying that he had to make the effort to contact theatres as they often put little effort into marketing.
Journalist Thuy Hien said theatres seem to avoid the press and this had led to negative results.
Due to the lack of funding, several theatres have only invited three journalists to help promote their programmes, Meritorious Artist Tuan Hai from the Vietnam Drama Theatre said.
Bad actors and poor dramas
Journalist Kim Ngan said in order to attract audiences, shows need to feature well known actors and have good scripts.
Truong Nhuan, Director of Tuoi Tre or Youth Theatre said, "Theatres currently lack qualified directors as talented ones including Doan Hoang Giang, Pham Thi Thanh, Xuan Huyen and Le Hung are now in their 60s. The new generation of directors such as Chi Trung, Anh Tu, Lan Huong, Le Khanh and Hoang Dung still lack experience."
According to Nhuan, amid the fast development of entertainment especially TV, theatres have become less attractive.
"I think that theatres still lack good scripts that actually relate to modern themes," he added.
Nguyen The Vinh, Director of the Vietnam Drama Theatre said poor infrastructure has hindered bringing new productions.
Solutions
The Ministry of Culture, Sports and Tourism planned to provide funding to theatres that lack modern infrastructure to rent stages for their performances.
This policy would be applied to major theatres across the country to help them survive.
The ministry's Art Performing Department will coordinate with 12 theatres that are under the direct management of the ministry to draft a plan for their development during the 2013-2020 period and a vision for further development through 2025.
Source: DTriNews