Nuclear power: The Vietnam - U.S. meeting
VietNamNet Bridge - The U.S. government has made positive initial moves for its investment in Vietnam's nuclear power development.
VietNamNet Bridge - The U.S. government has made positive initial moves for its investment in Vietnam's nuclear power development.
What does America expect from Vietnam?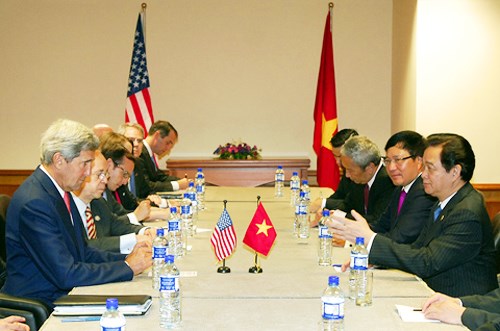 Prime Minister Nguyen Tan Dung received US State Secretary John Kerry after initialing the agreements on cooperation in using nuclear energy for peaceful purposes.
Vietnam builds its relationships in nuclear power technology with the United States rather late in comparison with Russia and Japan, but anyway, it has started.
US President Barack Obama on February 24 approved a civilian nuclear deal with Vietnam, paving the way for the US to sell its reactors to this Southeast Asian nation.
The president's move opened a 90-day review process in Congress, and if no legislation is passed contradicting the accord, it will then come into effect.
Earlier, US Secretary of State John Kerry and Vietnamese Foreign Minister Pham Binh Minh initialed an agreement for civilian nuclear cooperation on the sidelines of an East Asia summit in Brunei in October 2013.
Under the deal, Vietnam agreed not to enrich or reprocess uranium, key steps in the manufacture of nuclear weapons. It committed to not produce radioactive ingredients for nuclear weapons and signed up to US non-proliferation standards.
Experts say Vietnam's nuclear power market ranks second in East Asia after China and it is expected to grow to US$50 billion in the next two decades.
The country hopes nuclear power will meet 10% of its power generation needs by 2030.
Vietnam is seeking viable solutions for building two nuclear power plants in Ninh Thuan Province.
What can prevent the process?
In terms of international law, in the agreement, Vietnam committed to not produce radioactive materials that can be used in the manufacture of nuclear weapons and will comply with the standard on non-proliferation of nuclear weapons of the US.
President Obama confirmed: "I have determined that the performance of the agreement will promote, and will not constitute an unreasonable risk to, the common defense and security."
On the economic front, the US sees Vietnam as a new market, a remarkable opportunity for American businesses in East Asia. In this region, Japan has had more than 50 nuclear power units South Korea with over 20 units.
American investors predict that Vietnam has huge energy needs. As planned, in 2023, Vietnam will have 10,700 MW generated by nuclear power plants, equivalent to 10 turbines or nuclear reactors. In 2050, nuclear power may account for about 20-50 % of the electricity output. Thus, the market prospects of nuclear power in Vietnam are worth American businesses' interest.
An agreement signed with Vietnam will open the doors to the US nuclear industry to this great potential market. The U.S. Secretary of State John Kerry said that Vietnam has risen to become the second largest market in East Asia and Southeast Asia in the areas of civil nuclear, behind only China.
However, according to some experts, the Vietnam market may not really cheer for U.S. investors right now because the price of equipment and the transfer of U.S. technology is much higher than other competitors such as Russia, Japan or South Korea.
The wait from Vietnam?
America is a country with a lot of experience and it also holds many "source technology" in the field of nuclear power.
The U.S. is the 8th country which Vietnam has signed a cooperation agreement on civil nuclear cooperation, after Russia, China, South Korea, Japan, France, India and Argentina. But the US is the nation with the most powerful nuclear background. In cooperation with the U.S. is a good opportunity for Vietnam in access to advanced technology in the nuclear field, particularly nuclear power.
The U.S. discovers and holds many "source technology." Many developed countries such as Japan, South Korea and France have to import U.S. technology, then develop their own technology. Therefore, cooperating with the country with the source technology is a great advantage for Vietnam.
Specifically, Vietnam is implementing programs to develop nuclear power, including the construction of the Ninh Thuan 2 nuclear power plant, with Japan's assistance. However, of the four types of reactors proposed for Vietnam - ABWR, MPWR +, AP1000 and ATMEA1 – most of them are derived from France or the US and the original technology mainly comes from the US, particularly the AP 1000 of Westinghouse (USA).
According to international law, in order to get the reactors using this technology, one of the prerequisites is that some agreements must be signed between Vietnam and the US. After that, American, French or Japanese businesses can transfer it to Vietnam.
With the closer relationships with the US, Russia, Japan and France in the field of application of atomic energy for peaceful purposes, Vietnam hopes that its nuclear power industry will have the opportunity to develop strongly and in the long term.
Tran Minh