Nuclear research group gathers in Hanoi

Representatives of member states of the Joint Institute For Nuclear Research (JINR) gathered in Hanoi on Monday to review its activities and discuss long-term plans.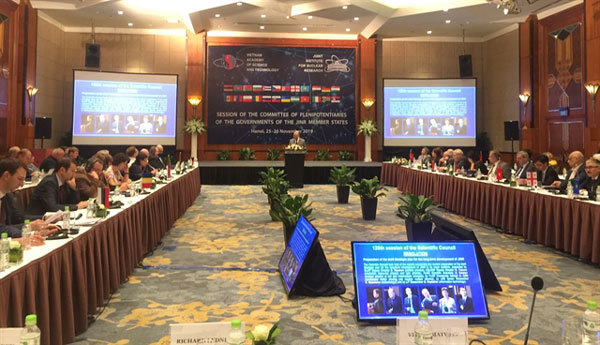 Overview of the gathering. — VNS Photo Khanh Duong
The event was organised by JINR and Vietnam's Academy of Science and Technology, which is also a JINR member.
Representatives of member states and observers discussed a draft budget for the organisation's research and co-operation.
The JINR's Committee of Plenipotentiaries spoke highly of Vietnam's contributions to boosting exchanges among member states, helping improve the quality of the organisation.
Professor Chau Van Minh, president of Vietnam's Academy of Science and Technology, said since Vietnam became a member of the JINR in 1956, the academy has actively participated in the JINR's scientific research. The JINR has helped Vietnam build infrastructure for nuclear research and train skilled scientific workers.
After the training, many officials and researchers have come back to develop Vietnam's nuclear research and hold important leadership positions, he said.
At the session, leading Vietnamese scientists presented research and development in the fields of nuclear energy and the project of a research reactor in Vietnam.
The JINR is an inter-governmental scientific research organisation, consisting of 18 member states and six observers. The member states are Armenia, Azerbaijan, Belarus, Bulgaria, Cuba, the Czech Republic, Georgia, Kazakhstan, Republic of Korea, Moldova, Mongolia, Poland, Romania, Russia, Slovakia, Ukraine, Uzbekistan, and Vietnam.

The government affirms that the revocation would cause no negative effects on the national power security and public debt.

Nguyen Tuan Khai, director general of the Viet Nam Agency for Radiation and Nuclear Safety, talks to Lao động cuối tuần (Weekend Labour) newspaper about his agency's capacity to operate a nuclear power plant.
VNS