Nursing home market nascent in Vietnam: Savills
Demand for "housing with care" – a range of residential formats (which often provide care services) for older people – is increasing, but the market remains almost untouched in Vietnam, according to property consultancy Savills Vietnam.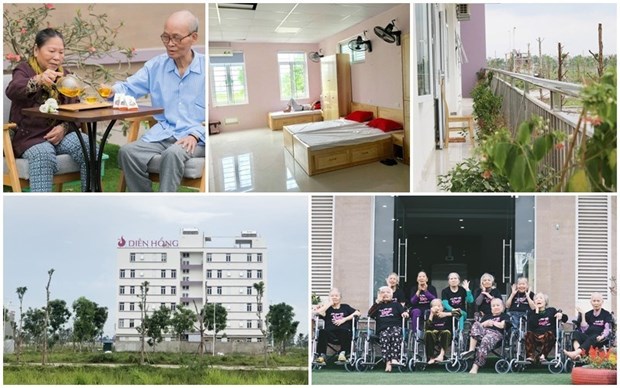 At Dien Hong Nursing Home in Hanoi. (Photo: toplist.vn)
Vietnam entered an "ageing phase" in 2011. The number of people aged over 60 increased to 11 percent of the population in 2019 from 8.6 percent in 2009, most of who live in northern cities and provinces.
Since the implementation of "Doi Moi" (Renewal) policies, the country has seen enormous socio-economic growth and vast improvements to public services, quality of life, and life expectancy.
This growth has changed how people live and has resulted in modernisation, urbanisation, and increased levels of rural-urban migration. These changes have influenced the living arrangements of the elderly.
According to Vietnam's General Statistics Office, the number of elderly people living alone or with just their spouse increased from 18.3 percent in 2009 to 27.8 percent in 2019.
Globally, there is a deep and growing demand for housing with care solutions in many markets; a demand that is going unmet due to limited supply.
Out of 63 cities and provinces in Vietnam, only 32 have specialised facilities for the elderly. Although the government aims to have at least one facility in each province by 2025, this does not reflect the rapid growth of Vietnam's ageing population.
In Vietnam, private nursing homes provide services at relatively high costs, averaging about 15 million VND (663 USD) for a single room and 19 million VND for a double room per month. But even lower-cost facilities are also out of reach of most Vietnamese. So elderly care is mostly provided at home and by volunteering caregivers.
With complex cultural, regulatory, and operational factors at play – some housing with care solutions that are popular internationally might not be practical in the Vietnamese market. There has still been a stigma about nursing homes in the country.
The concept of "family obligations" in most cases makes sending the elderly to a nursing home very difficult. Many people oppose this idea because they think children doing so means they do not love their parents.
"In Vietnam there are multiple levers at work behind the aged care equation," said Troy Griffiths, Deputy Managing Director, Savills Vietnam. "Not least the spreading acceptance of insurance that allows alternate funding models. From an operating perspective, it is presently difficult to resource with quality medically trained staff. Certainly, the traditional family model is rapidly evolving, and the next decade will see a raft of changes."/.
Source: VNA