President Barack Obama painted an optimistic picture of America's future and offered full-throated support for Hillary Clinton's bid to defeat Republican Donald Trump in a speech that electrified the Democratic National Convention.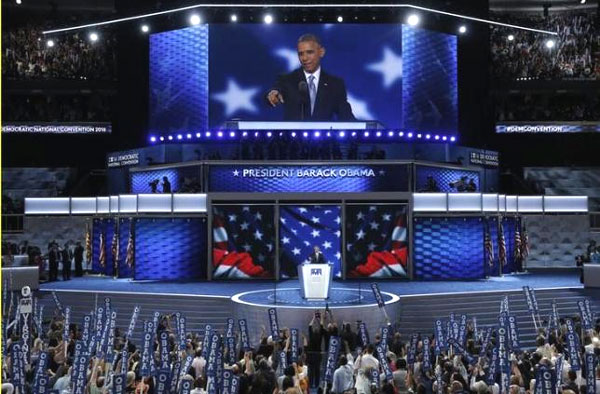 U.S. President Barack Obama speaks on the third night of the Democratic National Convention in Philadelphia, Pennsylvania, U.S. July 27, 2016.
He urged Democrats to enable Clinton to finish the job he started with his election nearly eight years ago in a rousing speech that capped a night when party luminaries took to the stage to contrast the party's new standard-bearer with Trump, whom they portrayed as a threat to U.S. values.
"There has never been a man or woman, not me, not Bill - nobody more qualified than Hillary Clinton to serve as president of the United States," Obama said to cheers at the Philadelphia convention on Wednesday night.
Hillary Clinton, the wife of former President Bill Clinton, will accept the party's White House nomination in a speech to end the convention on Thursday night. The election is on Nov. 8.
Her address will be closely watched to see if she can make a convincing argument for bringing about change while still representing the legacy of Obama, who is ending his second term with high approval ratings.
"Tonight, I ask you to do for Hillary Clinton what you did for me. I ask you to carry her the same way you carried me," Obama said. When he finished, she joined him on stage where they hugged, clasped hands and waved to the crowd.
The two were rivals in the hard-fought 2008 campaign for the Democratic nomination. After winning that election to become America's first black president, Obama appointed Clinton his secretary of state, a position she held until 2013.
Republicans have painted Clinton as a Washington insider who would represent a "third term" for what they view as failed policies under Obama, elected to a second term in 2012.
Speaking to delegates, Obama offered an alternative to businessman Trump's vision of the United States as being under siege from illegal immigrants, crime and terrorism and losing influence in the world.
"I am more optimistic about the future of America than ever before," Obama said at the Wells Fargo Center, a basketball and hockey arena.
A former first lady and U.S. senator, Clinton made history on Tuesday when she became the first woman to secure the presidential nomination of a major party. She promises to tackle income inequality, tighten gun control and rein in Wall Street if she becomes president.
Obama took aim at Trump's campaign slogan and promise to "Make America Great Again."
"America is already great. America is already strong. And I promise you, our strength, our greatness, does not depend on Donald Trump," he said.
"Preach!" members of the crowd shouted. "Best president ever," someone screamed.
Trump replied to Obama on Twitter, writing: "Our country does not feel 'great already' to the millions of wonderful people living in poverty, violence and despair."
Obama listed what he described as progress during his two terms in office, such as recovery from an economic recession, the Obamacare healthcare reform and the 2011 killing of al Qaeda leader Osama bin Laden.
He said American values, not race, religion or political preference, were what made the United States great. "That's why anyone who threatens our values, whether fascists or communists or jihadists or homegrown demagogues, will always fail in the end," Obama said.
DEMOCRATS FOR HILLARY
Senior Democrats and former national security figures lined up earlier on Wednesday to describe Trump as unable to steer America through the dangerous waters of today's world.
By contrast, many prominent Republicans, alarmed by Trump's provocative comments on illegal immigrants and Muslims, were absent from the party convention that nominated Trump for the White House in Cleveland last week.
Trump has proposed temporarily banning Muslims from entering the country and building a wall on the border with Mexico to stop illegal immigrants.
After his convention Trump got a boost in opinion polls. He had a 2-point lead over Clinton in a Reuters/Ipsos opinion poll released on Tuesday, the first time he has been ahead since early May.
On Wednesday night, U.S. Senator Tim Kaine accepted the party's nomination as Clinton's vice presidential running mate and in a speech described billionaire Trump as "a one-man wrecking crew" who cannot be trusted in the Oval Office.
Trump, who has never held public office, offered his critics fresh lines of attack on Wednesday, urging Russia to find and release tens of thousands of emails that Clinton did not hand over to U.S. officials as part of a probe into her use of a private email system while she was secretary of state. Clinton has said those emails were private.
Speaking to the convention, U.S. Vice President Joe Biden said Trump was an opportunist who had no clue about how to make America great or to help working families.
Drawing chants of "Not a clue" from the floor of the convention, Biden took Trump, a reality TV host, to task for his trademark slogan, "You're fired."
"He's trying to tell us he cares about the middle class. Give me a break. That's a bunch of malarkey!" Biden said.
New York media mogul Michael Bloomberg, a Republican-turned-independent, assailed fellow billionaire Trump in a speech of his own, calling his presidential bid a "con" and ripping into Trump's history of bankruptcies and lawsuits.
"Trump says he wants to run the nation like he's running his business? God help us," Bloomberg, a former New York City mayor, said to roaring applause. "I'm a New Yorker and I know a con when I see one."
Trump has hammered Clinton as untrustworthy and cast America as a place where security threats abound and law and order are breaking down.
Clinton waged another hard-fought primary battle this year, beating off an unexpectedly strong challenge from the left by Bernie Sanders, a U.S. senator from Vermont.
Democratic leaders have sought to tamp down lingering bitterness among some die-hard Sanders supporters, and move past unruly displays of dissent that marked the convention's first day on Monday.
Source: Reuters